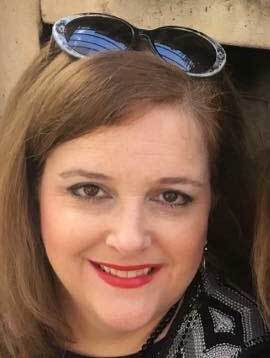 Kristy Britt
Department of Modern and Classical Languages and Literature

---
Education
M.A., 1999, Spanish,
University of California, Santa Barbara
B.A., 1991, Spanish and English,
University of South Alabama
---
Teaching
Face to face, web-enhanced teaching utilizing technology as appropriate. Examples of regularly incorporated pedagogical technology include self-created and publisher provided projects, online activities PowerPoints, multi-media enhancements. See supporting documentation for rationale and evidence of project outcomes.

Paper-free classroom management. Pitfalls and successes have been shared within the Department as well as regionally and internationally with various conference presentations on this model to ensure replication beyond USA.

Touchstones of innovative technology advancements to the Department include: increased LRC usage of well over 300% while serving as its Director; effectively introducing online components in Introductory Spanish courses; and usage of multimedia projects in Intermediate Spanish courses. Upper level enrollment, study abroad participation, and overall retention rates improved as these efforts were implemented.
Courses Taught
Introductory Spanish I* & II
Intermediate Spanish I* & II*
Advanced Grammar and Conversation
Advanced Conversation and Composition
Introduction to Latin American Civilization
Foreign Language Pedagogy
Phonetics and Phonology
First Year Experience*
Global Issues
*Denotes courses which include Service Learning components or Learning Communities
---
Professional Experience
Innovative Experience
Currently awarded a $10,000 grant to redesign Introductory Spanish I and II. The redesign will align with the NCSSFL-ACTFL Can-Do Statements and World-Readiness Standards for Learning Languages. Considerations will include the ACTFL Performance Descriptors for Language Learners[DJ1] with a focus on proficiency (unrehearsed general communicative ability) vs. performance (semi-rehearsed ability to communicate) and performance assessments vs. achievement tests (memorized or rehearsed responses.) Plan to integrate any relative technologies (i.e. digital storytelling, gaming, etc.) into the design and pilot the redesign for at least a year while gathering data on results and communicating with other faculty its developments and findings. The five "C" goal areas (Communication, Cultures, Connections, Comparisons, and Communities) stress the application of learning a language. The goal will be to prepare learners to apply the skills and understandings measured by ACTFL Guidelines in order to bring a global competence to their future careers and experiences. Goal of the redesign is to improve overall language learning and replicate successes on the Department level.

For the Spanish section, redesigned Introductory Spanish I and II to move from a face-to-face and zero technology model to a hybrid model using technology in addition to continuing the face-to-face model. Piloted the redesign for the 2008-2009 academic year, gathered data on results, and demonstrated student learning was evidenced and presented to Department faculty. Beginning Fall 2009, the model was replicated within the Spanish section and is still in use by the Section. Additionally, two other language sections of the Department implementing parts of the redesign into their courses.

Since 2003, served as member of University level committee for Computing and Technology and also College level committee for Technology. Many internal grants to enhance technologies were awarded as a result of this committee. Also, at the urging of the committee, a new service was added to the College: department level IT support. This resulted in a Technical Staff being added to the College led by a Management Systems Specialist who is supported by a PC Applications Specialist and a team of student workers.

Served two years in the Faculty Senate as a Technology Utilization Committee member (2005) and Chair (2006) and held monthly briefings with University President. Most notable result was a university level Task Force was assembled to investigate personal response system (PRS) technologies. I was appointed to serve on the resulting Task Force and our efforts guided the University to a clicker policy adopted by all Colleges of the University. https://www.southalabama.edu/departments/academicaffairs/resources/policies/clicker_policy_2012.pdf

In Fall 2008, I piloted PRS for the Department and did not find it a suitable fit to our redesign, so the technology was not implemented across the Department.
See More