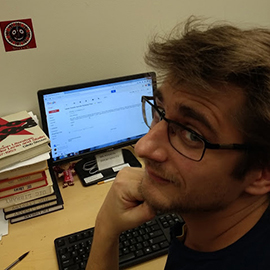 Anton Svynarenko
Visiting Assistant Professor of Russian Department of Modern and Classical Languages and Literature

---
Education
University of Illinois at Chicago, PhD in Slavic Studies, 2021. Dissertation Title: "Queer Childhood in Russian Modernism"
V.N. Karazin Kharkiv National University (Ukraine), MA in Applied Linguistics, 2007.
---
Research Interests
20th-century Russian Literature
Queer Theory
Histories of Childhood
Film Studies
Socialist Realism & Totalitarian Aesthetics
---
Publications
"The Queer Child as Thwarted Demiurge in Isaac Babel's Childhood Stories" (PMLA, accepted pending revisions)
"O You Youths, Eastern Youths: Sexualized Nostalgia in Natalia Kudriashova's Pioneer Heroes" (in Nostalgia and Anxiety in the Visual and Performing Arts; forthcoming Spring 2022)
"The No-Time of War in Pavel Zal'tsman's The Puppies" (in Non-Standard: Forgotten Experiments in Russian Culture, 1934-64, 2021, pp. 186-208).