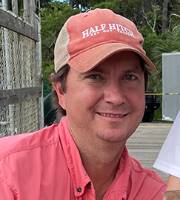 Dr. Steven Scyphers
Associate Professor Director, Center for Socio-Environmental Resiliency

---
Bio
PhD 2012, University of South Alabama
---
Current Funded Projects
Collaborative Modeling the Benefits,Consequences, and Trade-offs of Mangroves and Seawalls for Coastal Communities (NOAA Adaptation Sciences)
Integrating the Functional Importance of Biodiversity in Management of US Marine Ecosystems (Lenfest Ocean Program)
Extending our Reach: a Multi-State Collaborative Approach to Reef Fisheries Extension (Sea Grant)
Greater Amberjack Abundance, Distribution, and Movement in U.S. Waters in the South Atlantic and Gulf of Mexico (Sea Grant)
Building Capacity and Partnerships to Plan and Implement Coastal
Resilience in the Florida Panhandle (NFWF Coastal Resilience)
Evaluation of fishery-specific adaptive capacity to industry-perceived risks (North Pacific Research Board)
---
Publications
Scyphers SB, MW Beck, KL Furman, J Haner, A Keeler, C Landry, KL O'Donnell, BM Webb, JH Grabowski. (2020) Designing effective incentives for living shorelines as a habitat conservation strategy along residential coasts. Conservation Letters 13(5), e12744.
Scyphers SB, JS Picou, SP Powers. (2015) Participatory management of coastal habitats: the importance of understanding homeowner decision making to mitigate cascading habitat degradation. Conservation Letters 8(1), 41-49.
Furman K†, P Aminpour, SA Gray, SB Scyphers. (2021) Mental models for assessing social-ecological systems following disasters: a case study contextualizing natural and built shorelines after Hurricane Irma. Marine Policy.
Scyphers SB, JS Picou, JH Grabowski. (2019) Chronic social disruption following a systemic fishery failure. Proceedings of the National Academy of Sciences 116(46): 22912–22914.
Scyphers SB, SP Powers, JL Akins, JM Drymon, CW Martin, RH McMichael, ZH Schobernd, P Schofield, RL Shipp, T Switzer. (2014) The role of citizens in detecting and responding to a rapid marine invasion. Conservation Letters 8(4): 242-250.
Scyphers SB, JM Drymon, KL Furman†, E Conley, Y Niwa, A Jefferson, GW Stunz. (2021) Understanding and enhancing angler satisfaction with fisheries management: insights from the "Great Red Snapper Count". North American Journal of Fisheries Management.
Aminpour P, SA Gray, A Singer, SB Scyphers, AJ Jetter, R Jordan, R Murphy, JH Grabowski. (2021) The diversity bonus in pooling local knowledge about complex problems. Proceedings of the National Academies of Sciences.
---
Current Graduate Students
Sarah Gibbs - PhD Student
Savannah Swinea - PhD Candidate (Northeastern U)
Evan Prasky - PhD Student (Northeastern U)
Emerson Woodhall - PhD Student
Sarah Limer - MS Student & Research Technologist II
Hailey Smith - Research Technologist II
---
Teaching
Environment and Society
Marine Resource Management