'Completionist' Finds Way to Engineering
---
Posted on May 9, 2020 by Thomas Becnel
Thomas Becnel
---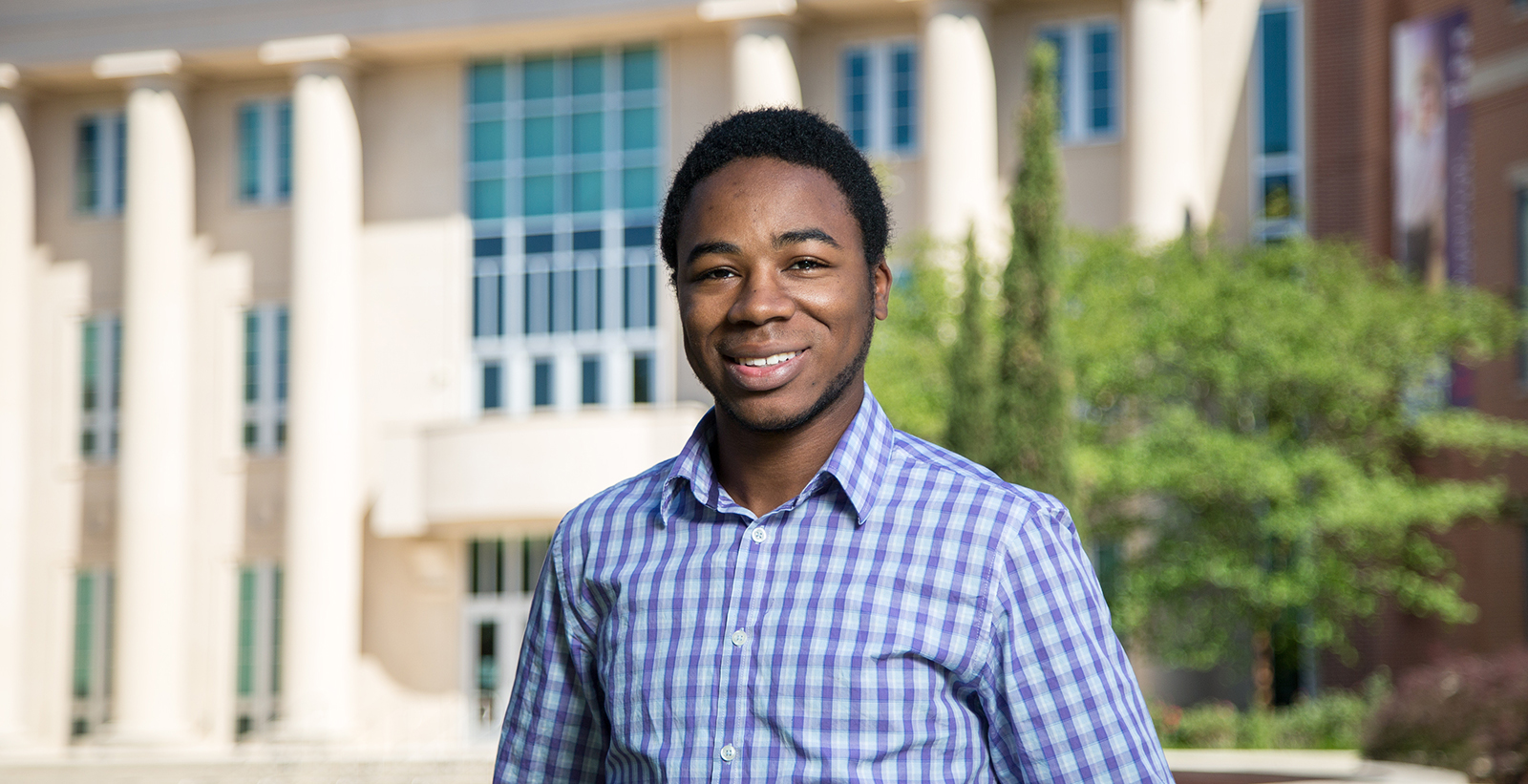 Bryant Baldwin plans to continue his research in biomechanical engineering at the University of South Alabama after spring commencement. "I want to complete the project we've been working on," he says.
---
Some students know what they want and zip right through the University of South Alabama. Others zig and zag, changing their minds and majors, before finding a path to graduation.
Then there's Bryant Baldwin, who took the scenic route.
After a year of music – he's a percussionist – he tried pre-pharmacy. Wasn't for him. Then exercise science. Another poor fit. Finally, he found a home as a transfer student to South in mechanical engineering, even though that meant catching up and grinding through enough calculus to earn a minor in mathematics.
"It was a slog," he said, laughing. "It was hard."
Baldwin, 24, wound up becoming president of the Mathematics & Statistics Club, along with the Biomedical Engineering Society Interest Club. He landed an internship at Austal USA and was named an Engineering Ambassador. He began doing research and writing papers about cardiac problems in breast cancer patients.
The titles of his work include "Fully Automated, MRI-based Left-Ventricular Contractibility Analysis in Breast Cancer Patients Following Chemotherapy." Also "Investigating Subclinical Cardiotoxicity in Long-Term Breast Cancer Survivors With DENSE-based 3D Strain Analysis."
After graduation this spring, Baldwin will continue his research this summer in South's College of Engineering graduate school.
"I'm a completionist," he said, coining a word. "I want to complete the project we've been working on."
Dr. Julia Kar, Baldwin's adviser, helped him find his niche in biomedical engineering. All he needed was an opportunity.
"Bryant is the most brilliant student I have had the privilege to mentor," Kar said. "He is perceptive, insightful and innovative beyond his young age. He will always be an asset to the mechanical engineering department and to USA."
Baldwin is a Mobile native who grew up just north of the South campus. His mother is a retired schoolteacher with a master's degree. His father is a civil engineer who works for the state Department of Transportation.
He likes to tease his dad about the superiority of mechanical engineering, but knows there are limits.
"I still live at home," Baldwin, "so I'm trying to tread carefully."
He grew up playing the drums. At Baker High School, he was part of a marching band that traveled to Hawaii for a prep competition. After graduation, he earned a scholarship and spent a year studying music in Florida.
He also grew up playing golf. He competed on his high school team and still has a 5-handicap rating. During college, he's given lessons and sold golf equipment at department stores.
The sport has helped him mingle with executives in the corporate world.
"Wherever I've done internships, I've played with the managers," he said. "When I hit my first shot, they go 'Uh-oh.' They actually say that."
Baldwin finds it easy to talk and joke with people. When he sits down for an interview outside Shelby Hall, other students stop to chat. When a pair of professors walk by, he's the one who begins the banter. A custodian coming down the walk gets the same easy tone.
He knows his outgoing nature makes him different from a lot of engineers, or at least the stereotype of a lot of engineers. He can't imagine a job that doesn't involve working with other people. He's the student who's always forming study groups and leading campus organizations.
"Every time, I say I'm never going to do this again," he said. "And then I end up being president of two more groups. At a certain point, it's like a lifestyle."
When he's not studying late into the night, Bryant enjoys sushi, rap music and travel. For his research, he's been from Boston to Orlando and Philadelphia to Anaheim.
"There's a lot more to the world than I thought," he said.
At South, he used to work as a math tutor. He compares it to teaching someone how to play golf. The payoff comes after toil and struggle, when the student finally grasps a concept and finds a groove.
Bryant thinks he learned from his false starts before arriving at South. Truth is elusive, and it's not easy to find where you belong. It's always good to look for help and ask for advice.
He remembers an early conversation with Dr. David Nelson, chair of South's William B. Burnsed Jr. department of mechanical engineering.
"He told me mechanical engineering is a lot of problem solving, with a lot of moving parts," he said. "That sounded good. I'm a big problem solver. I love doing that."
---
---