Helping Teachers Help Their Students
---
Posted on July 13, 2017 by Joy Washington
Joy Washington
---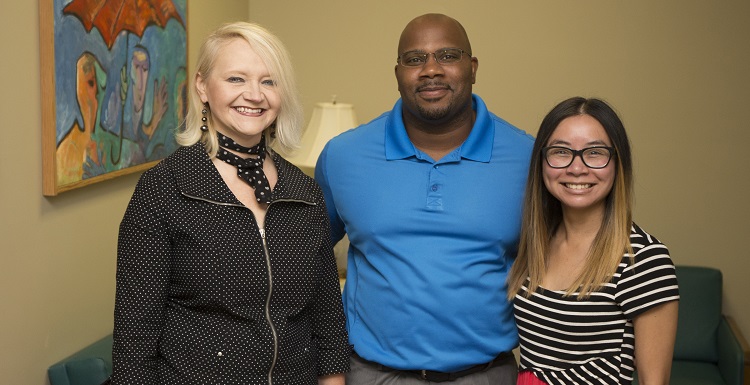 Attending the two-week summer Research Opportunities for Noyce Alumni professional development training are, from left, Dr. Susan Martin, associate professor of Leadership and teacher education, and program coordinator at the University of South Alabama; Ramsey Willis, a math teacher at Davidson High School; and Cathey Ho, a science teacher at Semmes Middle School.
---
The College of Education and Professional Studies at the University of South Alabama has created a new research-based professional development experience for teachers who graduated from South with their master's degrees in education as Noyce Scholars.
More than 15 teachers who are Noyce Scholar graduates are participating in the "Research Opportunities for Robert Noyce Alumni," or RONA, a supplement grant training program underway on the South Alabama campus through July 18.
"We are pleased to be the recipients of this National Science Foundation supplement to our current Pathway to Mathematics and Pathway to Science master's degree programs," explained Dr. André Green, professor and associate dean for education at South. "RONA will help evaluate the success and benefits of Noyce and provide professional development training for the teachers, and resources for the classroom."
The Robert Noyce Teacher Scholarship Program, funded by the National Science Foundation, responds to the critical need for K-12 teachers of science, technology, engineering and mathematics, or STEM, by encouraging talented students and professionals to pursue teaching careers in elementary and secondary education.
Noyce is also a collaborative project between the Colleges of Education and Professional Studies, Arts and Sciences, and Engineering, under USA's Center for Integrative Studies in Science, Technology, Engineering and Mathematics, or CISSTEM, and the Mobile County Public Schools.
Dr. Susan Martin, associate professor of leadership and teacher education at South and a former secondary science teacher, said she and Green co-wrote the supplemental grant for RONA. The Noyce graduates are working with USA faculty to conduct research from across numerous disciplines as stated above. And, they also presented during a round table discussion at the second annual Robert Noyce Connections Conference held in Mobile.
"This is a mentoring opportunity as well for the teachers who are Noyce graduates," Martin noted. "Dr. Green and I wrote the RONA grant supplement, which is unique to other Noyce Scholar programs, to provide a support system to retain the participants as career teachers. We want them to teach beyond the three-year commitment, and we are confident RONA will keep our graduates engaged as educators."
Cathey Ho, a native of Ocean Springs, Miss., is a science teacher at Semmes Middle School. She was a pre-health major and decided to enter the Noyce Scholars program and has not regretted her decision. She is a 2016 graduate of USA.
"Being accepted into the RONA program has been extremely beneficial for my career as a teacher," she stated. "Drs. Green and Martin have created an outstanding research-based program. I love the family atmosphere. We all receive a great deal of support thought the Noyce Scholars and RONA programs. I have also had a great experience assisting with conducting climate weather research at USA's Coastal Weather Research Center with Dr. Sytske Kimball, professor and chair of earth sciences."
Additionally, Dr. Julie Estis, director of quality enhancement, trains participants on Team Based Learning. Dr. Christopher Parrish, assistant professor of leadership and teacher education; and Dr. Drew Lewis, assistant professor of mathematics and statistics, is working with participants on engaging approaches to teaching mathematics in secondary education. Dr. Todd Johnson, assistant professor of leadership and teacher education is sharing ways to engage students with special needs.
There are three components that will make this research experience a unique professional development opportunity for Noyce graduates, and they are:
Team Based Learning;
Environmental Science, which includes weather and climate change; and
Afterschool Science Clubs.
The research program participants who teach math and science meet in separate groups in the morning sessions, and they collaborate together in a team-based learning environment in the afternoon. Each of the participants will receive a $5,000 stipend for salary and resources to help provide much-needed resources for their students in the classroom.
Ramsey Willis is from Detroit, Mich. He majored in business and worked in the industry prior to studying and earning his master's degree in education from South in 2015. He currently teaches ninth-grade geometry at Davidson High School. Willis is a Noyce Scholar alumnus and a participant in the RONA program.
"I love teaching math, and I am benefiting greatly from the RONA program," he said. "I am learning a great deal from the different activities and look forward to sharing what I learned with my students in the classroom. I also enjoy the team-based learning process. Everything we are learning in RONA is helping us better teach our students. And the stipend that we are receiving is helping us purchase the resources we need for our students."
---
---