Internal Medicine Residency Program
Find out about the Internal Medicine Residency Program from our residents and faculty.
Learn more about residencies and fellowships at the University of South Alabama and life on the Gulf Coast.
Program Director's Welcome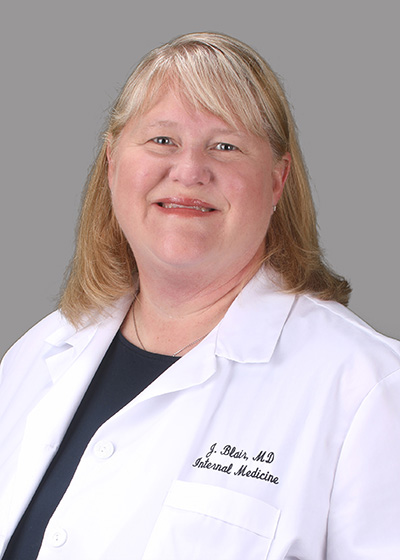 Welcome to the University of South Alabama's Internal Medicine Residency Program. We are a medium sized, academic program in a vibrant, growing health system that offers robust learning opportunities in a positive, supportive environment. When asked what the strength of our program is, it is an easy reply. The people we have at USA are absolutely what makes us special. We offer an amazing opportunity for hands on experience and graduated medical decision making undertaken with approachable, readily available attending support. The house staff is truly a family that supports each other. Our house staff members are involved in both our program and health system as we develop innovative programming to meet the needs of our learners. Our graduates go on to a variety of careers in primary care, subspecialty medicine, and hospitalist medicine. We are proud of our graduates' ability to confidently and competently enter fellowship or independent practice upon completion of the program.
On a personal note, I am a USA College of Medicine graduate and trained in the USA Med-Peds Residency Program. After residency, I spent 11 years on the faculty at USA including serving as the program director for the Med-Peds Program. I then spent 5 years working in private practice in the community before returning to USA in December 2016 as the Internal Medicine Program Director. Although I enjoyed my practice in the community, I missed the academic environment and working with residents and medical students. It is wonderful to be "home" and be a part of all the exciting things happening at USA Health.
We are also fortunate to call Mobile, Alabama our home. Mobile is a beautiful, historic hidden gem of a city. Our city offers an excellent cost of living, growing economy, abundant cultural and outdoor activities, and a great downtown restaurant scene that blends the best of our historic past and local agricultural resources. Best of all, we are less than an hour from the beautiful Gulf Coast beaches.
I hope you will come see what the program and beautiful Mobile, Alabama have to offer.
Judy Blair-Elortegui, M.D.