Stop the Bleed

The Stop the Bleed course is motivated by the 2012 tragedy in Sandy Hook and multiple tragedies that have occurred in the ensuing years. The resulting injuries from these events generally present with severe bleeding which, if left unattended, can result in death. The participants of the Hartford Consensus concluded that by providing first responders (law enforcement) and civilian bystanders the skills and basic tools to stop uncontrolled bleeding in an emergency situation, lives would be saved.
The University of South Alabama currently does not have any upcoming sessions.
▼ Overview
What is Stop the Bleed?
A person who is bleeding can die from blood loss within five minutes. While emergency responders will arrive as quickly as possible, bystanders are almost always there first. In the case of disaster and high-casualty incidents, emergency services are often spread thin. This is where Stop the Bleed comes in to play. This free training program will teach you to stop severe bleeding and save a life! Will you be ready?
Blood loss is the leading cause of preventable death in multiple casualty events, like mass shootings, terrorist attacks and earthquakes. Significant external bleeding can also result from everyday events such as a motorcycle crash or an industrial accident. Rapid control of bleeding at the scene of the event can be life-saving.
That's why we're teaming up with the American College of Surgeons, FEMA, and the U.S. Department of Homeland Security to ensure that: Bystanders have skills and knowledge to provide immediate bleeding control to victims at the scene of an event.
Who needs to be trained?
The general public needs to learn bleeding control techniques.
Many civilians have expressed interest in taking a bleeding control training course that would empower them to immediately assist victims of active shooter and other intentional mass casualty events, according to results of a new national poll published in the Journal of the American College of Surgeons.
Furthermore, the vast majority of civilians support training and equipping police officers to perform severe bleeding control on victims as soon as possible, rather than wait for emergency medical services (EMS) personnel to arrive on the scene. There's also strong public support for putting bleeding control kits in public places where large crowds gather, similar to the way that automatic external defibrillators are now found in airports and shopping malls for use by responders who have undergone CPR/AED training.
Why Stop the Bleed?
Today we live in a world where terrorism, the actions of unstable people, and the dangerous impulses of friends and relatives are very real and becoming increasingly more frequent.
Massive bleeding from any cause, but particularly from an active shooter or explosive event where a response is delayed, can quickly result in death. Similar to how the general public learns and performs CPR, the public must learn proper bleeding control techniques, including how to use their hands, bandages, and tourniquets. Victims can quickly die from uncontrolled bleeding, within five to 10 minutes or less.
Civilians need basic training in bleeding control principles so they are able to provide immediate front line aid until first responders are able to take over care of an injured person. Due to many situations, there may be a delay between the time of injury and the time a first responder is on the scene. Without civilian intervention in these circumstances, preventable death will occur.
Anyone at the scene of an emergency can act as an immediate responder and save lives if they know what to do!
Objective
Our shared goal is to provide the general public with a one-stop, online resource to credible information on how to properly control severe bleeding. We hope you will never have the need to use this information, but if you do, at least you will have the assurance that the information is credible and timely, and you will hopefully have taken a Stop the Bleed training class and be able to administer aid in an emergency.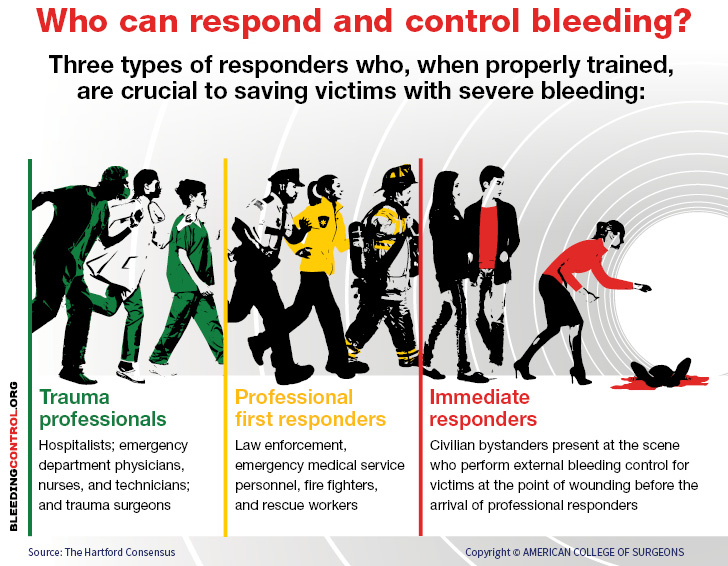 ▼ Registration Information
Who should be trained?
Everyone! No training or medical background of any kind is required to take this class. Severe bleeding injuries can result from natural and man-made disasters and from everyday accidents, as well as from catastrophic and terrorist incidents. If left unmanaged, they can kill within minutes, potentially before trained responders can arrive. Bystanders who have been provided with basic tools and information on the simple steps they can take in an emergency situation to stop life threatening bleeding can save lives!
Research has shown that bystanders – even with very little medical training – can become heroic lifesavers. Similar to the success of CPR or the use of an AED, improving public awareness about how to stop severe bleeding and expanding both personal and public access to bleeding control kits can be the difference between life and death for an injured person.
Who can take the course?
Everyone! Learning to control bleeding is an essential skill that anyone can apply to save lives, just like CPR.
Note: We recommend a minimum age of 13 or 14 due to the graphic nature of some of the slides in the presentation; however, we permit parents to make the final decision as to whether or not to enroll their children. Children under the age of 16 must take the course with a parent or guardian.
Is there any cost?
Stop the Bleed is a free training program. The cost of the course is free, but we are asking for a donation to help cover the cost of the facility and supplies needed for the course, and we do require that all participants register. Upon successful completion of this course, participants will be emailed a Certificate of Completion. Register now - Space is limited!
Find a course
We have several ways to register:
USA Health University Hospital Acute Care Surgery & Burns
Attn: Stop the Bleed
2451 University Hospital Drive, Suite 10-I
Mobile, AL 36617
▼ Stop the Bleed Materials
A bleeding control kit contains the essential medical equipment and supplies required to save a life in the event of immediate, life-threatening bleeding. A kit can be designed for a personal or home situation or for a larger, more public venue.
Each kit should contain these basic items:
Gloves
Packing gauze
Compression bandage
Tourniquet
Marking pen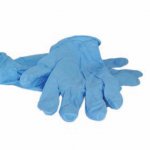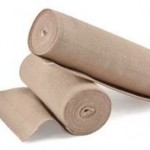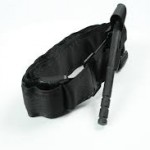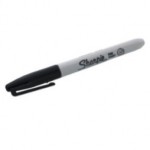 Public access kits should contain supplies to treat at least 8 casualties. They may also include specialized packing materials that have been treated to accelerate the clotting process to stop hemorrhages as quickly as possible. They may also include some devices to help move patients in an emergency situation.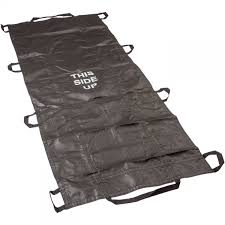 How can I get a bleeding control kit?
There are several commercial kits available online, including an online bleeding control store by the American College of Surgeons. We do not otherwise endorse any specific company, but a quick internet search for bleeding control kits, hemorrhage control kits, or tourniquets will yield several companies that can supply you with either pre-made kits and supplies or individual products, so you can assemble your own kit.
You can purchase a pre-made/pre-stocked kit, or you can purchase the items individually and put together your own kit.
When purchasing your own individual tourniquets, we would recommend either the CAT (Combat Application Tourniquet) or the SOFT-T Wide (Special Operations Forces Tactical Tourniquet Wide).
Where should bleeding control kits be placed?
Large, multi-person commercial bleeding control kits should be mounted in all public access areas including but not limited to those listed below:
Schools / College campuses
Businesses
Airports
Movie theaters
Stadiums
Malls
Courthouses
Libraries
Bleeding control kits should be mounted right next to all existing Automatic Defibrillators (AED). A personal or smaller kit can be kept in or along with your emergency or disaster supply bag or kit, in your car, with your camping gear, etc.
Contact Information
For more information, please contact Rebecca Scarbrough at rscarbrough@health.southalabama.edu or (251) 471-7971.