Surgical Critical Care Fellowship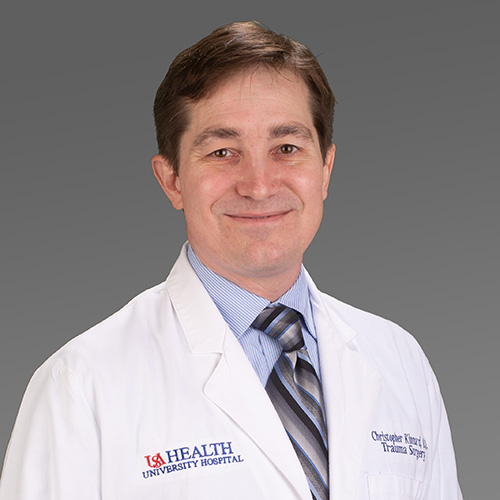 The University of South Alabama is one of three Level 1 trauma centers in the state of Alabama and also serves as one of three Level 1 trauma centers of the state of Mississippi. The Acute Care Surgery Services is quite active, admitting over 1,400 trauma patients annually with an 80% blunt trauma and 20% penetrating trauma ratio. The Acute Care Surgery Service is responsible for all surgical admissions and consults through the emergency room.
The Surgical Critical Care Fellowship received its initial accreditation from the Accreditation Council on Graduate Medical Education in January 2013 and began training our first fellow in July 2013. The goal of the fellowship is to provide an intensive one-year experience in surgical critical care that trains surgeons to have a leadership role in the care of critically ill patients. The educational philosophy is not only to teach the care of the critically ill surgical patient, but also the integration of care through multiple practitioners in the interdisciplinary process.
The critical care fellow will be directly involved in all phases of care of critically ill surgical patients. The focus of the clinical experience will center around the 16 bed combined STICU with rotations in the 8 bed burn unit and 8 bed medical intensive care unit. The case mix of the STICU includes approximately 50% trauma patients, 25% neurosurgery patients and 25% general surgery patients. In addition, subspecialty admissions in other surgical subspecialties are admitted to the STICU. Initial resuscitation management of trauma patients is a unique and integral part of the training offered in this surgical critical care fellowship.
Broad opportunities are available for clinical research as well as basic science research. The surgical critical care fellow rounds daily with attending staff and attends weekly conferences that include trauma/critical care, critical care journal club, critical care lecture, grand rounds, and morbidity and mortality conference. Nine months of the one-year fellowship, will be spent managing patients in the surgical-trauma intensive care unit and one month is allocated toward vacation. Moonlighting opportunities are available.
On behalf of the entire faculty, we appreciate your interest in USA Health University Hospital.
Christopher Kinnard, M.D.
Assistant Professor of Surgery
Surgical Critical Care Program Director