Honors Student Wins Top Poster Award
---
Posted on November 21, 2017 by Joy Washington
Joy Washington
---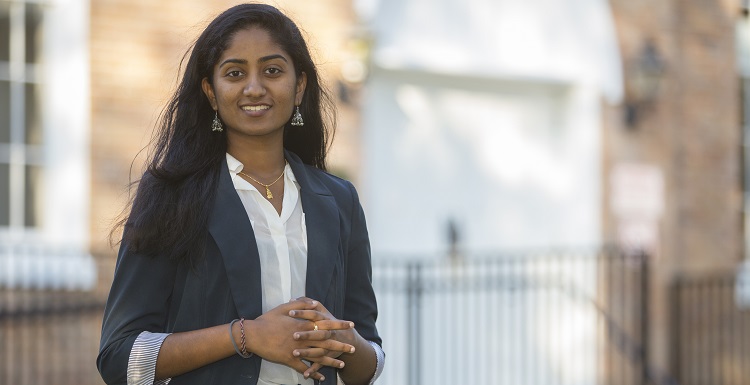 Monica Sai Pasala, a biomedical sciences major from Birmingham, recently won the best poster award at the National Collegiate Honors Council conference in Atlanta.
---
Monica Sai Pasala won the best poster award at the recent National Collegiate Honors Council conference in Atlanta. Pasala is a junior biomedical sciences major from Birmingham who is also in USA's Honors College.
"It was a humbling and unique experience to present my poster at the conference," Pasala said. "I also enjoyed interacting and receiving feedback from students and faculty. I was also able to receive great exposure. I feel fortunate to have won the competition."
The NCHC Conference highlights students and faculty research presentations from across the nation, and provides training and development for honors program administrators. The national submissions process for the NCHC annual conference is highly selective, with hundreds of students and faculty submitting proposals each year.
Pasala's research poster project is "The Structural Characterization of a Truncated Variant of the Human NEIL2 DNA Glycosylase." Her research involved looking at the structure of proteins.
Pasala conducts research with the support of Dr. Aishwarya Prakash, assistant professor of oncologic sciences at the USA Mitchell Cancer Institute. Prakash serves as Pasala's mentor and supported her as she prepared her research poster project.
"We took a new approach," Pasala noted. "While working in the lab with Dr. Prakash, we took the proteins and truncated them and studied them. It's too early to tell how this could help patients, but the end-goal would be to help cancer patients overcome the disease. What I have learned most about conducting research is that there will be setbacks and one must embrace working independently sometimes, which I have learned from Dr. Prakash."
Dr. Kathy Cooke, dean of the Honors College at South, served as a presenter at the NCHC conference.
"In her poster and presentation, Monica not only showed excellent research, she successfully translated very complicated science in clear terms, explaining both the process of truncating DNA for scientific work and the value of understanding the role of NEIL2 in oxidized DNA damage," Cooke said.
Malvika Lall, a senior biomedical sciences major from Auburn, presented the "Potential of Hyperspectral Imaging Fluorescence Excitation-Scanning to Demonstrate Spectral Changes Concurrent with Early Changes in Colon Cancer Tissue."
"Malvika and Monica are both doing outstanding work, and it was reflected in their posters," Cooke said. "They show what wonderful faculty advisors and research opportunities we have at South, and the stellar work that comes out of the University and the Honors College."
According to Cooke, the work Lall and her mentor are doing are likely to improve not only the diagnosis but also the prevention of colon cancer.
Dr. Jack Shelley-Tremblay, director of Undergraduate Research at South, and Dr. Annmarie Guzy, associate professor of English, also presented sessions during the conference.
Also attending the NCHC conference was Dr. Doug Marshall, director of Honors Education and associate professor of sociology and anthropology in the College of Arts and Sciences.
---
---