Triple Major Selected as Rhodes Finalist
---
Posted on November 9, 2017 by Jeb Schrenk
Jeb Schrenk
---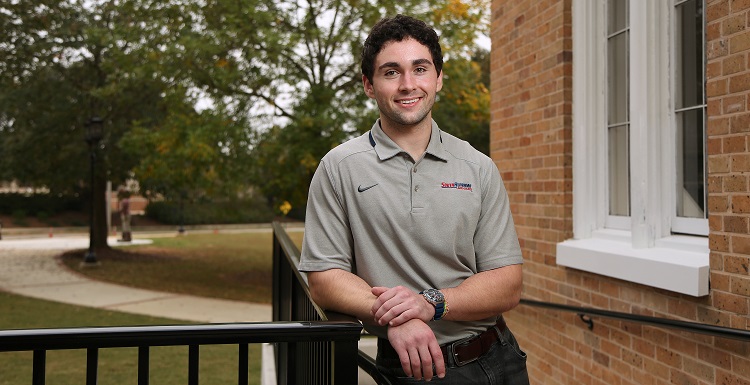 Given the chance to study at the University of Oxford, honors student Christian Pearsall said he would like to pursue a degree in musculoskeletal science. It would pair well with the Rhodes Scholar finalist's plans to become an orthopedic surgeon.
---
One major wasn't enough for Christian Pearsall, so he added a second, and then he took a philosophy class.
"Philosophy was the best decision I ever made," said the University of South Alabama pre-med student, who is on target to complete an academic hat trick by majoring in chemistry, biology and philosophy. "It puts everything into perspective. The trite expression 'It makes you think' is an understatement."
That different perspective may also help him when he heads to Birmingham later this month to compete as a Rhodes Scholar finalist — South's first — during interviews for the prestigious award that will send 32 Americans to study at the University of Oxford in England.
Pearsall entered South as a chemistry major and biology minor, but quickly decided to double major when building out his class schedule. Then, after taking a philosophy class his sophomore year, Pearsall received a letter from the department suggesting he might do well taking more classes, so he went to speak to a faculty member.
"He asked if I had any majors," said Pearsall, now a senior. "I said, 'Yeah, I have two of them, chemistry and biology.' He was a little flummoxed when I said that."
Still, they built out the class schedule and made it work, all while Pearsall was on the Jaguar football team as a wide receiver. As it turns out, the philosophy classes would help him out for requirements he needs as an honors student in South's Honors College. His honors thesis centers on philosophical logic, and he has conducted research in both biology and chemistry.
"Christian's accomplishment with Rhodes reflects his extraordinary dedication and talent, and the ways in which he has made the most of the opportunities at South in the Honors College," said Dr. Kathy Cooke, Honors College dean.
Pearsall said those opportunities have been plentiful, and it's one of South's selling points as a University.
"In the beginning I took it for granted — took the small classroom sizes and the intimate teacher interaction for granted," Pearsall said. "I still to this day have not interacted with a Teacher's Assistant. I don't know what a TA is from my perspective.
"I also found that at South, you're put in a position where you can shine. If you want to, the teachers will make you as good of a student as you want to be. You can utilize the resources, and they're all right there in front of you."
Being able to vie for a Rhodes Scholarship is another opportunity for Pearsall, who said his consideration "humbles me beyond words." He is meeting with several faculty and administrative members this week and next who will perform mock interviews to help him prepare for Birmingham.
Given the chance to study at Oxford, Pearsall said he would like to pursue a degree in musculoskeletal science. It would pair well with his plans to become an orthopedic surgeon, a decision bolstered by two athletic injuries and volunteer work at Victory Health Partners, a Mobile faith-based medical clinic for uninsured adults.
"To be selected as a Rhodes Scholar would reaffirm the principle value around which I have centered my life: to live well is to cultivate your talents to the fullest extent for a greater cause, and for me that's medicine," he said.
Dr. Tim Sherman, chair and professor of biology, has witnessed Pearsall grow as a student, and a Rhodes Scholarship is a logical step in that evolution. While, like many students, Pearsall initially was motivated in part by external pressures, "he's driven by his curiosity.
"He clearly can get into med school wherever he wants to get in, but his outlook on life for someone his age is really quite sophisticated. In class, he was interested in why he missed questions. What's the rationale behind it? Why didn't it work this way? He was really thinking above and beyond getting the question right."
In fact, some might say he takes a philosophical approach when faced with a question.
"Putting yourself into other people's positions is key to analyzing problems," Pearsall said. "It gives you more perspective. If you're one-minded and you think you know everything then you become complacent, and I think complacently is the bane of human existence. If you become complacent and think you know everything, you never strive to know more because you'll always think that everything that's in sight is something you've already mastered or accomplished. I learn every day that I know less, and that drives me to learn more.
"Philosophy is the stationary point that I need to look at if I don't want to get dizzy from everything else spinning around."
---
---