Special Events and Classes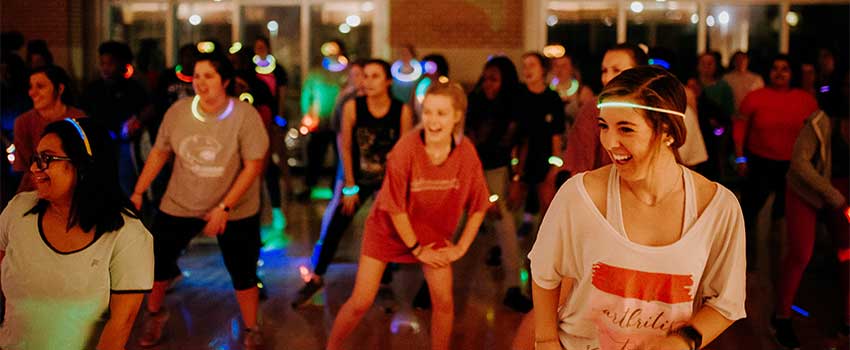 Fall 2019
Yoga in the Garden
Friday, October 4 at 12:30-1:15 PM in the garden at the USA Archaeology Museum. Come enjoy outdoor yoga and the beautiful fall weather. Mats and light refreshments will be provided.
Live DJ Spinning® class
Tuesday, October 29 at 7:30 PM in the Cycle Studio. DJ WeekN will be playing live music during this workout. Stop by our photo booth for your chance to win movie tickets!
Group Fitness Bingo Challenge
Join this fun fitness challenge November 3 - November 23! Pick up a bingo scorecard in a group fitness class. Get squares stamped by a SouthFit instructor when you complete that item. Once you get bingo, turn in your scorecard to the front desk and get your prize. Complete all squares to receive a free fitness assessment from one of our personal trainers.
Glow Zumba®
Monday, November 4 at 7:30-8:20 PM in Fitness Studio 1. Glow sticks and accessories will be provided. Just come dance and have fun!
Weight Room 101
Sunday, November 10 at 12:00-1:00 PM in the downstairs weight room. Learn how to use resistance training equipment with the SouthFit personal trainers: plate loaded machines, squat racks, functional training cables, free weights, and basic lifting techniques. SRC dependents age 14-16 may attend with a parent; both parent and dependent must register. $5/person. Register via the Campus Recreation Portal.
Turkey Burner Workout
Tuesday, November 26 at 5:30-7:00 PM in Fitness Studio 1. Come for all or part of this extended pre-Thanksgiving workout. All other SouthFit classes at 5:30 PM or later this day are canceled.
5:30-6:00 PM, Zumba®
6:00-6:30 PM, Strong by Zumba®
6:30-7:00 PM, Yoga
POUND: Rockout. Workout.
Tuesday, December 10 at 6:00-6:45 PM in the Student Center Terrace as part of Finals Frenzy. Channel your inner rockstar with this full body cardio-jam session inspired by the infectious, energizing, and sweat-dripping fun of playing the drums.