Group Counseling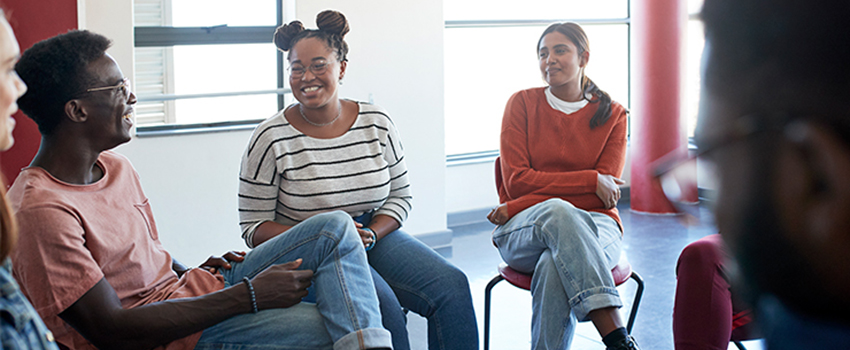 In addition to individual and couples counseling, the Counseling and Testing Center offers group counseling as yet another way of helping students.
In group counseling, six to eight students typically meet with one or more counselors to talk about issues that are of concern to them.
Groups may focus on a wide range of issues such as managing stress, overcoming shyness, dealing with grief, sustaining recovery from alcohol and/or other drug addictions, or recovering from trauma.
Students may be referred for group participation by their counselor or may seek to participate on their own.
Screening interviews are often scheduled for prospective group members to make sure the group is appropriate for them.
While the structure of groups may vary, typically they meet once a week for 60 to 90 minutes.
The group experience provides opportunities to receive support and feedback from others, and in some cases, to practice new skills that might be introduced during meetings.
To obtain further information about group counseling opportunities, contact our office at (251) 460-7051. If you are interested in a particular type of group that is currently unavailable, please let us know and we will try to do what we can to help.
2021 Group Offerings
Stress Management
College can be stressful and with the addition of a pandemic, stress is at new heights. The stress management group here at UCTC is a 6-week group to provide diverse techniques to help cope with the everyday stress of college and these unprecedented times we are living in. Each week we will meet for one hour, on Wednesdays at 2:00 via Zoom to learn different strategies that can help you turn stress around in meaningful ways. Please reach out to Dr. Brandon Browning at browning@southalabama.edu.
Black Girl Magic
An empowerment group for Black female identified students to focus on the unique experiences that impact their lives. This group will seek to create and foster a safe and trusting environment, dialogue openly and honestly about the experiences of Black female identified students, and facilitate empowerment and encouragement. More specifically, themes of self-worth and acceptance, self-discovery, joy, healing, stereotypes, anger, role expectations, relationship with others and self, and discrimination/oppression will be explored in the lives of Black women. This group will meet for 8 weeks on Tuesday's from 4:30pm-5:30pm via Zoom. Please reach out to April Berry at ab1724@jagmail.southalabama.edu.
True Colors
A skill-building group that addresses general and individual LGBTQ+ issues related to college and general stress, anxiety, and depression. Objectives of the group include improving self-esteem, increasing social support, and developing relationship and communication skills. Please join True Colors to learn useful skills to help you manage the common and not so common stressors of college life in a safe and LGBTQ+ friendly environment. The group will meet on Tuesday afternoons at 4 pm over Zoom. If you have any questions about True Colors, please reach out to Dr. Chelsea Greer at clgreer@southalabama.edu.