Group Counseling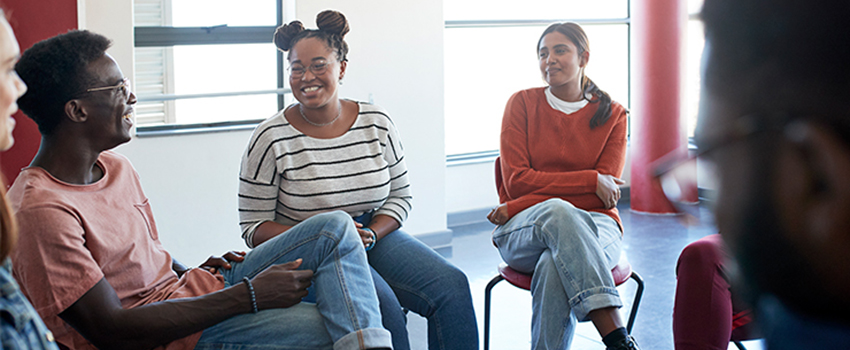 In addition to individual and couples counseling, the Counseling and Testing Center offers group counseling as yet another way of helping students.
In group counseling, six to eight students typically meet with one or more counselors to talk about issues that are of concern to them.
Groups may focus on a wide range of issues such as managing stress, overcoming shyness, dealing with grief, sustaining recovery from alcohol and/or other drug addictions, or recovering from trauma.
Students may be referred for group participation by their counselor or may seek to participate on their own.
Screening interviews are often scheduled for prospective group members to make sure the group is appropriate for them.
While the structure of groups may vary, typically they meet once a week for 60 to 90 minutes.
The group experience provides opportunities to receive support and feedback from others, and in some cases, to practice new skills that might be introduced during meetings.
To obtain further information about group counseling opportunities, contact our office at (251) 460-7051. If you are interested in a particular type of group that is currently unavailable, please let us know and we will try to do what we can to help.
Fall 2021 Group Offerings
"Taming the Anxious Mind" Tues. 4 PM; begins 9/21
This group helps students better understand their struggles with anxiety, and learn new ways of pursuing a full and meaningful life. This semi-structured group utilizes Acceptance and Commitment Therapy (ACT), which teaches students to see their personal experiences & relationships from different perspectives, & to act in valued ways that allow them to relate differently to anxious feelings, depressed moods, worrying thoughts, & self-defeating behaviors.
"Good Grief" Fri. 11 AM; begins 10/1
This group will provide students, who have been impacted by the death of a loved one, a safe and supportive space to connect and heal with others who have similar experiences. This experience will provide opportunities to process grief and remember loved ones. Learn the phases of grief and ways to thrive in a world without that special person.
"Adjusting to College" Thurs. 3 PM; begins 9/23
Transitioning into college comes with various challenges, many that you didn't anticipate. This is hard during "normal" times, so certainly now in the pandemic, it's harder than ever. In this group, clinicians will work with students to help sort through and cope with these challenges. (For 1st & 2nd year, transfer, & new graduate students)
"Relationship Sanity" Wed. 4 PM; begins 9/29
Our lives are embedded in various relationships. We often find ourselves in an internal struggle co-existing with the very ones we should feel most connected with. This group will allow students to create and maintain healthy relationships with those in their lives, learn how to recognize red flags, & learn key ingredients to a healthy relationship.