Group Counseling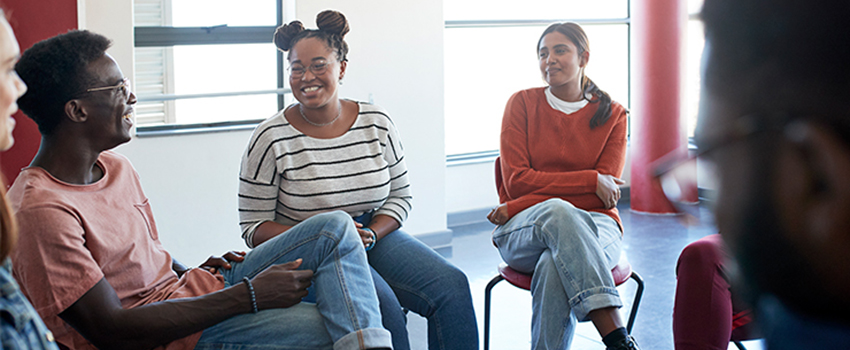 In addition to individual and couples counseling, the Counseling and Testing Center offers group counseling as yet another way of helping students.
In group counseling, six to eight students typically meet with one or more counselors to talk about issues that are of concern to them.
Groups may focus on a wide range of issues such as managing stress, overcoming shyness, dealing with grief, sustaining recovery from alcohol and/or other drug addictions, or recovering from trauma.
Students may be referred for group participation by their counselor or may seek to participate on their own.
Screening interviews are often scheduled for prospective group members to make sure the group is appropriate for them.
While the structure of groups may vary, typically they meet once a week for 60 to 90 minutes.
The group experience provides opportunities to receive support and feedback from others, and in some cases, to practice new skills that might be introduced during meetings.
To obtain further information about group counseling opportunities, contact our office at (251) 460-7051. If you are interested in a particular type of group that is currently unavailable, please let us know and we will try to do what we can to help.
Spring 2022 Group Offerings
Join us for a group! This semester, the Counseling & Testing Center is offering four groups open to all students. Groups are a great way to connect with peers with similar concerns in a safe, therapeutic environment. All groups are led by licensed clinicians, Counselors and Psychologists who work at UCTC. Groups meet weekly in our office. Interested students should schedule an initial appointment at UCTC and inform staff they are seeking a current group.
Tuesdays 3-4:30pm
Living Beyond Trauma
Leaders: Dr. Chelsea Greer & Angelia Davis (Doctoral Student)
Living Beyond Trauma is a Cognitive Processing Therapy (CPT) Group for trauma and related problems. The overall goals of the group are to improve your trauma symptoms, and any associated symptoms you may have such as depression, anxiety, guilt, or shame. CPT is based on the idea that your trauma symptoms reflect the inner conflict between the beliefs you hold about yourself and the world before and after trauma. CPT will give you tools to process what you've gone through and provide strategies and resources to understand how you've responded. CPT does not involve repeatedly reviewing the details of your trauma(s). However, you will be asked to examine your past and current experiences in order to understand how they impact your thoughts, feelings, and behaviors during the group.
Wednesdays 3-4pm
Black Girl Magic
Leaders: Vallarie Jones, LPC & Teya Hale, (Masters Student)
An empowerment group for Black women to focus on the unique experiences that impact their daily lives. This group will seek to create and foster a safe and trusting environment, dialogue openly and honestly about the experiences of Black women, and facilitate empowerment and encouragement. More specifically, group themes will focus on self-worth, self-love, self-discovery, joy, healing, stereotypes, anger, role expectations, healthy relationships with others, discrimination/oppression, embracing one's cultural being, and goal setting in the lives of Black women.
Thursdays 4-5pm
Family Ties
Leaders: Joel Dobson, ALPC & Noah Brandt (Masters Student)
Our family experience is a powerful influence on our lives, often in ways that we don't fully understand or aren't even aware. Through exploring our family relationships, we are able to better understand ourselves and how we relate to others. This group provides a space for students from a variety of family backgrounds to support each other as they process their experiences together, develop their ability to change unhealthy patterns of behavior, and grow into being their own adult.
Fridays 11am-12pm
Mind over Matter
Leader: Deidra Byas, ALPC
Everyone experiences stress at some point in their lives, but it's all, "Mind over Matter." This psychoeducational, experiential, and interactive group is for students who are experiencing mild to moderate levels of stress. This group requires a commitment to yourself and the group process. Students will learn what stress is, how to identify their stressors, practice a variety of healthy methods for managing stress, and develop their own personalized plan for stress management. Remember, "your body can withstand almost anything. It's your mind you need to convince."