Group Counseling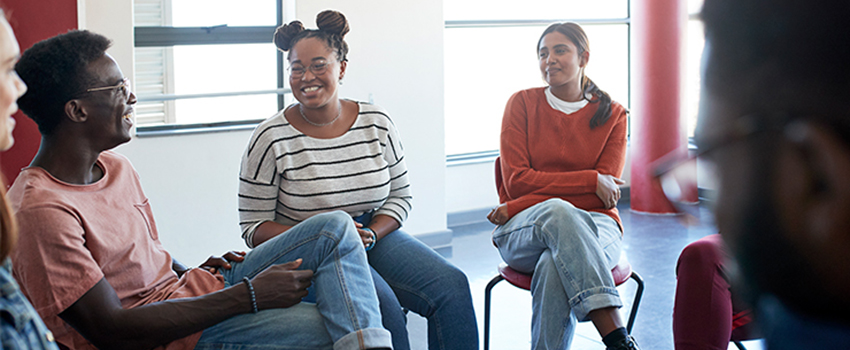 In addition to individual and couples counseling, the Counseling and Testing Center offers group counseling as yet another way of helping students.
In group counseling, six to eight students typically meet with one or more counselors to talk about issues that are of concern to them.
Groups may focus on a wide range of issues such as managing stress, overcoming shyness, dealing with grief, sustaining recovery from alcohol and/or other drug addictions, or recovering from trauma.
Students may be referred for group participation by their counselor or may seek to participate on their own.
Screening interviews are often scheduled for prospective group members to make sure the group is appropriate for them.
While the structure of groups may vary, typically they meet once a week for 60 to 90 minutes.
The group experience provides opportunities to receive support and feedback from others, and in some cases, to practice new skills that might be introduced during meetings.
To obtain further information about group counseling opportunities, contact our office at (251) 460-7051. If you are interested in a particular type of group that is currently unavailable, please let us know and we will try to do what we can to help.
Spring 2023 Group Schedule
This semester, the Counseling & Testing Center is offering five groups open to all students. Groups are a great way to connect with peers with similar concerns in a safe, therapeutic environment. All groups are led by licensed clinicians. Interested students should schedule an initial appointment at UCWC. If you are interested in joining a group, please call us at (251) 460-7051.
Living Beyond Trauma (Skills & Support Group):
Thursdays 3:00-4:00 pm
Leaders: Dr. Chelsea Greer & Angelia Davis
This is a group for individuals who have been through traumatic experience(s) and are dealing with associated difficulties after the fact. This group includes education about trauma related symptoms, teaches skills to help regain a sense of control over these issues and provides a safe space to give & receive support from peers with similar experience. Students do not have to have a diagnosis of PTSD to participate.
Black Girl Magic (Support Group):
Wednesdays 3:30-4:30pm
Leaders: Vallarie Jones, LPC & Brandi Ford
An empowerment group for Black women to focus on the unique experiences that impact their daily lives. This group will seek to create and foster a safe and trusting environment, dialogue openly and honestly about the experiences of Black women, and facilitate empowerment and encouragement. More specifically, group themes will focus on self-worth, self-love, self-discovery, joy, healing, stereotypes, anger, role expectations, healthy relationships with others, discrimination/oppression, embracing one's cultural being, goal setting, and mentorship in the lives of Black women. This group is open to all undergraduate Black women, and they are welcome to attend one or all of the weekly sessions.
Emotional Literacy (Skills Group):
Mondays 3:00-4:30pm
Leaders: Karin Hendricks, M.A., Dr. Chelsea Greer
This skills-based group incorporates cognitive-behavioral techniques for emotion regulation with distress tolerance, acceptance, and mindful awareness practiced derived from eastern philosophy. The group will benefit students struggling with anxiety, depression, self-harm, eating disorders, and substance abuse. Each week, the group follows a set agenda and students will learn how to effectively regulate emotions, identify triggers that lead to reactive states, and apply coping skills to tolerate distress and improve relationship skills.
Family Ties (Support Group)
Thursdays 4:00-5:00pm
Leaders: Joel Dobson, ALC & Meghan Wood, M.S.
Our family experience is a powerful influence on our lives, often in ways that we don't fully understand or aren't even aware of. Through exploring our family relationships, we are able to better understand ourselves and how we relate to others. This group provides a space for students from a variety of family backgrounds to support each other as the process their experiences together, develop their ability to change unhealthy patterns of behavior, and grow into being their own adult.
Body Acceptance & Activism (Skills & Support Group)
Wednesdays 4:00-5:00pm
Leaders: Callie Mims & Angelia Davis, M.Ed.
A group focused on body acceptance and activism for students to learn about and challenge appearance ideals that contribute to body dissatisfaction. Students will engage in empowering conversations and activities in which they will critique media images, debunk unrealistic appearance standards, and challenge personal body-related concerns. open to all genders.