Test Preparation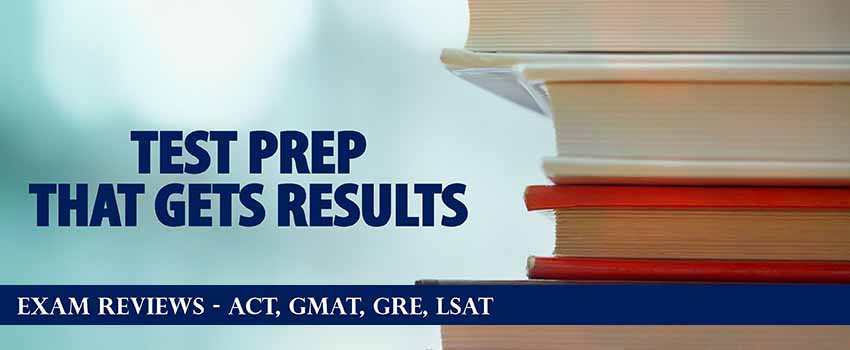 "Before anything else, preparation is the key to success." - Alexander Graham Bell
If you plan to enroll in an undergraduate studies program or attend graduate school, law school, or business school, we can help you realize your academic goals. With test preparation courses for the GRE®, GMAT®, LSAT®, Praxis® Core and ACT®, The University of South Alabama is the Gulf Coast's leading test prep solution.
Standardized test scores on the GRE, GMAT, LSAT, Praxis or ACT are a major component of your college or graduate school application process. These tests play a significant role in determining the future of your education. Standardized tests help determine your admission status and are often used in awarding merit-based scholarships, grants, fellowships, and assistantships. Let USA's Test Prep program help you prepare for and ace these important exams!
Our test preparation courses were designed by a team of former standardized test writers and test preparation experts. Our experienced and professional instructors are highly trained and care about your success. Let us help you achieve your goals!
Extensive instruction

Experienced, dedicated instructors

Comprehensive preparation materials, including actual questions and practice tests from the test-makers

Thorough presentations and explanations

Convenient access to our team of experts

Flexible schedule options

Access to online support resources
Students taking the GRE, GMAT, LSAT and PRAXIS will have access to these videotaped sessions for 120 days after your last session.
Competition is increasing for college scholarships and the best way to stand out to admission officers is with a competitive ACT© score. The USA Center for Continuing Education offers students ACT review courses in the following areas:
English
Math
Science
Reading
Writing


ACT Test Prep
Each subject review consists of four-sessions, meeting once per week, leading up to the most popular ACT test dates. Instructors design the subject reviews to prepare students in multiple facets in preparation for their big test date. Students are expected to have taken algebra and geometry within the last three years.
ACT Institute
The ACT Institute offers comprehensive preparation for the ACT. Spring and Summer Institutes are intensive test prep programs that provide students with the tools they need to prepare for and succeed on the ACT. Consisting of 20 hours of classroom instruction in a condensed one-week format, convenient for students seeking to develop essential test-taking tools during the summer—a time of year during which students have more free time to practice. Students receive in-depth review of the exam content, strategies for improving their scores, and a comprehensive study plan. Students have access to online office hours and practice material for 120 days after they leave the classroom, so they can maintain their skills leading up to test day.
SAT Test Prep
The Live-Online SAT Prep Course is an intensive test prep program that provides students with the tools they need to prepare for and ace the SAT. The Live-Online SAT is currently offered in a 16 hour Blitz format. The Live-Online SAT Blitz is offered during the academic year to prepare students to reach the test date of their choice at peak performance. These courses meet once to twice per week, allowing time to practice new skills during the week. Our multi-week format of the Live-Online SAT Prep Course leads to greater opportunities for learning and interaction with our expert instructors. Courses are conveniently scheduled in the weeks leading up to the most popular SAT dates and include 16 hours of instruction.
GRE - Advance your degree!
Seeking a graduate degree? The GRE revised General Test measures critical thinking, analytical writing, verbal reasoning, and quantitative reasoning skills that have been acquired over a long period of time and that are not related to any specific field of study. The GRE is required for a large variety of master's degree and doctoral degree programs. Master's in Education (ME), Social Work (MSW), Nurse Practitioner (NP), Business, and Public Administration programs often require or accept the GRE exam.
GMAT - Pursue your MBA!
Considering an MBA? Let us help you get into the program of your choice. The GMAT is the preferred exam for many top-ranking full-time and part-time MBA programs. Our professional instructors will help you understand each section of the GMAT, dissect each item type, and develop a comprehensive plan for test day success.
LSAT - Go to law school!
Pursuing a law degree? The LSAT® is a standardized test that is administered several times per year. Our LSAT Test Prep Classes are precisely scheduled to help you prepare for your preferred test date. Take the mystery out of the LSAT and get the tools you need to succeed on test day!
Praxis - Move toward a teaching career!
Trying to get into a teacher preparation or certification program?
The Praxis® Core assesses basic mathematical skills, measures critical thinking skills, reading comprehension and written communication skills. The University of South Alabama's Praxis Core Prep Class is ideal for anyone looking to enter a teacher preparation program or to become certified to teach.
Our Praxis Core Math preparation curriculum is a program developed by experts. You'll receive 15 hours of targeted instruction to help you fully prepare for the Math section of the Praxis Core. In this course, you'll master strategies to improve your Praxis score with the help of experienced test preparation instructors who care about your success.
In the Praxis Core Verbal prep course you will receive 10 hours of expert classroom instruction on the Core Verbal section of the Praxis. This comprehensive course includes an overview of the reading skills and writing conventions tested on the Praxis and prepares you for the questions typically seen on this test.
Our online support package for Praxis classes includes access to recordings of all class modules, an instructor-monitored question forum, targeted skills practice, and online office hours. Access to online resources continues for 120 days after your last day of class, so you will still have support for your independent practice after class is over.
We will help you improve your skills, confidence, and score, all of which increase your chance of admission into the teacher preparation program of your choice!