University Readies for Spring Commencement
---
Posted on April 29, 2019
Alice Jackson
---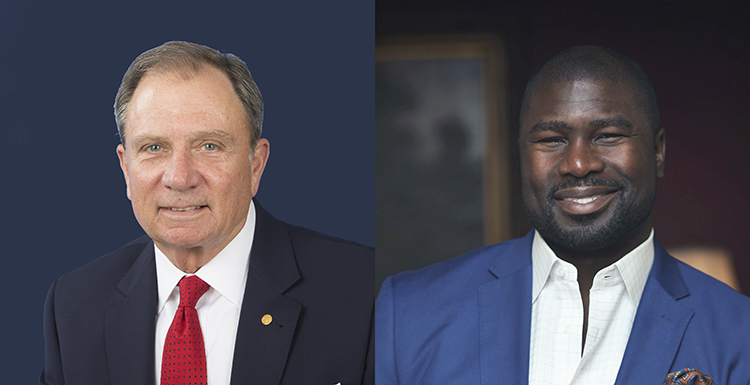 William J. "Happy" Fulford, left, whose USA career spanned nearly 40 years of service in governmental relations, alumni and development, and Ovie Mughelli, a former football star whose post-NFL career has focused on empowering youth and living an ecologically friendly lifestyle, will address USA graduates during Spring Commencement ceremonies.
---
Ovie Mughelli, a former football star whose post-NFL career has focused on empowering youth and educating the public on living an ecologically friendly lifestyle, and William J. "Happy" Fulford, whose USA career spanned nearly 40 years of service in governmental relations, alumni and development, will address USA graduates during separate Spring Commencement ceremonies inside the USA Mitchell Center on Saturday, May 4. Mughelli will address the 9:30 a.m. ceremony and Fulford will speak to graduates at the 2 p.m. event.
A total of 2,167 spring and summer graduation students are candidates to receive a variety of degrees, including four candidates who are seeking dual degrees. The students expected to graduate with honors include: 4.0 GPA, 35; summa cum laude, 101; magna cum laude, 129; and cum laude, 162. Twenty-nine students are expected to graduate from the University Honors College and five with departmental honors. Six students are scheduled to attend having completed the University's PASSAGE USA non-degree certificate program.
Degree candidates in the morning include students in the College of Arts and Sciences, College of Education and Professional Studies, School of Computing, Graduate School and the College of Medicine. Afternoon degree candidates will be from the College of Engineering, College of Nursing, Mitchell College of Business and the Pat Capps Covey College of Allied Health Professions.
Mughelli, founder of the Ovie Mughelli Foundation and former two-time All-Pro fullback in the National Football League, is known for his dedication and drive both on and off the field. A staunch supporter of increasing environmental sustainability, Mughelli has established "green" sports camps for young athletes, which produces a synergy of athletic participation while fostering environmental stewardship. When he's not working to educate, enlighten and engage people with the benefits of living green, he uses his dynamic personality and passion for sports, serving as a media correspondent in television, radio and digital media for Fox Sports, Comcast Sports South, Raycom and CBS Sports Radio.
Mughelli's professional football career blossomed quickly and is remembered for his intense drive and unrelenting hunger for success. He was named All-Pro fullback in 2006 with the Baltimore Ravens and in 2011 with the Atlanta Falcons. Mughelli was also recognized for his impact and contributions off the field. During his nine seasons with the NFL, he received several additional awards including the Falcons' "Man of the Year Award," the "Diamond Award for Excellence in Sports," and he was a "Walter Payton Man of the Year Award" nominee in 2007.
Mughelli's passion continues to shine in his dedication and active engagement for the betterment of communities across the nation. He was a closing speaker at the White House event on Sports and Sustainability, and he spoke in support of Earth Day during a celebration on the National Mall in Washington, D.C. He has also established a national partnership agreement with the Environmental Protection Agency to support ecofriendly youth programs to encourage environmental stewardship.
Born of Nigerian immigrants, Mughelli embraces the American dream as a first-generation American in his family. When he isn't working, Mughelli enjoys spending quality time with his wife, Masika, and their children.
Fulford has enjoyed a long and distinguished career of governmental and military service, including serving as executive director of governmental relations for the University of South Alabama, before his retirement earlier this year. Recently, the Alabama House and Senate passed a resolution to recognize Fulford as an exceptional administrator who during his career served others and distinguished himself through his professional contributions.
The Mobile native completed his undergraduate degree in marketing from USA's Mitchell College of Business in 1972. He obtained a master's degree in educational leadership from USA's College of Education and Professional Studies in 1993. Fulford came to work at the University in 1981 as its first director of alumni affairs. He later served as the first director of development and alumni affairs, director of governmental relations and director of state relations before being named executive director of governmental relations in 1998.
He laid the groundwork for his highly successful career by serving as chair of the Mobile County Republican Executive Committee, a member of the Alabama Republican Executive Committee, a founding member of the University of South Alabama Political Action Committee, coordinator of the 1990 National Governors Association meeting held in Mobile, and a member of the transition team and acting press secretary for Alabama Gov. Guy Hunt. During these years, he established a legislative liaison office and set up the first computerized legislative tracking system for the Office of the Governor.
In 1994, Fulford was coordinator of the Southern Legislative Conference, which was held in Mobile. And in 1995, he was on the transition team for newly elected Alabama Attorney General Jeff Sessions. He also became a founding member, then executive committee and board member of the newly formed Higher Education Partnership, an organization which vigorously supports public higher education throughout the state. As a member of the Mobile Area Chamber of Commerce, he served on the Legislative Affairs Task Force. In 2001, he was an organizational conference chair for the University Governmental Affairs Council, and in 2005 he was host state chair for the Southern Legislative Conference.
Throughout his adult life, Fulford has served in the military reserve, including as commander, 482nd Replacement Detachment; commander, 1184th Transportation Terminal Battalion and during three years in the unit received three Superior Unit Awards, Reserve Officer's Association, Outstanding Small Unit Award and his reserve center received the Army Community of Excellence Award. He served in the Middle East during Operation Desert Storm. Additionally, he served as deputy commander of the 375th Transportation Group and legislative liaison of the Chief, Army Reserve. He retired from the reserve in October 2002 with the rank of colonel, with the distinction of having commanded at the company, battalion and group levels.
Fulford has donated much of his free time to military and civic organizations, including: member, Military Officers Association of America; member, American Legion; commissioner, USS Alabama Battleship Commission; life-member, Reserve Officers Association; member, Governmental Relations Subcommittee; former president, Mobile Junior Chamber of Commerce; former president and chairman of the board, Mobile Azalea Trail; and former president, University of South Alabama National Alumni Association.
For details on each ceremony, check out the Commencement website. Both ceremonies will be streamed live from the South homepage.
The Mitchell Center will be open to the public at 8:30 a.m. for the morning ceremony. Following that ceremony, the building will close to the public, then re-open at noon for the afternoon ceremony. Parking signs will be posted throughout campus, and shuttle service will be available for guests who park in these areas. The shuttle service will run from 8 a.m. until 6 p.m. Pick-up and drop-off points for the shuttles will be in the following parking lots: University Commons, Gamma Residence Hall, Humanities Building, Whiddon Administration Building, Student Services Drive near the Health, Kinesiology and Sport Building/Jag Gym, and the lot east of the Computer Services Building.
---