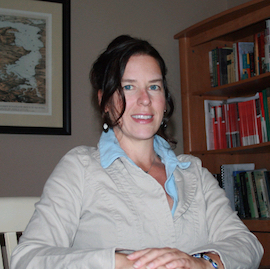 Mara Kozelsky
Department of History

---
Publications
Crimea In War and Transformation
Published by Oxford University Press, Crimea in War and Transformation is the first book to examine the toll of the Crimean War on civilians living at or near the battlefields from mobilization through reconstruction. It also:
is the first book to consider the impact of the Crimean War on animals and the environment;
explores the aftermath of war, including the mass exodus of Crimean Tatars;
shows how violence transformed state and society at home and across the empire; and
provides crucial context for understanding Crimea's position in Russia and Ukraine today.
Current Research
Crimean War Translation Project (CWTP)
A collaboration with Russian language specialists, Dr. Nicholas Gossett and Ekaterina Zakharova, the CWTP makes the Russian imperial experience of the Crimean War accessible to Anglophone students and scholars by translating key documents of the Crimean War from Russian into English.
---
Other Publications
Books
Contributing co-editor with Lucien J. Frary, Russian-Ottoman Borderlands: the Eastern Question Reconsidered. Madison: Wisconsin University Press 2014.
Christianizing Crimea: Shaping Sacred Space in the Russian Empire and Beyond. DeKalb: Northern Illinois University Press, 2010.
Contributing co-editor with Philip L. Kohl and Nachman Ben-Yehuda, Selective Remembrances: Archaeology in the Construction, Commemoration, and Consecration of National Pasts. Chicago: University of Chicago Press, 2008.
See More
---
Courses
HY 102 Western Civilization II
HY 246 History of the USSR
HY 337 History of Eastern Europe
HY 338 History of Russia
HY 401/501 History of Holy War, from Early Times to the Present
HY 442 Undergraduate Research Seminar: History of War in Russia
HY 442 Undergraduate Research Seminar: History of Holy War
HY 451 States, Nations, and Nationalism (W)
HY 457/557 Stalin's Russia
HY 457/557 History of Eastern Christianity
HY 540 Modern European Historiography
HY 542 World Historiography
HY 590 Europe and Empire