Math Circle Solving Problems for 20 Years
---
Posted on October 15, 2019 by Joy Washington
Joy Washington
---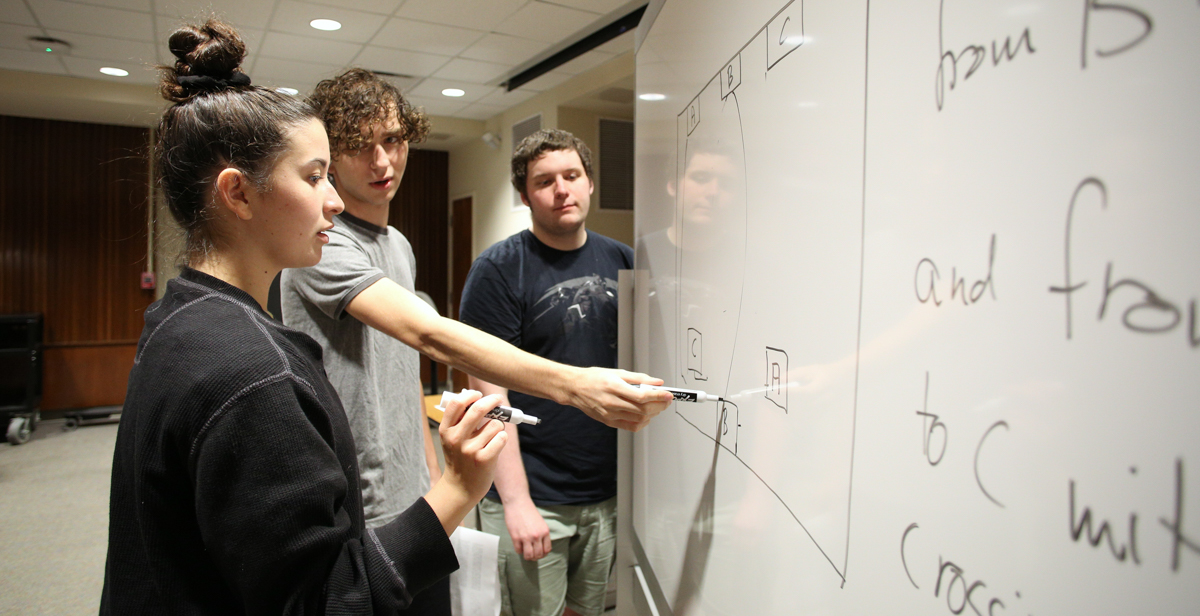 USA students John Pomerat, center, a sophomore computer science and mathematics major, along with Daniel Hodgins, a freshman engineering major, show Murphy High School student Mollee Bearden how to problem solve during a recent Math Circle session.
---
Despite a full day of being homeschooled, John Pomerat spent his Monday evenings over a five-year period in the Math Circle, located in the mathematics and statistics department at the University of South Alabama.
"I never attended high school. I was 'unschooled,' which is a hands-off approach to learning where the student follows their interests," Pomerat explained. "Math is all about creativity and critical thinking, but this true nature of mathematics rarely shows up in the math education most students receive."
USA's Math Circle is designed for students like Pomerat, who enjoy math and want the challenge of exciting problems that are normally outside the school curriculum. Pomerat, now a sophomore at South, volunteers to lead some of USA's Math Circle sessions. He is double majoring in computer science and mathematics. Upon graduation, he hopes to attend graduate school and conduct research in artificial general intelligence.
"What I have learned in the Math Circle has been useful in my majors," Pomerat said. "The Math Circle was the primary place where I learned the problem-solving skills that are needed for success in technical fields like computer science."
South's Math Circle is held during fall and spring semesters at 7 p.m. on Mondays on campus in the Mathematical Sciences and Physics Building. The sessions are managed and coordinated by Drs. Cornelius Pillen and Vasiliy Prokhorov, professors in the mathematics and statistics department in the College of Arts and Sciences. Prokhorov regularly teaches a graduate course on problem solving for future math teachers who are studying in the College of Education and Professional Studies. South students taking his class often help lead Math Circle sessions.
"We are very pleased with the success of our Math Circle," Pillen said. "Our students can come and go at any point during the academic year. There's no fee to attend. Our hope is once they come, they will be intrigued and like what they are experiencing and return for more sessions."
Math Circles are a tradition that started in Hungary and eastern Europe more than a century ago and continues to grow stronger worldwide each year. Prokhorov helped develop the Math Circle session at South in 2000. As a middle and high school student, he attended a Math Circle and learned from a leading scientist at that time.
USA's Math Circle started as a pilot program held at the Alabama School of Mathematics and Science in Mobile and then was transferred to the South Alabama campus. And, South was one of the first in the United States to start a Math Circle.
"John is just one of many examples of a student who attended our Math Circle and has done well," Prokhorov noted. "John is a very gifted student, and we are pleased to have him helping and leading some of the sessions. We are introducing students to math and creative thinking through problem solving. We are exciting the minds and spirits of young students to further study math and science. We also offer guidance, enrichment and educate students about careers in math and science."
The Math Circle has continued to grow and become more diverse with female, African American, Asian and Hispanic students.
"I have had the opportunity to lead a few Math Circle sessions, and it's been a rewarding experience to work with so many wonderful students," Pomerat said. "I have found the best way to solidify your understanding of something is to teach it. And helping students younger than myself is a great way to give back." Approximately 40 students are regularly attending this year's sessions.
The Math Circle has enjoyed longtime support from the Alabama Space Grant Consortium, whose recent $5,000 grant will allow Pillen and Prokhorov to bring in noted mathematicians and scientists.
---
---