Alabama All-State Resources
Alabama All-State Podcasts and
High School Virtual Workshop Series
As we have for over a decade, the USA Department of Music provides free recordings (in video this year) to help students prepare the middle and high school All-State audition material. Links to the podcasts can be found below or you can jump to them by clicking here.
Beginning this year, the USA Department of Music is pleased to additionally offer a series of virtual workshops to high school students in preparation for the Alabama All-State Band auditions. These workshops are offered at no cost to registered participants in grades 9-12. Interested students must complete the registration form below in order to be included in the workshop. A Zoom link and password will be sent out to your provided email no less than 24 hours before the workshop is scheduled to begin.
Dr. Andra Bohnet
Flute
Monday, November 16th
7-8:30pm

Dr. Rebecca Mindock
Saturday, Nov. 7th, 5-6:30pm (Oboe)
Sunday, November 8th,
6-7:30pm (Bassoon)

Dr. Kip Franklin
Monday, November 16th
6-7:30pm (Clarinet)
Wed., Nov. 18th, 6-7:30pm (Bass Clar.)

Dr. Tracy Heavner
Saxophone
Monday, November 9th
6-7:30pm

Dr. Jason Rinehart
Horn
Saturday, November 7th
3:30-5pm

Dr. Peter Wood
Trumpet
Saturday, November 21st
10-11:30am

Dr. Arie VandeWaa
Trombone/Euphonium
Wednesday, November 4th
6-7:30pm

Dr. Will Petersen
Tuba
Wednesday, November 4th
6-7:30pm

Mr. Matthew Greenwood
Percussion
Saturday, November 7th
1-2:30pm
Registration Form
Please direct any questions about the workshops to Dr. Kip Franklin (kipfranklin@southalabama.edu)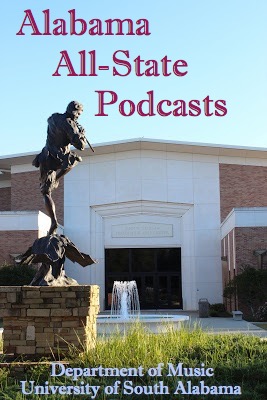 Here you will find free podcasts to help students prepare for this year's Alabama All-State Band auditions. This year's podcasts include videos of each faculty member performing the etudes as well as providing comments and tips to help guide your practice. These podcasts are available for both the high school and middle school audition materials. We hope you find them helpful in preparing for a successful audition!
Click below to access the podcasts relevant to your level.