Percussion Ensembles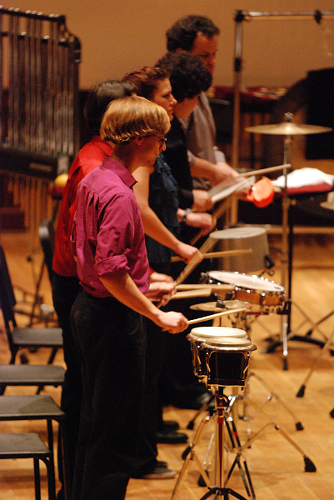 Percussion Ensemble - MUO 120, 420, 520
The Percussion Ensembles meet Monday, Wednesday, and Friday from 1:25pm - 2:20pm in Room 1230 (Rehearsal Hall) of the Laidlaw Performing Arts Center. The ensemble is open by audition to any percussionist at USA. Auditions are always conducted the first day of school each semester. The ensemble provides students with the opportunity to perform and become familiar with the ever-growing volume of percussion ensemble literature. The ensembles present public performances and clinic sessions each semester. Participation is expected for all percussion music majors.

USA Steel Band - MUO 144, 444, 544
Students in the USA Steel Band will have the opportunity to perform significant literature from the steel band repertoire, become familiar with percussion instruments and techniques, and learn about the cultures associated with the steel band movement throughout the Caribbean region. The music performed will include those indigenous to the islands of Trinidad and Tobago, as well as transcriptions and adaptations of other popular styles to a steel drum ensemble. Professional performance opportunities usually arise during the semester for steel band members.

Entrance into the USA Steel Band is by audition only. Auditions are held at the first class meeting to assess the person's natural music ability. NO previous steel band experience is necessary. However, a good sense of rhythm, natural ability to groove, and lyrical flow are a necessity. A basic understanding of notes, scales, and chords will prove helpful in securing a position. This course is offered in the SPRING ONLY. The ensemble meets Monday afternoons from 4:00-6:00 pm in Room 1230 (Rehearsal Hall) in the Laidlaw Performing Arts Center.

World Music Ensemble - MUO 136, 436, 536
The World Music Ensemble is an ensemble that focuses its repertoire on traditional music and dance from other cultures. The ensemble meets Wednesday afternoons from 4:00-6:00 pm in Room 1230 (Rehearsal Hall). This course is offered in the SPRING ONLY. Participation is open to all interested students regardless of experience. While the focus of the ensemble is musical, cultural contexts relevant to the music studied are inherently stressed, giving the students and the audience a deeper understanding of the music's meaning and a greater personal enjoyment of the music played. The ensemble is taught mainly through oral tradition.