Announcing an All-Steinway Initiative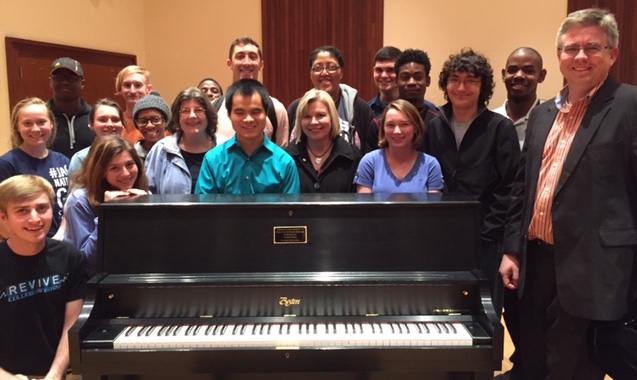 All-Steinway Schools demonstrate a commitment to excellence by providing their students and faculty the best equipment possible for the study of music. From the practice room to faculty studios to the recital hall, all pianos are designed by Steinway & Sons. Several of our neighbor institutions have been named All-Steinway Schools, including the University of West Florida, the University of Montevallo, the University of Alabama-Birmingham, the University of Mobile, Troy University, and Spring Hill College. In order to receive this prestigious distinction and benefit from the excellence that Steinway-designed pianos have to offer, the University of South Alabama has announced an All-Steinway School Initiative. Any amount given to the Steinway Initiative is appreciated and makes an impact. We also have options for individuals to leave a legacy or honor/memorialize a loved one by naming a piano, with donations ranging from $14,700 to $114,300.

The pianos currently in the practice rooms, piano studios, vocal studios, rehearsal rooms, and classrooms have been serving the students and faculty for many years, some for more than 50 years, and have moved beyond the point where they can provide consistently excellent, quality results to student and faculty musicians.

While all gifts are welcome, the current inventory and needs are as follows:

PRACTICE ROOMS
Needs: One (1) Steinway "M" five-foot-seven-inch grand piano and two (2) Steinway "K52" upright pianos and one (1) Steinway-designed Boston 50" Studio piano.

PIANO STUDIOS
The department's two piano teaching studios have four instruments ranging in age from sixty to ninety years old. Needs:Three (3) Steinway "B" seven-foot-ten-inch grand pianos, two for each studio.

VOCAL AND CHORAL STUDIOS
The two vocal studios and one choral room have grand pianos which are thirty-five years old and in fair condition. Voice teachers utilize piano accompaniment on a daily basis for virtually every student's lesson. The instruments in the vocal and choral studios must provide a quality sound and have suitable construction for the rigorous teaching demands.
Needs: Three (3) Steinway "O" five-foot-ten-inch grand pianos, one for each studio.

OTHER FACULTY STUDIOS
Five studios have forty-year-old pianos and two have electronic pianos. Rehearsals and teaching demands require a more solid, stable instrument. Needs: Five (5) Steinway-designed 50" studio upright pianos.

CLASSROOMS
One classroom has a poor quality piano, while the other two have electronic pianos.
Needs: Two (2) Steinway "K52" upright pianos.
SUMMARY OF NEEDS FOR THE ALL-STEINWAY INITIATIVE
*THREE (3) STEINWAY "B" SEVEN-FOOT CONCERT GRAND PIANOS - $114,300 each
*THREE (3) STEINWAY "O" FIVE-FOOT-TEN-INCH GRAND PIANOS- $87,600 each
*ONE (1) STEINWAY "M" FIVE-FOOT-SEVEN-INCH GRAND PIANOS- $78,900 each
*FOUR (4) STEINWAY "K52" UPRIGHT PIANOS- $40,800 each
*SIX (6) STEINWAY-DESIGNED BOSTON 50'STUDIO PIANOS- $14,700 each

REALIZING THE VISION
Your financial partnership with the Department of Music is crucial to the success of our All-Steinway School Initiative. It is essential that we provide the finest tools for quality learning, teaching, and performing for all of our students and faculty. Whether the gift is a single instrument or multiple instruments, each contribution will impact our students and faculty for decades to come, and your generosity will continue to provide the department with inspiration and resources to further the pursuit of excellence in music.

If you are interested in helping the Department of Music reach this prestigious goal, please contact:
Dr. Laura Moore, chair - (251) 460-6361, lauramoore@southalabama.edu
Dr. Robert Holm, Piano Area Coordinator - (251) 460-6237, rholm@southalabama.edu
Mrs. Anna Parks, Development Officer - (251) 460-7676, aparks@southalabama.edu
* PLEASE NOTE: The University of South Alabama will receive a discount for purchases; the discount rate increases with a higher number of instruments purchased.