USA Clarinet Day

USA Clarinet Day 2019
Saturday, February 23rd, 2019
University of South Alabama
Laidlaw Performing Arts Center
We welcome all interested clarinetists to participate in USA's fourth annual Clarinet Day!
This year's event will feature guest artist Dr. Victor Chavez, Assistant Professor of Clarinet at the University of Tennessee Knoxville and host of the International Clarinet Association's ClarinetFest 2019 convention.
Dr. Victor Chavez, Jr. is a Mexican-American, fifth-generation musician from El Paso, Texas and has studied with Larry Combs, Guy Deplus, Jon Manasse, Julie Deroche, Kenneth Grant, Dr. Richard Shanley, and Alan Olson. As a student, Victor won various prizes: twice at the El Paso Artists Guild Concerto Competition; twice at the Entergy Young Texas Artists Competition in Conroe, Texas; Baylor University Concerto Competition; the International Sorantin Concerto Competition in San Angelo, Texas; DePaul University Concerto Competition; and the Round Top Festival Concerto Competition. Upon completing his Bachelor's degree in Music Education, he was awarded the prestigious Fulbright Lusk Fellowship, which allowed him to study in Paris, France under the tutelage of Guy Deplus, former soloist of L'Opera de Paris and teacher of the Conservatoire National Superior de Paris. While in Paris, Victor was principal clarinetist of the Orchestre des Universités de Paris and conducted his Fulbright research in pedagogy, performance practice, and literature.
Upon returning to the United States, Victor attended DePaul University where he earned a Master's degree with distinction in clarinet performance under the guidance of Larry Combs, former principal clarinetist of the Chicago Symphony Orchestra. Victor then earned his doctorate in Performance and Literature at the Eastman School of Music with a minor in Music Education where he occasionally performed with the historic Eastman Wind Ensemble and Eastman Philharmonia.
Victor has taught privately in El Paso, Texas; Waco, Texas; Mexia, Texas; Chicago, Illinois; Lansing, Indiana; and at the University of Rochester in New York State. He has attended the Brevard Music Festival, Blossom Music Festival, and Round Top Music Festival. He has been a guest clinician for KMTA, various middle schools, high schools, and universities throughout the country as well as performed at the International Clarinet Association Festival 2014 and the College Music Society Conference. His performances can be heard locally on WUOT 91.5 FM, Knoxville.

As an active free-lance clarinetist, he has performed with the Waco Symphony Orchestra, Binghamton Philharmonic Orchestra, Erie Chamber Orchestra, Belton Symphony Orchestra, Knoxville Symphony Orchestra, Oak Ridge Symphony Orchestra, and Murfreesboro Symphony Orchestra Chamber Series. He is currently the principal clarinetist of the Tri-Cities Opera Company in Binghamton, New York and principal clarinetist of the Johnson City Symphony Orchestra in Johnson City, Tennessee as well as the newly appointed Assistant Professor of Clarinet at the University of Tennessee, Knoxville.
Victor is a proud member of Phi Mu Alpha Sinfonia Fraternity.
.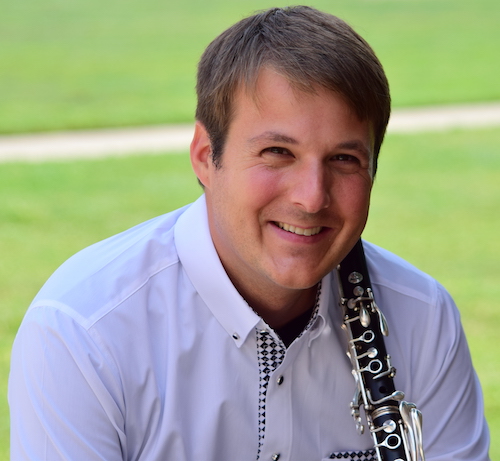 Registration and Fees:
$25 due upon your arrival to Clarinet Day 2019
Registration fee includes:
admission to all exhibits, events, and recitals
participant lunch
Online payment for Clarinet Day is unavailable. Please register using the form below and bring your payment with you when you arrive on February 23rd (checks may be made out to "USA Department of Music"). We hope to have online payments for future events.
Schedule of Events (tentative, as of October 2018):
9:30am­ Registration Opens
10:00am­ Welcome, Warm Up, Mass Clarinet Choir Rehearsal
11:00am­ Masterclass with Dr. Chavez
12:00pm­ Lunch (provided)
12:45pm Potpourri Recital (Recital Hall)
1:30pm Mass Clarinet Choir Rehearsal
2:30pm­ Q&A with Drs. Chavez and Franklin
3:00pm Mass Clarinet Choir Rehearsal
3:45pm Mass Clarinet Choir Performance
4:00pm­ Finale Recital Featuring Dr. Chavez, Dr. Franklin, and Dr. Doreen Lee
5:00pm­ USA Clarinet Day Concludes
Questions? Please contact:
Dr. Kip Franklin
kipfranklin@southalabama.edu
251­-414­-8222