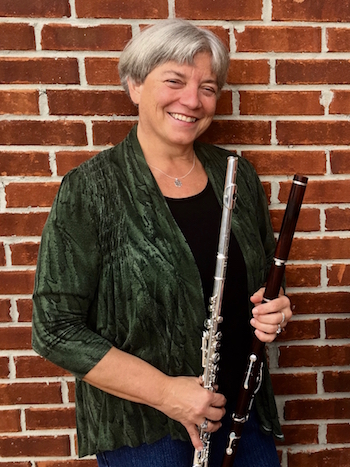 Dr. Andra Bohnet
Professor of Music, Flute, Harp Wind/String/Percussion Area Coordinator, Music Literature, Flute ChoirDepartment of Music

---
Education
Bachelor of Music in
Flute Performance
University of the Pacific
Master of Music in
Flute Performance
University of Southern California
Ph.D. in Fine Arts
Texas Tech University
---
Biography
Andra Bohnet is a flutist who embraces a rich variety of musical styles with both virtuosity and sensitivity. In addition to her position as Professor of Music at the University of South Alabama where she teaches flute, music history/literature and chamber music, she is the principal flutist with Mobile Symphony Orchestra where she has been a featured soloist on several occasions. Her newest chamber ensemble, the Trebuchet Wind Trio (www.trebuchetwindtrio.com), released their debut CD Perpetuum Mobile in 2016. She also plays Irish flute, whistle and Celtic harp in a variety of settings including Mithril (www.andrabohnet.com), a high-energy Celtic/world music band which has released seven CDs, and Liminal (www.liminalduo.org), a new flute and percussion duo, which crosses the threshold between ancient and modern musical idioms with a bit of technology added into the mix.
Her solo CD, Clinton on Clinton, rediscovered the music of John Clinton (1809-1864), an Irish flutist, composer and flute maker who was a major figure in 19th century flute design. For this project, she performed Clinton's music on seven flutes manufactured by Clinton & Co. over 150 years ago! This research has been presented to the National Flute Association and the British Flute Society (www.clintonfluteproject.com).
She also recorded and toured previously with her chamber ensemble for flute and strings, the Silverwood Quartet, which has performed throughout the United States and in Japan, including a gala performance for the National Flute Association. The group has recorded six CDs and explores popular and world music in addition to the classical repertoire. Also, the group's primary arranger, Andra's creative charts capture the musical essence of styles ranging from Irish traditional to Tibetan Chant and alternative rock and roll. The CD, A Celtic Mosaic, explores a variety of unique and original music from Celtic sources including music from Riverdance, Lord of the Rings, Ballykissangel and a trilogy of tunes by Loreena McKennitt. About The Classic Rock Album, rock icon Ian Anderson, flutist and leader of Jethro Tull, said, "Many thanks for the CD. I enjoyed it very much and especially the variety of musical styles it incorporated. Keep up the good work and help bring the worlds of pop/rock and the Classical traditions together."
Andra performs and records on flutes of all shapes and sizes (classical, traditional simple system, baroque and a variety of ethnic instruments), as well as Celtic harp. She has performed and presented at several National Flute Association Conventions, the Canadian Flute Convention, British Flute Society, World Flute Societies and Boxwood Canada. In addition to fluting, Andra is a master martial artist, yogi, avid snow skier, techno-geek, and alternatively wishes she was a hobbit or a Jedi knight!