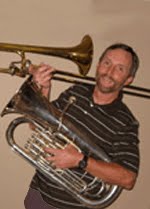 Keith Bohnet
Events Coordinator, Instructor Introduction to Music

---
Education
Bachelor of Music in Music Education
University of the Pacific
Master of Music in Performance (Trombone)
Texas Tech University
---
Biography
A professional musician for over 35 years, Keith Bohnet is now a quite active participant in two Mobile, Alabama entities – the University of South Alabama Department of Music and Mobile Symphony. If you add to that an active fascination with winter snow sports and summertime kayaking, you will find that the life of this Alabama musician is a fulfilling and happy one.
Mr. Bohnet is presently a trombonist with the Mobile Symphony, performing with them since the Fall of 1988 when the orchestra was then known as the Port City Symphony. Though active in other orchestras, bands and brass quintets through the years, it is concerts with Mobile Symphony that keep him striving to improve by actively engaging in daily practice and seeking more instruction in seminars and masterclasses. Such preparation has become extremely necessary with the increased demands of the repertoire of the orchestra; aging has not stopped the need to hit the practice room!
Fortunately, Mr. Bohnet has found another musically satisfying position with the Department of Music at the University of South Alabama. Whether he finds himself in the classroom with first-time music students in Introduction to Music, or engaged in complex music discourse with music majors and teaching colleagues, there is never a dull moment. In addition, he is the Events Coordinator for USA's Music Department, keeping the calendar of performances straight right along with making sure that each concert is run smoothly from the perspective of both audience and performers.
Keith Bohnet's education history includes a Master of Music in Trombone Performance from Texas Tech University in 1984, and a Bachelor of Music Education (euphonium concentration) from the University of the Pacific in 1979. Professional performance experience includes work with the Mobile Symphony (1988-present), Gulf Coast Symphony (1988-2006), Pensacola Symphony (1987-1988), Lubbock Symphony (1982-1984), and Roswell Symphony (1982-1984).