Universal Design for Learning (UDL)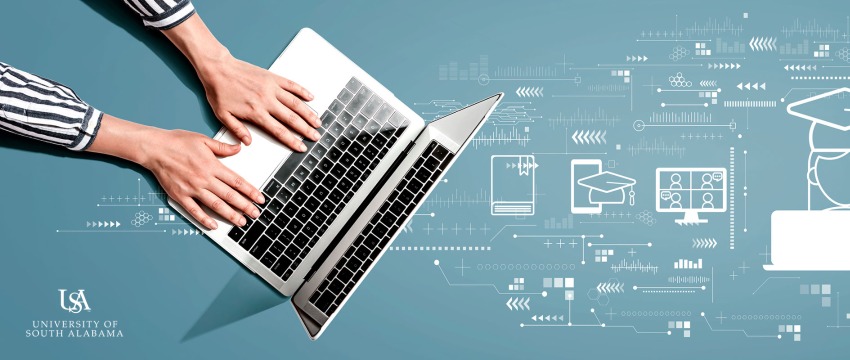 What is Universal Design for Learning?
Universal Design for learning (UDL) is a framework to improve and optimize teaching and learning for all people based on scientific insights into how humans learn (Cast, 2020). This framework provides a set of guidelines for developing instruction for all learners. Universal design for learning does not represent a class accommodation, it is a framework designed to benefit all learners.
Universal Design for Universal Access
The Center for Educational Accessibility & Disability Resources at the University of South Alabama is a nurturing and encouraging unit that is dedicated to providing all students with disabilities equal access to accommodations needed to facilitate academic success. South aims to ensure compliance with applicable laws, including Section 504 of the Rehabilitation ACT of 1973 and the applicable titles of the Americans with Disabilities ACT (ADA) of 1990 for qualified students with disabilities. The University is committed to helping students with documented disabilities through a variety of services, including providing, arranging, and coordinating accommodations for participation in courses, programs and campus activities. As a faculty or staff member of the university, you have a special obligation to ensure that reasonable, appropriate accommodations are provided to students registered with Disability Services. You also have the right to verify documentation and expect students to initiate accommodation requests.
Under federal law, the University is required to provide reasonable accommodations for students with disabilities. Each student receiving accommodations has to be registered with the Center for Educational Accessibility & Disability Resources and provided documentation of his or her disability to their office. In accordance with the Americans with Disabilities Act, students with bona fide disabilities will be afforded reasonable accommodation. The Center for Educational Accessibility & Disability Resources will certify a disability and advise faculty members of reasonable accommodations. If you have a specific disability that qualifies you for academic accommodations, contact the Center for Educational Accessibility & Disability Resources to receive proper certification that you can provide to your instructor(s). The Center for Educational Accessibility & Disability Resources is located at 320 Alumni Circle, Educational Services Building, Suite 19, Phone (251) 460-7212.
UDL Guidelines
The three UDL principles were developed to guide the design, selection, and application of learning tools, methods and environment. They have undergone considerable elaboration and revision since it's conception, these principles are:
Provide Multiple means of Engagement: UDL's ultimate goal is to enable learners to become experts. Expertise involves developing interest, purpose, motivation, and self-regulation. It is important to design learning experiences that allow learners to be challenged, to build self-knowledge,and to persist through failure.
Provide Multiple means of Representation: Expertise requires constructing knowledge and perceiving information in the environment. This depends upon the different methods and media used to present this information. It is important to provide learners with options to process information so that they can transfer it to a variety of situations.
Provide Multiple means of Action and Expression: For learners to become experts they need to be able to set goals, monitor their progress, utilize strategies to manage information. Novice learners might approach learning through trial and error, they experiment until they find strategies that work for each of them. It is important that learners are guided and receive support through these processes.
Access the complete UDL Guidelines.
UDL in Canvas
Canvas as an LMS allows instructors to start implementing the UDL framework through the different native and third party tools in Canvas. Below are some suggestions to start implementing UDL in your Canvas Course.
Resources