Architectural History Sources at The McCall Library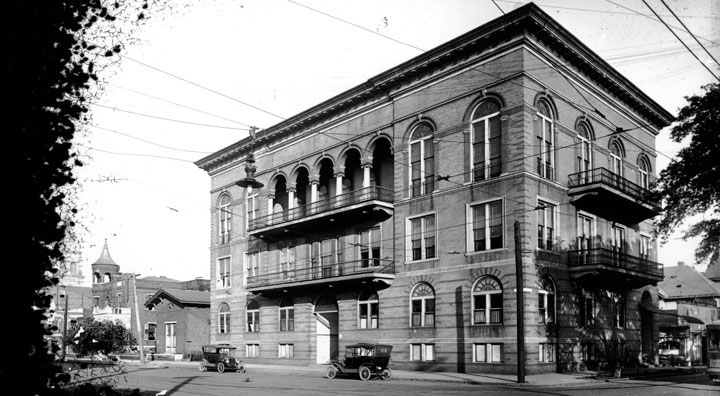 Exterior of the Fidella Club on Government Street, c. 1905. Erik Overbey Collection.
---
For more information about these collections please email us at mccalllib@southalabama.edu.
---
Important Disclaimer: Warning concerning copyright restrictions. The copyright law of the United States (Title 17, United States Code) governs the making of photocopies or other reproductions of copyrighted material. Under certain conditions specified in the law, archives are authorized to furnish a photocopy or other reproduction. One of these specified conditions is that the photocopy or reproduction is not to be "used for any purpose other than private study, scholarship or research." If a user makes a request for, or later uses, a photocopy or reproduction for purposes in excess of "fair use," that user may be liable for copyright infringement. It is up to the user to comply with all copyright laws of the United States.
---
DAUPHIN ISLAND PROPERTY OWNERS' ASSOCIATION (634-2013)
Contains files related to every property on Dauphin Island, Alabama. Includes tenant agreements, bills of sale, insurance documents, correspondence, deeds, maps of the island, and photographs. 7 linear feet.
GOULD, ELIZABETH B.
Elizabeth Gould, an architectural historian, taught at the University of South Alabama from 1966 to 1975. This collection contains her research notes for three books: Nineteenth Century Mobile Architecture: An Inventory of Existing Buildings (1974); From Fort to Port: An Architectural History of Mobile, Alabama, 1711-1918 (1988); and From Builders to Architects: The Hobart-Hutchisson Six (1997). Box inventories are available. (See also Photograph Collections under the same heading and under Paul Thompson.) 12.25 linear feet.
HUTCHISSON JR., C. L.
C. L. Hutchisson Jr. (1902-1993) was the last of five generations of a family of builder-architects who were extremely influential in the architectural development of the city. This collection contains his personal correspondence and business records, minutes and newsletters from the Mobile Housing Board (1939-1946), the Alabama Society of Architects (1949-1958), and the Alabama Association of Registered Architects (1933-1949). Also includes more than 350 architectural drawings of structures designed by C. L. Hutchisson Sr. and Jr. (ca. 1908-1972). The drawings are indexed by address as well as the client's name. 21 linear feet.
JUNIOR LEAGUE OF MOBILE
The Junior League of Mobile was originally founded in 1925 as the Mobile Charity League. In 1932 it was incorporated into the Association of Junior Leagues International (AJLI). The Junior League is committed to promoting volunteerism, developing the potential of women, and improving communities through effective action and leadership. The Junior League of Mobile Records contain correspondence, minutes, publications, photographs, scrapbooks, and subject files detailing the operations of the organization from its founding through 2009. The subject files contain a great deal of information about volunteerism in post-World War II Mobile, particularly in the areas of children's health and education. 44 linear feet.
LOTT, VIRGINIA
Virginia Lott was an information specialist for the Mobile County Commission, where she worked from 1945 until 1986. The papers in the collection (1955-1986) include manuals, handbooks, articles, and news clippings relating to both the 1888 and 1958 Mobile County courthouses, as well as to forts, historic buildings, and other historic information relating to Mobile County. 1.25 linear feet.
MOBILE HOUSING BOARD RECORDS
The records of the Mobile Housing Board cover roughly the years 1950 to 1980 and concern the urban renewal projects that the housing board directed. These project areas included Water Street, East Church Street and Central Texas Street. The collection contains appraisal reports with photos of acquired properties, project planning books, maps of project areas, correspondence between the Mobile Housing Board and the Department of Housing and Urban Development officials, various HUD publications, as well as files concerning the activities of the Mobile Community Action Committee. Box inventories to the collection are available on site. 305 linear feet.
OLD DAUPHINWAY ASSOCIATION
Minutes, correspondence, newsletters, news clippings, and photographs relating to the Old Dauphinway Historic District from 1976 to 1988. 2 linear feet.