Civil Rights History Sources at The McCall Library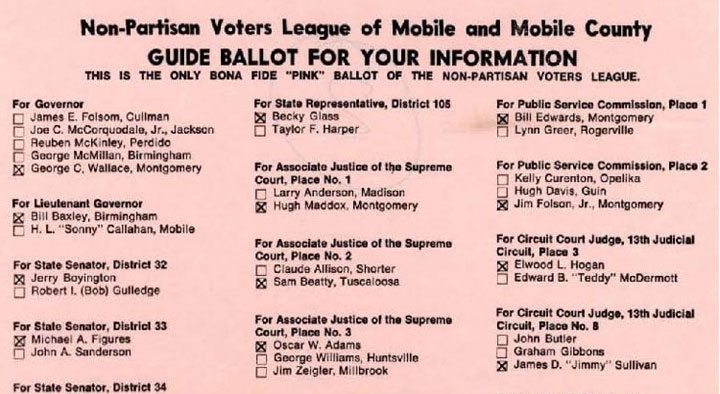 The Guide Ballot pictured above or the NPLV's "pink sheet" was used to influence elections. Non-Partisan Voters League Records.
---
For more information about these collections please email us at mccalllib@southalabama.edu.
---
Important Disclaimer: Warning concerning copyright restrictions. The copyright law of the United States (Title 17, United States Code) governs the making of photocopies or other reproductions of copyrighted material. Under certain conditions specified in the law, archives are authorized to furnish a photocopy or other reproduction. One of these specified conditions is that the photocopy or reproduction is not to be "used for any purpose other than private study, scholarship or research." If a user makes a request for, or later uses, a photocopy or reproduction for purposes in excess of "fair use," that user may be liable for copyright infringement. It is up to the user to comply with all copyright laws of the United States.
---
AHMED, DR. NAHFIZA
Audio taped oral interviews conducted with former Mobile mayor Joseph Langan (July 2001), Non-Partisan Voters League member O. B. Purifoy (October 2001), and civil rights activists James Dixon (July 2001) and Jerry Pogue (July 2001) in connection with Dr. Ahmed's doctoral dissertation on the civil rights struggle in Mobile. Transcripts are available. Some restrictions apply.
CASE, DELENE
Nine oral interviews with individuals who participated or assisted with the Neighborhood Organized Workers (NOW) and/or other civil rights organizations in Mobile during the 1960s and 1970s. The interviews are recorded on cassette tapes and transcriptions are included in the collection. These interviews were part of Ms. Case's research for her M.A. thesis, "'Ain't Gonna Let Nobody Turn Me Around': The Black Freedom Struggle in Mobile, Alabama, 1902-1969" (University of South Alabama, 2004). .25 linear foot.
CLARK, JIM (12-09-629)
James Garner Clark Jr. was sheriff of Selma, Alabama, during the 1965 voting rights demonstrations in that city. His papers consist of correspondence written home by Clark during World War II, as well as approximately 260 letters written either in support of or in opposition to Clark's actions during the voting rights demonstrations. The Selma letters were written from all over the United States, as well as from Canada, the United Kingdom, and Sweden. In addition, the collection includes newspapers and news clippings, photographs, biographical information, material related to communism, and assorted other material. 2.25 linear feet.
FOLEY, FATHER ALBERT
A series of oral interviews conducted in preparation for a master's thesis about the life of Father Albert Sidney Foley, a Jesuit priest who taught at Spring Hill College. The interviewed were conducted with Joseph Langan, Jay Higginbotham, and James Blacksher. The primary subject under discussion was Foley's role in the civil rights movement in Alabama. The bulk of Foley's papers are held at Spring Hill College. .25 linear foot.
GALLALEE, JACK C.
Jack Gallalee served as president of the Mobile County School Board from 1961-1965. His personal files for the period of his term include correspondence, publications, and school board meeting minutes. Subjects range from federal educational mandates regarding integration to problems relating to fraternities and sororities in the Mobile County school system. 2.5 linear feet.
HOLMES, LARRY
This collection contains materials amassed by Dr. Larry E. Holmes, former professor of Russian history at the University of South Alabama, during the course of an administrative and legal battle between him and the university over tenure. The case revolved around issues related to academic freedom and civil rights. The papers include a chronology of events, documents related to the FBI and its concern with Holmes' activities, correspondence, memoranda, briefs, interrogatories, affidavits, newspaper clippings, reports, and depositions. The collection also includes a CD of an interview conducted in August 1973 with Holmes by Mike Sloan of the local radio station WABB and Don Henry of the Alabama Education Association. A later donation made by Holmes was added to this collection and contains correspondence, grant awards and applications, newspaper clippings and other material related to Holmes' professional career, and a copy of Holmes' 1997 article on Moscow School No. 25 that appeared in the Slavic Review. 1 linear foot.
LEFLORE, JOHN L.
Materials relating to various activities of civil rights leader John L. Leflore. Included are correspondence, minutes, and other records of the regional, state and local NAACP (1939-1956); the Mobile Housing Board (1966-1970); the Alabama House of Representatives (1975-1976). The collection also contains one CD with John LeFlore's FBI file, photographs, and articles written by Mr. LeFlore for various newspapers. The papers have been microfilmed. 10 linear feet.
LEFLORE ORAL HISTORY PROJECT
Contains videotaped interviews with Joseph Langan, O. B. Purifoy, Dr. W. B. LeFlore, Janet LeFlore, Fred Richardson, J. C. Randolph, Hon. James T. Strickland, Henry Williams, Geraldine Clark, and Lancie Thomas. The interviews, filmed in 1996, are available on 34 VHS video tapes. They were produced under a grant from the Alabama Humanities Foundation for a documentary on John L. LeFlore. An index for the tapes is available.
MCLAURIN, MELTON
Dr. Melton McLaurin was an assistant professor of history at the University of South Alabama from 1966 to 1977. He was deeply committed to civil rights for the university's African American students and for blacks in general. He was an active member of ACT, which was a coalition of students, teachers, principals, civil rights groups, and concerned citizens interested in spurring positive educational changes in the city's schools. This collection consists of audio taped interviews Dr. McLaurin conducted between 1970 and 1972 with civil rights leader John L. LeFlore, Mobile mayor Joseph Langan, and Mobile Beacon editor Frank Thomas. Dr. McLaurin carried out these interviews as part of a project to supplement the records of the Mobile branch of the NAACP. The interviews are available on CD-ROM and by clicking the link above.
MIMS, LAMBERT C.
This extensive collection consists of a multitude of subjects connected with the long-time political career of this former mayor/city commissioner. Consisting of a vast array of genres, from judicial and legal records to proclamations and press releases to campaign material and photographs, the information in this collection covers local topics typically found within such collections, but it also contains material related to Mims' personal religious views and to the American Public Works Association. Mims was rotating mayor and public works commissioner of Mobile from 1965 to 1985. 136 linear feet.
NEIGHBORHOOD ORGANIZED WORKERS (NOW)
Founded in 1966, the Neighborhood Organized Workers (NOW) was a local African-American direct-action group that strived to achieve political, social, and economic reform in their community. This collection contains copies of NOW's FBI files as well as oral interviews with three former NOW members. For more on the collection, please click here. .75 linear foot.
NON-PARTISAN VOTERS LEAGUE
These records of a civil rights organization in Mobile, 1956-1987, contain materials concerning discrimination in public accommodations, employment, criminal justice administration, and public education, including the Birdie Mae Davis case, the cornerstone of the League's efforts at integrating the county public school system. John LeFlore was the director of casework for the organization until his death in 1976. Contains correspondence, minutes, administrative and financial records, legal documents, press releases, news clippings, and publications. The records have also been microfilmed. 17.75 linear feet.
THOMAS, JUDGE DANIEL H.
Daniel Holcombe Thomas was born in Prattville, Alabama, in 1906. He was appointed to the federal bench by Harry Truman in 1951. Although Judge Thomas retired in 1972, he retained supernumerary status until his death in 2000, making him one of the United States' longest serving justices. Known as a conservative, Judge Thomas adjudicated several civil rights cases, the most important to our area being the Birdie Mae Davis v Mobile County School Board school desegregation case. He also developed a national reputation for presiding over maritime cases. This collection consists of 13 personal scrapbooks that contain miscellaneous speeches, letters, pictures, programs, and articles that span Thomas' entire judicial career, and one bound volume of congratulatory letters to him on the 15th anniversary of his installation as judge. 2.5 linear feet.