Civil War Sources at the McCall Library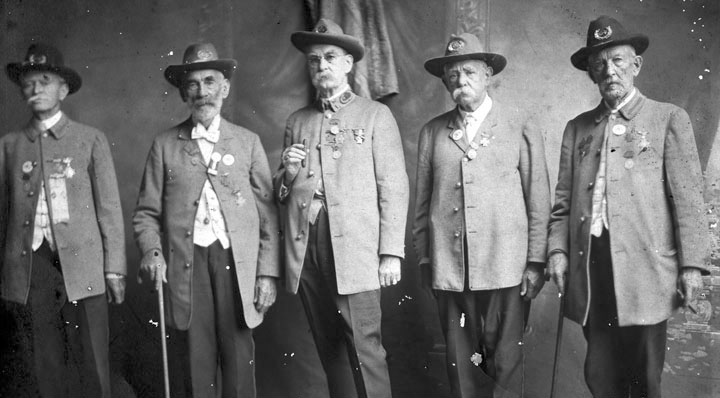 Confederate veterans at a 1910 reunion help in Mobile. Courtesy of Milton A. Howell.
---
For more information about these collections please email us at mccalllib@southalabama.edu.
---
Important Disclaimer: Warning concerning copyright restrictions. The copyright law of the United States (Title 17, United States Code) governs the making of photocopies or other reproductions of copyrighted material. Under certain conditions specified in the law, archives are authorized to furnish a photocopy or other reproduction. One of these specified conditions is that the photocopy or reproduction is not to be "used for any purpose other than private study, scholarship or research." If a user makes a request for, or later uses, a photocopy or reproduction for purposes in excess of "fair use," that user may be liable for copyright infringement. It is up to the user to comply with all copyright laws of the United States.
---
BERNEY, JANE E.
Jane Elizabeth Berney was the daughter of Saffold Berney (1844-1929), a judge, author, and Confederate veteran, and Mary Clifton Berney (1846-1921). Her papers contain photographs of Saffold Berney, his father, Dr. James Berney, and other unidentified women and children, probably Berney family members, as well as a 1909 photo of the family home. Other images show a Confederate veteran's parade. Some of the photographs date from 1877 to 1922, although most are not dated at all. The papers (1918-1942, bulk ca. 1937) relate primarily to Berney's WPA employment in Mobile. From 1936 to 1937 she worked on a project to survey records and write histories of various federal agencies in Mobile, including the post office, the Inland Waterways Corporation, and the Internal Revenue. Her papers also include her membership certificate for the Daughters of the Confederacy (1919) and an employment application for Brookley Field (1942). .75 linear foot.
CROOM, VELMA AND STEPHENS G.
This collection consists of correspondence between various Croom family members and friends from 1840 to 1906, as well as personal papers and literary manuscripts. Most of the letters were written between 1850 and 1870 by Cicero Stephens Croom, his sister Elizabeth Whitfield Croom Bellamy, and their parents, William Whitfield Croom and Julia Stephens Croom. The personal papers include a journal kept by Stephens in 1863 during the siege of Vicksburg while he was serving on General Forney's staff. Also included are numerous school essays written by Stephens while he was attending college at Chapel Hill, North Carolina, and by Elizabeth who studied at the Spingler Institute in New York City. The literary manuscripts in the collection--poems, short stories, and novels--were written by Elizabeth between 1865 and 1900. Her early works were published in national magazines under a pseudonym, Kamba Thorpe. In later works she used her married name, Elizabeth W. Bellamy. The collection also contains her notes for lectures on literary subjects. Appointment required for the use of this collection. 5 linear feet.
DOWLING, WILLIAM
Consists of 1 letter written by William Dowling to his brother Michael on April 13, 1869, at the beginning of Reconstruction. Dowling, living at the time in Marengo County, discusses the effect the newly-freed slaves were having on economic conditions in Mobile and in the countryside.
GEARY, DANIEL
Daniel Geary was brigade ordnance officer for the City of Mobile during the Civil War. When the war ended, Geary apparently kept some of the records of the Ordnance Office. These papers consist of some of the day-to-day records of that office, including day- and letter-books, orders, personnel rosters, invoices, vouchers, and receipts. The collection also has Geary's personal receipt books from 1839 to 1891. Of particular interest within the collection is an 1852 Odd Fellow certificate, and a diary by Charles Brother, a Union officer, describing the Battle of Mobile Bay. Brother's diary has been published. See Two Naval Journals: 1864, edited by C. Carter Smith (1964). 1.5 linear feet.
LOGAN, DANIEL W.
Correspondence, journals (1862, 1869-1870, 1898, 1899-1901), and account books of Daniel W. Logan, a bookkeeper. Born in Charleston, SC, in 1835, Logan lived in Mobile from the 1860s until his death in 1906. The journals discuss events of the day, as well as Logan's travels, visitors, work schedule. They also allude to the Civil War and Reconstruction. 2 linear feet.
LYONS, MARK
Correspondence of Mark Lyons (1840-1887), Confederate States Army, February 18, 1861 to June 19, 1865. The letters are addressed to his fiancee (and later his wife) Amelia Horsler (1845-1916). Lyons first period of service began at Camp Beulah, Mobile. He was in Mississippi through 1862, resigned from the army, and married Amelia Horsler in 1863. He then re-enlisted in May 1864 and was stationed at various batteries in the defenses of Mobile until the end of the war. The letters have been transcribed by a relative. Some background about Mark Lyons and historical notes about the activities of the Confederate Army are included. 2 linear feet.
MCCALL, DOY LEALE
Still undergoing processing, this collection consists of approximately one million documents related to Alabama's Black Belt region. One portion of the collection, the Pickens Papers, includes material on Alabama's third governor, Israel Pickens, Israel Pickens's brothers and his nieces and nephews. Among the myriad subjects found within the Pickens Papers are slavery, Reconstruction and the Civil War. The documents date from 1808 to 1944 [bulk 1820-1899]. For more on the collection, please click here.
RICKARBY, ANN H.
Made up of various papers belonging to Rickarby's grandfather, George Duncan Rickarby, who was a cotton buyer prior to and after and blockade runner during the Civil War. .25 cubic foot.
SAUNDERS, JAMES E.
One 900-page ledger used by James E. Saunders. Entries cover the period from 1858 to 1863 and record profits and losses, commissions, sales, and interest and dividends. Saunders was a commission merchant in Mobile from 1842 and co-owner of the firm of Bradford and Saunders (which became Saunders and Son). Over 125 individuals and firms are listed, including a few African Americans.
SEXTON, CARLTON CLARK
This collection contains a journal belonging to Fannie Eleanor Smith, a scrapbook compiled by Sarah Hunter Smith, military orders and Civil War bonds, personal correspondence and genealogical research compiled by Clark tracing the Clark-Smith family. 3 linear feet.
TOULMIN, HARRY T.
Contains miscellaneous documents (1856-1936) related to Judge Harry T. Toulmin (1838-1916). The documents include biographies, deeds, and other property records (1869-1904), tax records (1856-1898), his will, estate papers, correspondence (1863-1936), and two photographs. Also includes one receipt book (1858-1868). Some of the material relates to Toulmin's judgeship and Civil War service. The judge began practicing law in Mobile in 1860. He entered the Confederate army in 1861 as a private and was later promoted to captain. Toulmin resumed the practice of law after the war. The collection also includes a list of officers and soldiers of the 22nd Alabama Infantry, as well as a typed report from Toulmin regarding the infantry's part in the Battle at Chickamauga, during which the son of Josiah Nott was killed. Some of the correspondence is between family members or concerns family business and a number of the letters concern Toulmin's selection to the federal bench. The receipt book lists expenses for, among other things, renting slaves. The collection also includes an invitation to a breakfast engagement with President Grover Cleveland. 1 linear foot.