Education History Sources at The McCall Library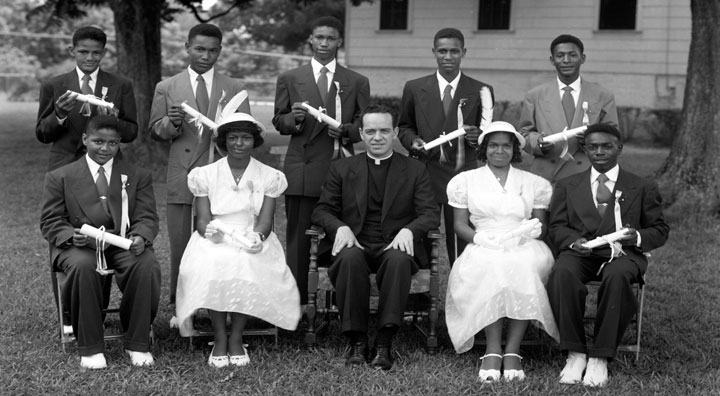 Graduates of Zimmer Memorial Institute, 1950. Erik Overbey Collection
---
For more information about these collections please email us at mccalllib@southalabama.edu.
---
Important Disclaimer: Warning concerning copyright restrictions. The copyright law of the United States (Title 17, United States Code) governs the making of photocopies or other reproductions of copyrighted material. Under certain conditions specified in the law, archives are authorized to furnish a photocopy or other reproduction. One of these specified conditions is that the photocopy or reproduction is not to be "used for any purpose other than private study, scholarship or research." If a user makes a request for, or later uses, a photocopy or reproduction for purposes in excess of "fair use," that user may be liable for copyright infringement. It is up to the user to comply with all copyright laws of the United States.
AMERICAN ASSOCIATION OF UNIVERSITY WOMEN
The records of the Mobile Branch of the AAUW include minutes, correspondence, presidents' reports, treasurers' records, topical files, bylaws, bulletins, directories, and yearbooks from 1945 to 2005. There are also some materials relating to the state organization such as convention reports, workshops, bulletins, and directories. Materials are periodically added to this collection. 10 linear feet.
BARTON SCRAPBOOK
This scrapbook dates to 1919 and contains news clippings, ephemera, and notes from classmates collected by Barton Academy graduate Lillian Crowley. .25 linear foot.
BARTONIAN
Contains the 1909, 1912, 1917, and 1919 issues of the Bartonian, the Barton Academy yearbook. Also includes the December 1931 issue of National Geographic, which contains two articles on Alabama, "Smoke over Alabama" and "Where the New South Challenges the Old." .25 linear foot.
CHASTANG FAMILY
A collection of personal correspondence and religious and educational published materials relating to the Chastang family of Chastang and Bucks, Alabama (1756-1935, bulk 1880-1935). Most of the correspondence is from Edward Chastang and F. Z. Chastang. Among the printed materials, one file of interest contains literature about the Knights of St. Peter Claver (1911-1916). 3 linear feet.
CUMMINS, WILLIAM
Contains a 12-page program describing the 50th anniversary of the Murphy High School class of 1927. .25 linear foot.
DELANEY, CALDWELL
Caldwell Delaney's wife, Lois Jean Fitzsimmons Delaney, taught English and Drama at Murphy High School, and the papers contain considerable material pertaining to student productions there. 31 linear feet.
EDWARDS, JACK
These are the official papers of Congressman Jack Edwards, who served in the U.S. House of Representatives from 1964 to 1984. The papers include correspondence, photographs, newspaper clippings, tapes, etc. Of particular local interest are materials relating to the Tennessee-Tombigbee Waterway Project and the closing of Brookley Air Force Base. Also included in the collection are papers relating to the Watergate scandal, school desegregation, and civil rights in general. 251 linear feet.
GALLALEE, JACK C.
Jack Gallalee served as president of the Mobile County School Board from 1961-1965. His personal files for the period of his term include correspondence, publications, and school board meeting minutes. Subjects range from federal educational mandates regarding integration to problems relating to fraternities and sororities in the Mobile County school system. (See also University Collections under Larry Holmes, Melton McLaurin, and Rearguard.) 2.5 linear feet.
HOLMES, LARRY
This collection contains materials amassed by Dr. Larry E. Holmes, former professor of Russian history at the University of South Alabama, during the course of an administrative and legal battle between him and the university over tenure. The case revolved around issues related to academic freedom and civil rights. The papers include a chronology of events, documents related to the FBI and its concern with Holmes' activities, correspondence, memoranda, briefs, interrogatories, affidavits, newspaper clippings, reports, and depositions. The collection also includes a CD of an interview conducted in August 1973 with Holmes by Mike Sloan of the local radio station WABB and Don Henry of the Alabama Education Association. 1 linear foot.
JONES/TKE
Myrtle Jones and her family owned and operated a self-store warehouse located across from two fraternities overseen by the University of South Alabama. In 1986, the family began making complaints against both fraternities. Charges and counter-charges went on for years, leading to a lawsuit that was dismissed in 1995. Contained within this collection are security guard reports, audio cassette tapes, and correspondence from the Jones family to university officials, as well as handwritten notes from the Joneses and extensive newspaper clippings relating to the university, the Mobile Police Department, and allegations of hazing by fraternities across the country. Also included are several photographs of the fraternity house and the warehouse. Much of the material is one-sided in that it only reflects the position of the Jones family, although there is some documentation explaining the university's or the fraternities' points of view. 2 linear feet.
KESLER, LUTHER E.
Contains 6 pocket diaries that document the life of this school teacher, farmer, and barber. The handwriting in the diaries can be hard to decipher but they are dated ca. 1908, 1912-1913, 1916, 1918, and 1923. The entries are extremely brief, sometimes no more than "at home," "short day," or "I'm sick." They trace the life of Kesler from his school days in Mississippi to his teaching career in Baldwyn, Mississippi, to his job as a truck driver for Railroad Mail Service. The diaries also list Kesler's cash balance and make notes about Mississippi history. .25 linear foot.
LEARNING RESOURCE CENTER
This collection contains both manuscript and published materials (1969–1990 [bulk 1976–1983]) from the now-defunct University of South Alabama College of Education Learning Resource Center, formerly the Curriculum Laboratory. The collection consists mainly of curriculum lab inventories, budgets, correspondence, and class descriptions. The materials were collected by various staff associated with the Learning Resource Center. 1 linear foot.
MAYGARDEN, JEANETTE
Twenty-one videotaped interviews, 1994-1995, with various Mobilians including Charles Boyle, Caldwell Delaney, Jack Edwards, William J. and Emily Staples Hearin, Paulette Horton, Joseph Langan, Lionel Noonan, Jack Stallworth, Eugene Walter, Frederick Whiddon, and Caldwell Whistler. Also includes interviews with members of the Murphy High School Class of 1943 at their 50th reunion, and with Frances Sibley on the history of Murphy. The interviewer, Jeanette Maygarden, worked as Woman's Editor at the Mobile Press Register after graduating from Murphy and pursued a career in public relations. (See also Photograph Collections under Samuel Eichold.)
MCCALL SR., DOY LEALE
One portion of the larger McCall collection includes material related to the education of the nieces and nephews of Alabama's third governor, Israel Pickens. The material includes letters about the schools the boys and girls attended, as well as their teachers and assignments, some school work, grades, tuition payments, etc. The educational material dates from the 1850s to the 1870s. For more on the McCall collection, please click here.
MOBILE AREA FOUNDATION FOR PUBLIC HIGHER EDUCATION
This small collection includes correspondence, the 1962 incorporation papers and by-laws for the Mobile Area Foundation for Public Higher Education and a deed for "Indian Mound Park" on Dauphin Island, as well as resolutions of the board of directors for the foundation from 1962 regarding the purchase of the Dauphin Island property for a Marine Resources Laboratory. It also has documents relating to finances, expenses, and contracts for services. .25 linear foot.
MOST PURE HEART OF MARY CATHOLIC SCHOOL INTERVIEWS
This collection include 16 CDs containing 33 oral interviews held with former faculty and students of the segregated, all-black Most Pure Heart of Mary Catholic School. The school was organized in 1899. Some of the interviewees include Dora Finley, Sheila Flanagan, J. Gary Cooper, Harold Ducloux, Fred Richardson, and former Clinton secretary of labor Alexis Herman. There are transcripts for most of the interviews.
OLSON SCRAPBOOK
Dating to 1923, the Edna Evelyn Olson scrapbook contains memorabilia Ms. Olson collected the year she graduated from Barton Academy. Included are classmate autographs, graduation programs, calling cards, photographs, ticket stubs, and brief compiled lists of meetings for the "Better Speech" club. .25 linear foot.
NON-PARTISAN VOTERS LEAGUE
These records of a civil rights organization in Mobile, 1956-1987, contain materials concerning discrimination in public accommodations, employment, criminal justice administration, and public education, including the Birdie Mae Davis case, the cornerstone of the League's efforts at integrating the county public school system. John LeFlore was the director of casework for the organization until his death in 1976. Contains correspondence, minutes, administrative and financial records, legal documents, press releases, news clippings, and publications. The records have also been microfilmed. 17.75 linear feet.
TOULMIN II, HARRY T. AND MARY
Found within the larger Toulmin papers are letters between Harry and his cousin George B. Toulmin (1936-1983, bulk 1936-1948) and between George and his former University of Alabama political science professor, Charles Smith Jr. (1942-1943). The early correspondence between Harry and George are filled with discussions of George's life while a student at the University of Alabama. 1 linear foot.
WERTELECKI, WLADIMIR
Wladimir Wertelecki was born in Rivne, Poland, on July 28, 1936, and has been, since 1974, involved in the department of medical genetics at the University of South Alabama, currently serving as professor and chair. Wertelecki's major areas of interest include medical genetics, human handicaps, and pediatrics. His collection consists of annual reports for the USA College of Medicine, correspondence, course guides, magazines, maps, medical documents, pamphlets, photographs, and a poster. Subjects include USA College of Medicine and genetic defects as well as Wertelecki's work on Cuban health issues. 2 linear feet.
WISTARIA STUDY CLUB
The Wistaria Study Club was organized in 1937 to "encourage educational betterment and stimulate intellectual and liberal culture." One of the club's most far-reaching efforts to aid education was its nursing scholarship program, which the group sponsored from 1940 to 1965. In addition to the nursing program, the Wistaria Study Club supported various local, state, and national charities or groups such as Murphy High School, the Miss Alabama Scholarship Fund, and the Creek Indian Fund. The records (1941-2002) consist of club minutes and correspondence, as well as information on the scholarship program. In addition, the collection has ten scrapbooks that relate to Wistaria Study Club activities and contain programs, news clippings, and photographs, among other material. 4.25 linear feet.
WOOD, ARTHUR A.
Includes correspondence, minutes, and reports dated 1963-1975 related to the establishment of a medical school at the University of South Alabama. Dr. Arthur A. Wood, a Mobile surgeon and member of the Medical Society of Mobile County and the Mobile Area Chamber of Commerce, served on a sub-committee of the Mobile Area Foundation for Public Higher Education tasked with pursuing the development of a medical school in Mobile. .25 linear foot.