Medical History Sources at The McCall Library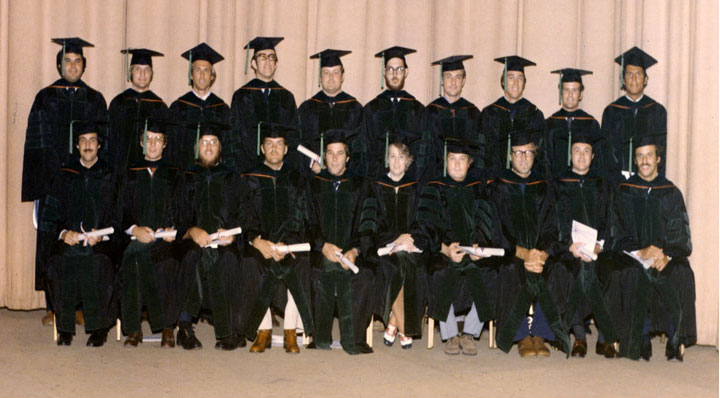 The 1976 USA College of Medicine graduating class. USA Public Relations Collection
---
For more information about these collections please email us at mccalllib@southalabama.edu.
---
Important Disclaimer: Warning concerning copyright restrictions. The copyright law of the United States (Title 17, United States Code) governs the making of photocopies or other reproductions of copyrighted material. Under certain conditions specified in the law, archives are authorized to furnish a photocopy or other reproduction. One of these specified conditions is that the photocopy or reproduction is not to be "used for any purpose other than private study, scholarship or research." If a user makes a request for, or later uses, a photocopy or reproduction for purposes in excess of "fair use," that user may be liable for copyright infringement. It is up to the user to comply with all copyright laws of the United States.
---
BLACKMON, DORA E.
Dora Mae Eldredge Blackmon earned a Ph.D. from the University of Washington in 1964. Her collection contains research materials and drafts of her doctoral dissertation, "The Care of the Mentally Ill in America, 1604-1812 in the Thirteen Original Colonies." In 1977, after serving as professor and nursing director in several nursing schools across the United States, Blackmon became professor and dean of the University of South Alabama School of Nursing. The collection also consists of grading materials and research materials and drafts of a paper Blackmon wrote about the colonial judge Samuel Sewall, who participated in the Salem witch trials. 1 linear foot.
CITY HOSPITAL
A collection of record books associated with City Hospital, which was established in Mobile in 1830 on St. Anthony Street. It operated at that location until 1966, when it was relocated west and renamed Mobile General Hospital. Within the collection are several ledgers. One appears to be that of a doctor. It lists patients' names, addresses, and charges for home visits. It is dated from November 1905 through January 1919. No information on who owned the ledger is included. In addition, the collection contains a delivery room register dated February 1958 through August 1959 that lists patient name; date and time of delivery; gender of the child along with its color, weight, and length; and the attending nurse and physician. There are also three patient indexes dated December 1960 through June 1961 and April 1976 through October 1976 that list patient's name, address, age, gender, time of admittance, religion, and physician's name. Also included are two registers dated August 1933 through February 1934, October 1935 through December 1937, and November 1938 through January 1940, with the last one devoted to the emergency room. These registers give patient's name, age, gender, social status, diagnosis, physician's name, and remarks. Finally, there is a much briefer index dated June 1963 through June 1966 that only lists patient's name and unit of the hospital to which he or she was admitted. Privacy issues apply. 3 linear feet.
COCHRANE, KATHARINE CRAMPTON Correspondence, professional papers, photographs, genealogical records, and memorabilia pertaining to John T. Cochrane Sr., his wife Katharine Crampton Cochrane, her step-brother Dr. Guy Chester Crampton, her father Dr. Orson Lucius Crampton, and other members of the Cochrane and Crampton families. The materials date from 1815 to 1985 (Bulk 1815-1967). An exhibit of material form the collection is available. 4 linear feet.
EICHOLD, SAMUEL
These papers primarily consist of printed material and photographs relating to Dr. Samuel Eichold's research into and contribution toward the 1984 publication Dictionary of American Medical Biography, and to his interest in the medical field in general. Some of the doctors whom Dr. Eichold catalogued include Josiah Nott, Henry Levert, and Eugene Bondurant. There is also a sizeable collection of manuscripts, newspaper clippings, and ephemera compiled by Dr. Eichold and collected by Dr. Tucker H. Frazer, once dean of the Alabama Medical College. There is also an interesting patient log dating from 1915 to 1921 of the Inge-Bondurant Sanitarium. (See also Photograph Collections under Samuel Eichold and under USA College of Medicine.) 4 linear feet.
EPA/VULCANUS
This collection contains documents relevant to the Environmental Protection Agency's public hearing in 1983-1984 which was held to gather information relating to proposed PCB incineration aboard the vessel Vulcanus. 3 linear feet.
HARRIMAN, JOY H.P. (09-09-507)
Consists of twenty-one audio tapes of interviews conducted by Harriman with ten individuals associated with healthcare and medicine in Mobile from the 1930s through the 1950s. Those interviewed include: Marguerite Franklin, wife of physician James A. Franklin; Socrates Rumpanos; and Harry Webster Jr. Rumpanos discusses biological warfare during World War II and Webster talks about the evolution of Mobile during World War II. 0.5 linear feet.
MASTIN, CLAUDIUS HENRY
Dr. Mastin, a prominent nineteenth-century Mobile physician, was the founder of the Congress of American Physicians and Surgeons and one of the organizers of the American Surgical Association. This collection contains letters, 1871-1898, from many prominent physicians to Dr. C. H. Mastin. Correspondents include Jacob Huggins, George August Ketchum, Henry F. Campbell, James Guild, E. L. Keyes, and John Guiteras. Medical issues discussed include lithotomy and yellow fever. .25 linear foot.
STARNES, MILDRED C.
Mildred Coleman Starnes graduated from the now-defunct Providence Infirmary School of Nursing in September 1930 and went on to spend her career in the nursing field. Following her death in 1996, her husband started a scholarship program at the University of South Alabama in her honor. The Starnes collection consists mainly of photographs from Starnes' nursing career, many of which were taken while she attended school. Several of the photos depict midwives from various parts of Alabama. Also includes other material related to Starnes' nursing career and the scholarship in her name. 1.5 linear feet.
WERTELECKI, WLADIMIR
Wladimir Wertelecki was born in Rivne, Poland, on July 28, 1936, and has been, since 1974, involved in the department of medical genetics at the University of South Alabama, currently serving as professor and chair. Wertelecki's major areas of interest include medical genetics, human handicaps, and pediatrics. His collection consists of annual reports for the USA College of Medicine, correspondence, course guides, magazines, maps, medical documents, pamphlets, photographs, and a poster. Subjects include USA College of Medicine and genetic defects as well as Wertelecki's work on Cuban health issues. 2 linear feet.