Military History Sources at The McCall Library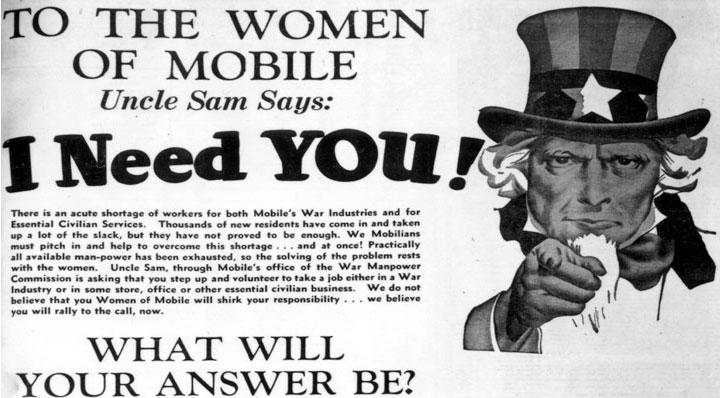 Uncle Sam encourages Mobile women to take war jobs. Mobile Press Register, February 21, 1943.
---
For more information about these collections please email us at mccalllib@southalabama.edu.
---
Important Disclaimer: Warning concerning copyright restrictions. The copyright law of the United States (Title 17, United States Code) governs the making of photocopies or other reproductions of copyrighted material. Under certain conditions specified in the law, archives are authorized to furnish a photocopy or other reproduction. One of these specified conditions is that the photocopy or reproduction is not to be "used for any purpose other than private study, scholarship or research." If a user makes a request for, or later uses, a photocopy or reproduction for purposes in excess of "fair use," that user may be liable for copyright infringement. It is up to the user to comply with all copyright laws of the United States.
---
ALABAMA DRY DOCK AND SHIPBUILDING COMPANY
Contains annual reports from 1943 to 1991, and files from the public relations department at ADDSCO that contain information about the various ships built or worked on from 1919 to the 1970s. Most Liberty ships and tankers built during WWII have individual files with photographs and information about ship names, sponsors, launching ceremony programs, etc. There are also subject files concerning activities and individuals at ADDSCO and projects such as the Bankhead and I-10 tunnels and Auxiliary Submarine Rescue Ships. The collection includes copies of Fore & Aft, the company's publication for its employees. 12 linear feet.
BERNEY, JANE E.
Jane Elizabeth Berney was the daughter of Saffold Berney (1844-1929), a judge, author, and Confederate veteran, and Mary Clifton Berney (1846-1921). Her papers contain photographs of Saffold Berney, his father, Dr. James Berney, and other unidentified women and children, probably Berney family members, as well as a 1909 photo of the family home. Other images show a Confederate veteran's parade. Some of the photographs date from 1877 to 1922, although most are not dated at all. The papers (1918-1942, bulk ca. 1937) relate primarily to Berney's WPA employment in Mobile. From 1936 to 1937 she worked on a project to survey records and write histories of various federal agencies in Mobile, including the post office, the Inland Waterways Corporation, and the Internal Revenue. Her papers also include her membership certificate for the Daughters of the Confederacy (1919) and an employment application for Brookley Field (1942). .75 linear f00t.
BROOKLEY AIR FORCE BASE
This collection of materials pertaining to Brookley AFB dates from 1942 to 1964. It includes photographs, news clippings, and a few issues of the Brookley Bay Breeze from 1942 and A la MOAD from 1943-1944, and a more complete run of the Brookley Spotlight from 1959 to 1969. 5 linear feet.
CLARK, JIM (12-09-629)
James Garner Clark Jr. was sheriff of Selma, Alabama, during the 1965 voting rights demonstrations in that city. His papers consist of correspondence written home by Clark during World War II, as well as approximately 260 letters written either in support of or in opposition to Clark's actions during the voting rights demonstrations. The Selma letters were written from all over the United States, as well as from Canada, the United Kingdom, and Sweden. In addition, the collection includes newspapers and news clippings, photographs, biographical information, material related to communism, and assorted other material.
CROOM, STEPHENS G.
Focuses on material associated with USS Alabama (BB-60), a Dakota-class battleship that was commissioned in 1942 and saw action during World War II. The ship was retired from service in 1962 and moved to Mobile Bay in 1964. Croom was instrumental in the acquisition and establishment of Battleship Memorial Park and served as the first secretary of the USS Alabama Battleship Commission. 1 linear foot.
DOWNTOWN SERVICE MEN'S CENTER
Five microfilmed scrapbooks of photographs, newspaper clippings, and correspondence relating to the activities of this center which was located at the St. Francis Street Methodist Church and operated for the benefit of World War II servicemen by a group of churches and organizations in Mobile from 1942 to 1945. 1 reel.
EDWARDS, JACK
These are the official papers of Congressman Jack Edwards, who served in the U.S. House of Representatives, District l, Alabama from 1964 to 1984. The papers include correspondence, photographs, newspaper clippings, tapes, etc. They have been restored to their original chronological order and inventoried. Of particular local interest are materials relating to the Tennessee-Tombigbee Waterway Project and the closing of Brookley Air Force Base. Also included in the collection are papers relating to the Watergate scandal, school desegregation, and civil rights in general. 251 linear feet.
HONOR FLIGHT SOUTH ALABAMA RECORDS
Records of a local service organization that organized trips to visit the national war monuments in Washington, DC for veterans of World War II residing in South Alabama. 9.25 linear feet, 19.6 GB.
HOWARD, KARL N. SCRAPBOOK
Karl Newbery (or Newberry) Howard was a lifelong resident of Mobile who served in the Army Air Corps during World War II. During his lifetime he also worked for the local paper, for the Selective Service, and for the state's department of industrial relations. His scrapbook contains news clippings, postcards, photos, and official documents related to his military service and his various travels while in the service and after his discharge. 1 linear foot.
KOSTMAYER SR., CHARLES
One scrapbook and one album related to the World War II service of Charles Kostmayer Sr. Also includes various documents pertaining to Kostmayer's attendance at several colleges, including the University of South Alabama. The scrapbook was assembled by Kostmayer's mother. It contains clippings about the war taken from the local newspaper. The album consists of photographs dated 1942 to 1945 of Kostmayer and his fellow soldiers as he was being trained with the Army Air Corps. The material is in poor condition but has been photocopied. The collection also consists of an oral interview with Kostmayer, which is available on CD. 2.25 linear feet.
MILITARY ACTIVITIES IN MOBILE
One reel of microfilm of news clippings of military activities in Mobile from 1941 to 1943.
PARISH, EARL
Correspondence, photographs, and other personal effects belonging to Second Lieutenant Earl O. Parish, United States Army. Lt. Parish was born in Battle Creek, Michigan, in 1918 and was killed in Italy on December 9, 1943. 1 linear foot.
TOULMIN II, HARRY T. AND MARY
Found within the larger Toulmin papers are letters between Harry and his wife Mary Duggar Toulmin (June 1943-March 1945). They discuss conditions and events Harry faced or witnessed during World War II. They also mention Mary working on the homefront during those years. 1 linear foot.
VETERANS' HISTORY PROJECT
Consists of 17 interviews conducted in 2005 as part of an African-American Studies class with local military veterans who served in every major American conflict from World War II to the Iraq War. Because of the demography of the class, the overwhelming majority of the veterans interviewed were African American. Six of the interviews are preserved as video files on CD-ROMs and seven were transcribed. Four of the interviews have no verbatim transcripts or audio files but are included in student reports. The collection also includes a brief overview of the project, written by the professor who taught the class. .5 linear foot.