Railroad History Sources at The McCall Library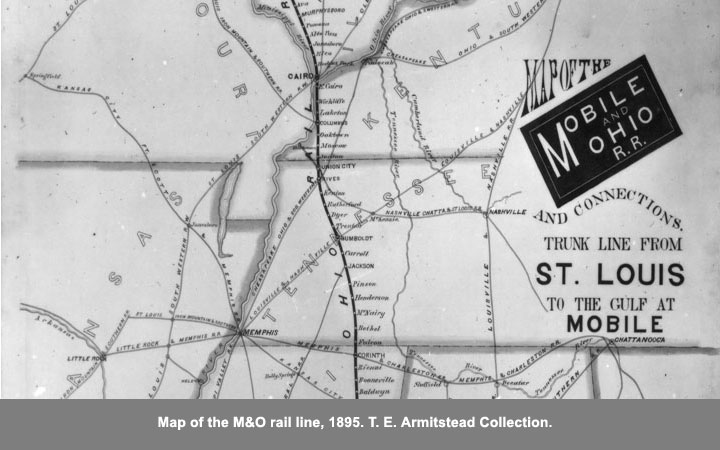 Map of the M&O rail line, 1895. T.E. Armistead Collection.
---
For more information about these collections please email us at mccalllib@southalabama.edu.
---
Important Disclaimer: Warning concerning copyright restrictions. The copyright law of the United States (Title 17, United States Code) governs the making of photocopies or other reproductions of copyrighted material. Under certain conditions specified in the law, archives are authorized to furnish a photocopy or other reproduction. One of these specified conditions is that the photocopy or reproduction is not to be "used for any purpose other than private study, scholarship or research." If a user makes a request for, or later uses, a photocopy or reproduction for purposes in excess of "fair use," that user may be liable for copyright infringement. It is up to the user to comply with all copyright laws of the United States.
---
BROCK, GLEN PORTER
These are the personal papers of G. P. Brock, president and executive officer of the Gulf, Mobile & Ohio Railroad from 1957 to 1972 and chairman of the board of the Illinois Central Gulf Railroad following the merger of the GM&O and the Illinois Central. The collection covers the period from 1940 to 1987. 56 linear feet.
KOTHEIMER, PHILLIP
Contains approximately 400 maps for the tracks and right of ways of the Mobile & Ohio Railroad, from Mobile, Alabama to Jackson, Tennessee, including complete coverage of the Bay Shore Line in Mobile County, Ala. Also included are copies of the Historical Society News of the Gulf, Mobile & Ohio Railroad (1978-1990), the Illinois Central Gulf News (1972-1979), and the annual reports of the Mobile and Ohio Railroad (selected years from 1879-1939), the Gulf, Mobile & Northern Railroad (selected years from 1921-1938), Illinois Central Railroad (1958; 1968-1969), Illinois Central Industries (1966-1976), and the Gulf, Mobile & Ohio Railroad (1940-1970). 24 linear feet.
MOBILE UNION STATION
Blueprints of floor plans, elevations, and architectural details of Mobile Union Station (M&O Railroad) showing the original building in 1905 and alterations in 1946, 1957, and 1977. An inventory is available on site.
TROTT, TOM (524-2010)
By-laws and charters (1914, 2910); telegraphs (1930s-1940s); annual reports and other financial documents (1867-1949); agreements, contracts, and indentures (1915-1950); deeds, leases, and blueprints (1914-1950); correspondence (1915-1950), and other assorted files relating to the Chicago & Alton Railroad, the Gulf Mobile & Ohio Railroad, the Mobile & Ohio Railroad, the New Orleans Great Northern Railroad, and the New Orleans Mobile & Chicago Railroad. 3 linear feet.