Religious History Sources at The McCall Library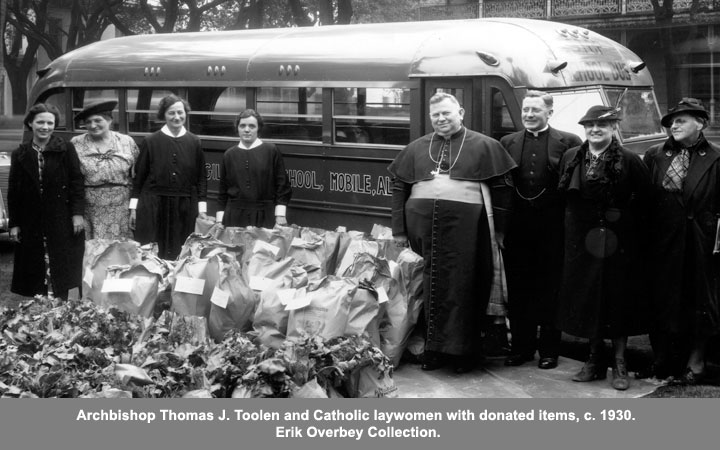 Archbishop Thomas J. Toolen and Catholic Iaywomen with donated items, c.1930. Erik Overbey Collection.
---
For more information about these collections please email us at mccalllib@southalabama.edu.
---
Important Disclaimer: Warning concerning copyright restrictions. The copyright law of the United States (Title 17, United States Code) governs the making of photocopies or other reproductions of copyrighted material. Under certain conditions specified in the law, archives are authorized to furnish a photocopy or other reproduction. One of these specified conditions is that the photocopy or reproduction is not to be "used for any purpose other than private study, scholarship or research." If a user makes a request for, or later uses, a photocopy or reproduction for purposes in excess of "fair use," that user may be liable for copyright infringement. It is up to the user to comply with all copyright laws of the United States.
---
AHAVAS CHESED
Consists of material (1923-1985) related to the Ahavas Chesed (Love of Kindness) Jewish congregation. The collection includes the group's constitution and by-laws, as well as financial data, membership information, minutes, booklets, audits, scrapbooks, deeds, yearbooks, and bulletins. Also included are documents pertaining to the congregation's celebration of its 100th anniversary in 1994, as well as notes and correspondence of Rabbi Stanley Gerstein, and papers associated with several Jewish organizations. The collection was microfilmed and that microfilm resides at Samford University. 9 cubic feet.
CELEBRATION 2000
Celebration 2000 was a series of local interfaith events commemorating the beginning of the third millennium of Christian history. Religious groups of all denominations participated in a variety of affairs. This collection consists of material accumulated for an annotated bibliography of church related sources and the documents collected by the Celebration 2000 Worship Committee. .5 cubic feet.
CHASTANG FAMILY
A collection of personal correspondence and religious and educational published materials relating to the Chastang family of Chastang and Bucks, Alabama (1756-1935, bulk 1880-1935). Most of the correspondence is from Edward Chastang and F. Z. Chastang. Among the printed materials, one file of interest contains literature about the Knights of St. Peter Claver (1911-1916). 3 cubic feet.
CHURCH STREET GRAVEYARD
Consists of 1 roll of microfilm on the history of the Church Street Graveyard.
EPISCOPAL DIOCESE V CHRIST CHURCH
This lawsuit, filed on October 12, 2000, stemmed from theological differences which arose during the 1990s between two factions within this Episcopal church. One faction consisted of the pastor, members of the vestry, and 50 percent of the membership; the other was made up of the remainder of the church population. One group voted to the church's association with the Protestant Episcopal Church of the United States and take the property of the church with them. An agreement between the litigants was reached on May 29, 2001. The collection included exhibits used in the case as well as research materials, attorney notes, and briefs. .5 cubic feet.
GOVERNMENT STREET PRESBYTERIAN CHURCH
Although the Presbytery of Alabama was organized in 1821, in Mobile the number of Presbyterians was so small that they formed a union church with local Episcopalians in 1822. A Presbyterian congregation was formally organized in 1831 and in 1836 purchased land on Government Street where they built their permanent home, a Greek Revival-style church that is listed as a National Historic Landmark. The collection contains microfilmed session minutes and register books dating from 1831 to 1979. The registers contain records of communicants, baptisms, marriages, and deaths. 3 reels.
MOBILE FEMALE BENEVOLENT SOCIETY
Founded in 1829 as a non-denominational organization to aid indigent widows through the donation of food, clothing, and medical supplies, in 1835 the Mobile Female Benevolent Society built and maintained several houses called "Widow's Row" at Dearborn and Warren streets. Later the society purchased the Gazzam home at the corner of Government and Ann streets to house the women. This is the present site of a new facility known as Murray House, owned and operated by the Episcopal diocese of the Central Gulf Coast under the auspices of the Mobile Female Benevolent Society. The collection contains correspondence, financial records, the 1831, 1937, and 1951 constitutions, articles of incorporation (1841), inmate policies and legal agreements, resident lists (1873-1960), and minutes from 1860-1864, 1886-1892, 1897-1898, 1953-1954, 1982-1983, and 1988-1989. A finding aid is available on site. 2 cubic feet.
MOST PURE HEART OF MARY CATHOLIC SCHOOL INTERVIEWS
This collection include 16 CDs containing 33 oral interviews held with former faculty and students of the segregated, all-black Most Pure Heart of Mary Catholic School. The school was organized in 1899. Some of the interviewees include Dora Finley, Sheila Flanagan, J. Gary Cooper, Harold Ducloux, Fred Richardson, and former Clinton secretary of labor Alexis Herman. There are transcripts for most of the interviews.
SCHWEITZER, ALBERT
Consists of 516 books written by or about or including mention of Albert Schweitzer, as well as binders of photocopied articles about Schweitzer; bibliographic information; calendars; cassette tapes; DVDs; ephemera; magazines; news clippings; periodicals; postcards; and video tapes. Also includes three letters signed by Albert Schweitzer. The material was compiled by Arthur E. Schulz, a Schweitzer aficionado. 4 cubic feet.
ST. FRANCIS STREET METHODIST CHURCH
Founded in 1840, this Mobile church maintained a continuous congregation until 1993. Its records include microfilm of membership rolls, marriages, baptisms, newsletters, and church bulletins, as well as historical information on ministers that served the church, and files on church members who were featured in local newspapers. A finding aid is available on site. 19 reels.
ST. PAUL'S EPISCOPAL CHURCH
Two rolls of microfilm containing baptismal records (1902-1997), burial records (1908-1918 and 1924-1997), church registers (1908-1992), day books (1901-1910), donation records (1902-1908), and marriage records (1904-1997). There are gaps in dates occasionally.
TROUSDALE, HATTIE
Contains 1 scrapbook of postcards, news clippings, and letters. Most of the material is of a religious nature, although the scrapbook does contain one clipping about the Mobile Female Benevolent Society.
WILMER HALL
This collection dates from the founding of the Episcopal Church Home in Mobile in 1864. It includes a diary (1864-1865) kept by Sister Harriet, one of the first three sisters at the home, a ledger book (1867-1872), an admissions journal (1875-1911), a record book (1915-1919), a minute book (1913-1922), miscellaneous photographs, and a master's thesis by Alice Blasingame, "A Study of the Episcopal Church Home in Mobile, Alabama" (Tulane University, 1941). 1 cubic foot.
WOMAN'S CHRISTIAN UNION OF CHICKASAW
Consists of 1 minute book (1927-1933) containing the organization's constitution and by-laws as well as membership and attendance records. The organization's objective was to enlist the women of Chickasaw in active Christian service for the betterment of civic and social conditions. .25 cubic feet.
YWCA OF MOBILE
A scrapbook containing news clippings, photographs, letters, and programs of the Mobile YWCA from 1904 to 1949 is available on microfilm. 1 reel.