Mobile Waterfront History Sources at The McCall Library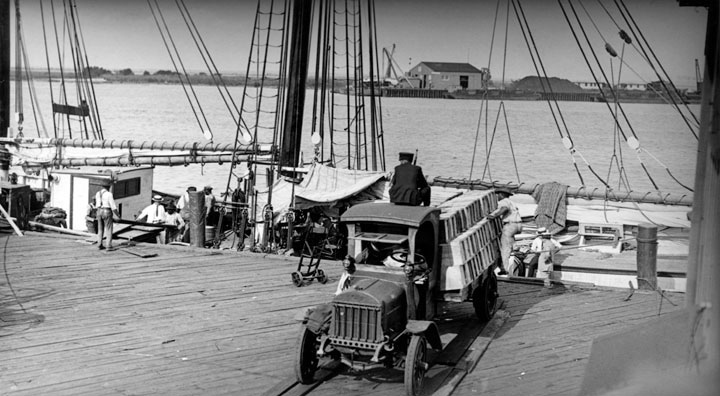 Running rum through the Port of Mobile, c. 1935. Erik Overbey Collection.
---
For more information about these collections please email us at mccalllib@southalabama.edu.
---
Important Disclaimer: Warning concerning copyright restrictions. The copyright law of the United States (Title 17, United States Code) governs the making of photocopies or other reproductions of copyrighted material. Under certain conditions specified in the law, archives are authorized to furnish a photocopy or other reproduction. One of these specified conditions is that the photocopy or reproduction is not to be "used for any purpose other than private study, scholarship or research." If a user makes a request for, or later uses, a photocopy or reproduction for purposes in excess of "fair use," that user may be liable for copyright infringement. It is up to the user to comply with all copyright laws of the United States.
---
ASHDOWN, SPAN
Books, correspondence, magazines, news clippings, and pamphlets related to waterfront activities in Mobile. .5 linear foot.
BROOKLEY AIR FORCE BASE
This collection of materials pertaining to Brookley AFB dates from 1942 to 1964. It includes photographs, news clippings, and a few issues of the Brookley Bay Breeze from 1942 and A la MOAD from 1943-1944, and a more complete run of the Brookley Spotlight from 1959 to 1969. 5 linear feet.
CONSULAR CORPS OF MOBILE Mobile was at one time home to many consulates from around the world. Around 1953 the group established as a social organization the Consular Corps of Mobile. Beginning in the mid-1950s and continuing into the early 1970s, members of the corps used their influence to encourage growth of the Port of Mobile. After the 1970s the corps reverted back to its original design. The papers consists of primarily documents relating to the group's annual receptions, including invitations, proposed guest lists, and RSVPs. Other files pertain to the corps itself and include membership lists, annual dues, and financial information. There are also news articles and press releases. 1.25 linear feet.
CORPS OF ENGINEERS
Two folders of information related to or stemming from the Mobile branch of the U.S. Army Corps of Engineers. One folder has photocopied handwritten notes on the history of the Mobile branch. The other has maps and other information on the early locks and dams on the Black Warrior and Tallapoosa rivers. The latter folder also contains two black and white photographs, one of lock and dam number 3 and one of lock and dam number 9.
CROOM, STEPHENS GAILLARD Papers related to USS Alabama (BB-60), the Chicago Security Intelligence School, and the Dallas Security Intelligence School. Includes information on intelligence topics such as sabotage and surveillance, as well as correspondence, invitations and brochures about historic buildings, and material on the battleship. Also has Stephens Croom's ham radio license and a folder with information on Communism and Nazism. Stephens played a pivotal role in bringing the South Dakota-class battleship USS Alabama (BB-60) to Mobile and developing the site into a major tourist attraction. 1.75 linear foot.
CROOM, STEPHENS G. This collection focuses on material associated with USS Alabama (BB-60), the Battleship Commission, and Battleship Park. Stephens Croom was instrumental in the acquisition and establishment of Battleship Memorial Park and served as the first secretary of the USS Alabama Battleship Commission. Also includes genealogical material on some Croom family members, particularly the Howard and Marshall families, as well as typescripts and correspondence related to the 1837 wreck of the steamboat Home, which killed Croom's ancestor Hardy Bryan Croom and his family. 1.25 linear foot.
DELANO / MAGOUNA collection of letters, receipts, and invoices, 1835-1844, from various ship captains in Mobile to the ship owners, Benjamin Delano and Son of Kingston, Massachusetts, and Thatcher Magoun and Son of Boston. The ship captains describe their cargo and their experiences in the port of Mobile. .25 linear foot.
DOG RIVER ORAL HISTORY
A series of 4 oral interviews conducted in 2001 with people living along Dog River. The main thrust of the interviews was to capture memories of changing conditions along the river. Transcripts are available. .25 linear foot.
DUNNE, WILLIAM M. P.
Dr. William M. P. Dunne was a professor at SUNY at Stony Brook. His area of expertise was naval history, in particular marine architecture, and he authored a number of books on the subject. Dunne spent a year conducting research in Mobile on the schooner Alabama, later writing a history of the vessel. Dunne's son subsequently sent his father's research materials to Alabama Public Television for their documentary on Mobile Bay. APT later deposited the material with us. The information contained in the collection relates to the Mobile Bar Pilots Association and various sailing ships. .5 linear foot.
EDWARDS, JACK These are the official papers of Congressman Jack Edwards, who served in the U.S. House of Representatives from 1964 to 1984. The papers include correspondence, photographs, newspaper clippings, tapes, etc. Of particular local interest are materials relating to the Tennessee-Tombigbee Waterway Project and the closing of Brookley Air Force Base. Also included in the collection are papers relating to the Watergate scandal, school desegregation, and civil rights in general. 251 linear feet.
MOBILE BAR PILOTS ASSOCIATION
Miscellaneous correspondence, minutes, reports, and materials of the Mobile Bar Pilots Association (1910-1916). Includes the records of the Harbor Master and Boards of Port Wardens and Pilot Commissioners (1896-1914). Also included are several articles written by William M. P. Dunne, a noted naval historian. .5 linear foot.
WATERMAN, JOHN B. This collection deals primarily with operations of the Waterman Steamship Corporation from 1919 to 1937, and includes correspondence, mail contracts, construction loans, ship repairs, speeches, reports, published materials, etc. 13 linear feet.