Women's History Sources at The McCall Library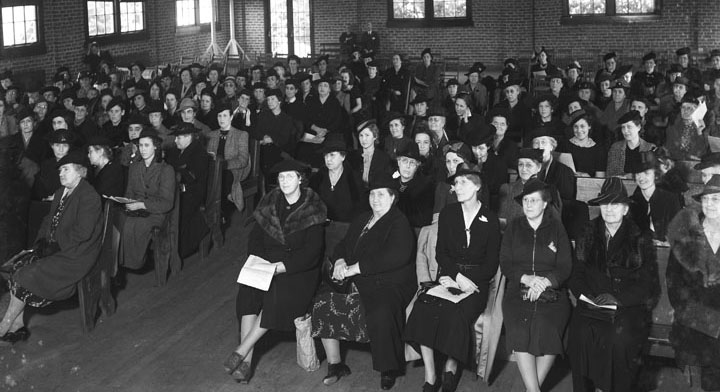 Women at an electric company demonstration, c. 1935. Erik Overbey Collection.
---
This guide provides a brief description of each collection The McCall Library has associated with women's history, including dates and sizes. This particular section describes the material we hold related to women's organizations. Please click on one of the highlighted links for the primary sources of individuals and business, legal, and governmental entities, and for other secondary sources.
For more information about these collections please email us at mccalllib@southalabama.edu.
This guide was prepared by Delene Case (2004).
---
Important Disclaimer: Warning concerning copyright restrictions. The copyright law of the United States (Title 17, United States Code) governs the making of photocopies or other reproductions of copyrighted material. Under certain conditions specified in the law, archives are authorized to furnish a photocopy or other reproduction. One of these specified conditions is that the photocopy or reproduction is not to be "used for any purpose other than private study, scholarship or research." If a user makes a request for, or later uses, a photocopy or reproduction for purposes in excess of "fair use," that user may be liable for copyright infringement. It is up to the user to comply with all copyright laws of the United States.
---
Organizations
Ahavas Chesed Synogogue Records (1923-1985)
Accession: 96-09-302
Size of Collection: 9 linear feet
Contained within the records of Synagogue Ahavas Chesed are Sisterhood and Hadassah yearbooks and material related to Bat Mitzvahs.
American Association of University Women (1936-2005)
Accession: 90-09-209
Size of Collection: 10 linear feet
The records of the local chapter of the AAUW contain meeting minutes (general, board, and executive board), correspondence, annual reports, treasurer's records, bank statements, yearbooks, membership lists, and topical files. Some of the topics include education, ERA, Historic Church tours, Mobile Historic Development Commission, scholarships, social studies, and writing contests. Materials are periodically added to the collection.
As You Like it Club (1973-1987)
Accession: 98-08-337
Size of Collection: 1 pamphlet box
This organization was founded by Mrs. Hazel Belle Inge on October 10, 1914 as a reading and study club. The collection consists of year-long programs from 1973 until 1987. The study programs have focused on a variety of topics, including culture, history, industry, and sociology. The programs also include the constitution, by-laws, and history of the organization.
Azalea City Quilters Guild (1980-2007)
Accession: 07-07-475
Size of Collection: 11 linear feet
Established in 1980 by a small group of local women, the Azalea City Quilters Guild has held quilt shows since its second year. The group also holds workshops and donates quilts for fundraising to various local charities, including the Ronald McDonald House and Project Linus. This collection consists of organizational records, photographs, scrapbooks, newspaper clippings, quilt show programs, quilt patterns, correspondence, and other memorabilia collected by members of the group.
Downtown Servicemen's Center (1942-1945)
Accession: 96-16-316
Size of Collection: .5 linear foot (microfilmed)
The center was located at the St. Francis Street Methodist Church during World War II. The purpose was to provide a "home-like lounge, rooms, social and recreational activities for Service Men of the United States." Kathryn de Celle was the Hostess-Director of the center. Many local Mobile churches also contributed financially to the Servicemen's Center. An album kept by the center contains photographs, correspondence, news clippings, and programs.
Forum Club (1928-2004)
Accession: 04-09-415
Size of Collection: 6 linear feet
The Forum Club was founded by Hazel Belle (Mrs. H. T.) Inge in November 1928, and was affiliated with the Woman's Clubhouse Association. The Forum Club's purpose was "to meet and discuss the current events of the day," and to "learn to speak with force and effectiveness on topics without embarrassment." The club's records include correspondence, meeting minutes, financial records, and scrap books. The scrap books contain annual histories of the organization, news clippings, and photos of members.
Junior League of Mobile (1926-2009)
Accession: 10-09-522
Size of Collection: 44 linear feet
The Junior League of Mobile was originally founded in 1925 as the Mobile Charity League. In 1932 it was incorporated into the Association of Junior Leagues International (AJLI). The Junior League is committed to promoting volunteerism, developing the potential of women, and improving communities through effective action and leadership. The Junior League of Mobile Records contain correspondence, minutes, publications, photographs, scrapbooks, and subject files detailing the operations of the organization from its founding through 2009. The subject files contain a great deal of information about volunteerism in post-World War II Mobile, particularly in the areas of children's health and education. 44 cubic feet.
League of Women Voters (1955-2001)
Accession: 79-09-37
Size of Collection: 14 linear feet
The records of the local chapter of the League of Women Voters contains local, state, and national records, including correspondence, meeting minutes, annual reports, membership information, treasurer's reports, and newspaper clippings. It also contains information regarding a variety of topics, including elections, education, environment, healthcare, tax reform, welfare reform, and poverty. Materials are periodically added to the collection.
Mobile British Women's Club (1964-1994)
Accession: 96-09-315
Size of Collection: .5 linear foot
The Mobile British Women's Club was formerly The British Wives Club, and before that, The British Brides Club. The collection includes meeting notes from 1964-1994, correspondence, membership lists, community information, photographs, and newspaper clippings.
See also, Martha Mercer, "British Brides, American Wives: The Immigration and Acculturation of War Brides in Mobile, Alabama, 1945-1993," (M.A. Thesis, University of South Alabama, 1992) and oral interview tapes.
Mobile Female Benevolent Society (1831-1991)
Accession: 97-09-324
Size of the Collection: 2 linear feet
The Mobile Female Benevolent Society was founded in 1829 as a non-denominational organization to aid indigent widows through the donation of food, clothing, and medical supplies. In 1835, the society built and maintained several houses called "Widows' Row" at Dearborn and Warren streets. The organization later bought the Gazzam home at Government and Ann Streets to house the women. This site is known as the Murray House and is operated by the Episcopal diocese of the Central Gulf Coast under the auspices of the Mobile Female Benevolent Society. The collection contains the 1831, 1937, and 1951 constitutions, articles of incorporation (1841), inmate policies and legal agreements, miscellaneous correspondence and financial records, resident lists (1873-1960), and minutes from 1860-64, 1886-92, 1897-98, 1953-54, 1982-83, and 1988-89.
Non-Partisan Voters League (1956-1987)
Accession: 92-09-247
Size of collection: 22 linear feet
The exact date of the founding of the Non-Partisan Voters League is unknown but was probably before 1956 when the Alabama attorney general banned the NAACP from the state. The collection contains records which span thirty years (1956-1987), with the bulk of materials between 1961 and 1975. As the records of this collection reveal, the NPVL demanded the hiring of more black municipal employees, sued to force desegregation of the Mobile school system, filed complaints with the U.S. Department of Justice to open public accommodations to all, launched massive voter registration campaigns , and challenged the constitutionality of Mobile's commission form of municipal government. This collection includes discrimination suits involving women.
See also Keith Nicholls, "The Non-Partisan Voters League of Mobile, Alabama" (vertical file).
Schumann Club (1894-present)
Accession: 95-09-293
Size of Collection: 3 linear feet
The Schumann Club, previously known as the Clara Schumann Music Club, was organized by a group of educated, middle and upper class women with the goal to maintain a high musical standard in their own work and to promote the culture of musical art in the Mobile area. The club regularly presented piano and vocal scholarships to high school students. In 1984, the group changed its name to reflect the decision to admit men. The organization is the earliest music club in the state. The collection includes scrapbooks, constitution and by-laws, membership applications, meeting minutes, correspondence, financial records, performers, programs, historian's reports, publications, news clippings, and newsletters.
Siena Vista Garden Club (1949-1951)
Accession: 08-07-477
Size of Collection: .25 linear foot
Newspaper articles, art magazine clippings, magazine articles, ads, postcards, and photographs related to the Sienna Vista Garden Club and its mission to promote beautification in their neighborhood. The Garden Club was founded in 1948. As part of their beautification efforts, homeowners on Siena Vista Street agreed to decorate their homes and yards during the Christmas season, something for which they became renowned. Viewing the decorations became an annual tradition for many Mobilians.
Wilmer Hall (1864-65, 1941)
Accession: 91-09-225
Size of Collection: 1 linear foot
Wilmer Hall, originally called The Episcopal Church Home for orphaned children, was founded in 1864 in Tuscaloosa under the second Bishop of Alabama, Bishop Wilmer. When Wilmer moved to Mobile in 1867, he also moved the home Mobile. For much of the time, Episcopal nuns operated the home and school, particularly following Wilmer's death in 1900. Two particular items of interest include the following: Alice Blassingame, "A Study of the Episcopal Church Home in Mobile, AL" (M.A. Thesis, Tulane University, 1941); and the diary of Sister Harriet, 1864-65, the second head deaconess at the home.
Wistaria Study Club (1941-2002)
Accession: 05-09-445
Size of Collection: 4.25 linear feet
The records of the Wistaria Study Club consist of club minutes and correspondence, as well as information on the scholarship program. In addition, the collection has ten scrapbooks that relate to Wistaria Study Club activities and contain programs, news clippings, and photographs, among other material. The goal of the club was to "encourage educational betterment and stimulate intellectual and liberal culture." One of the club's most far-reaching efforts to aid education was its nursing scholarship program, which the group sponsored from 1940 to 1965. In addition to the nursing program, the Wistaria Study Club supported various local, state, and national charities or groups such as Murphy High School, the Miss Alabama Scholarship Fund, and the Creek Indian Fund.
Women's Christian Union of Chickasaw (1927-1933)
Accession: 04-09-421
Size of Collection: .25 linear foot
This collection consists of one minute book which contains the organization's constitution and by-laws as well as membership and attendance records. The organization's objective was to enlist women of Chickasaw in active Christian service and for the betterment of civic and social conditions. Some of the topics discussed included giving money to families in need, helping people who were ill, widowed, or orphaned, as well as entertainment.
Woman's Clubhouse Association (1930-2004)
Accession: 04-08-420
Size of Collection: 14 linear feet
The purpose of this association was to "create and maintain an organized center of thought and activity among the women of Mobile; to aid in the promotion of their mutual interests in the advancement of science, education, civics, patriotism, literature, art, community service; and to provide a place of meeting for the comfort and convenience of its members." The collection includes scrapbooks, 1931-2003; minutes, 1930-1970; programs, correspondence, and songbooks.
YWCA (1904-1962) (microfilmed)
The YWCA album contains information regarding the local white women's organization and contains correspondence, programs, news clippings, and photos.
---
Individuals
Barton Scrapbook (1919)
Accession: 90-07-221
Size of Collection: .25 linear foot
This collection consists of one scrapbook from Barton Academy which belonged to Lillian Crowley containing news clippings, ephemera, and notes from classmates.
Delene Case (2003-2004)
Accession: 05-16-423
Size of Collection: 9 Oral Interviews
Three of the nine oral interviews in this collection were with women who participated in assisted with the Neighborhood Organized Workers (NOW) and/or other civil rights organizations in Mobile during the 1960s and 1970s. The interviews are recorded on cassette tapes and transcriptions are included in the collection. These interviews were part of Ms. Case's research for her M.A. thesis, "'Ain't Gonna Let Nobody Turn Me Around': The Black Freedom Struggle in Mobile, Alabama, 1902-1969" (University of South Alabama, 2004). .5 cubic feet.
Elizabeth Croom Bellamy (1852-1900)
Accession: 93-09-272
Size of Collection: 15 linear feet
Elizabeth Whitfield Croom Bellamy was born April 17, 1837, in Quincy, Florida. As a daughter of a wealthy family, Elizabeth attended Reverend Thomas Bog Slade's school for girls in Columbus, Georgia, and later studied at Spingler Institute, a female academy, in New York. In 1858, she married a cousin, Dr. Charles Edward Bellamy who joined the Confederate Army in July 1862. Her husband and two young children died during the war. Following these deaths, Elizabeth returned to live with her parents in Eutaw, Alabama, where she taught at the Mesopotamia Female Seminary. In 1867, Bellamy became a nationally known author when her first novel, Four Oaks was published under the pseudonym, Kamba Thorpe. Her novels and short stories appeared in book form and were published in national magazines such as Appleton's, The Cycle, Atlantic Monthly, Youth's Companion, Black Cat, Lippincott's and Ladies Home Journal. Between 1868 and 1877, Bellamy taught in Gainesville, Alabama and then moved to Mobile to live with her brother, Stephens Croom, and his family. She continued to write and teach until her death on April 13, 1900.
The papers in this collection include school essays, correspondence, lectures, published and unpublished writings. They also contain her financial records, receipts, contracts, and royalty accounts.
Frances Baugh Beverly (1923-1947)
Accession: 94-09-279
Size of Collection: 1.5 linear feet
Frances Beverly was born in 1865 to a prominent literary family. A former correspondent for the Louisville Courier Journal, Beveraly wrote essays, poems, and stories on Mobile's past for the Works Progress Administration. Using those writings, in 1947, at the age of eighty-two, she set out to write "The Story of Old Mobile." She apparently self-published at least part of her work before her death on September 4, 1954, in Mobile. Divided into subject files, this collection consists of those typed and handwritten manuscripts. The original Beverly Collection was microfilmed in the early 1990s by the Historic Mobile Development Commission. That microfilm is also available. Beverly's journals, which contain handwritten versions of most of her typed manuscripts, also makes up a part of the collection.
Katharine Crampton Cochrane (1902-1965)
Accession: 95-09-291
Size of Collection: 11 linear feet
Katharine Cochrane was a lifelong resident of Mobile as well as a community leader and arts patron. She was also a charter member of the Clara Schumann Club and performed for the club. Katharine was the second wife of John Taylor Cochrane and step-sister of Guy Chester Crampton. The collection contains notices and reviews of Katharine's performances as well as correspondence with her step-brother and John Cochrane Sr., before and after marriage. Additionally, the collection contains news clippings, scrapbooks, diplomas, pencil drawings, and family history. An exhibit of material from the collection is available.
Mary McNeill Fenollosa (ca. 1963)
Accession: 98-09-340
Size of collection: 2 linear feet
Fenollosa was a Mobile writer during the late nineteenth and early twentieth century. She lived in Kagoshima, Japan for a brief time. These materials are part of the Caldwell Delaney Papers and include Delaney's correspondence with the Fenollosa Society of Japan, his 1963 published work on Mary Fenollosa, and excerpts from her diary, as well as articles and poetry that she wrote.
Virginia Greer (1942-1997 [Bulk 1960-1968])
Accession: 07-09-465
Size of collection: 8 linear feet
Another writer from Mobile, Greer was also a journalist with the local newspaper. Her collection consists of short stories, newspaper articles, manuscripts, and correspondence. The collection also contains subject files on events and on various other local authors, as well as research notes and photographs. In addition, the papers are comprised of miscellaneous printed materials relating to Mobile General Hospital and the United States Department of State.
John LeFlore Oral History Project (1997)
Accession: 97-20-328
Size of Collection: 3 linear feet
Interviews with people who worked alongside or knew John LeFlore well. The following women are interviewees in this project:
Janet LeFlore (Tapes LF-10 through LF-18) is John LeFlore's daughter-in-law and assisted him in Non Partisan Voters League activities; Geraldine Clark (Tapes LF-29 through LF-31) worked for the Mobile Beacon and Alabama Citizen, was a secretary for John LeFlore in the 1960s, and participated in the "test-ins" which the NPVL initiated to press for desegregation of public facilities;
Lancie Thomas (Tapes LF-32 through LF-34) is the owner and editor emeritus of the Mobile Beacon and Alabama Citizen, an African-American newspaper. She and her husband, Frank Thomas, started the paper in 1943 and later moved it to Mobile. Her interview reflects her work and knowledge about the NPVL, of which her husband was a leading member.
Jacqueline Anderson Matte (1811-2006)
Accession: 07-09-470
Size of Collection: 24 linear feet
Jacqueline Anderson Matte compiled, over a number of years, information for several publications. This collection consists of that research material. The works were: They Say the Wind is Red, about the MOWA band of Choctaw Indians; The History of Washington County, Alabama, and Seeing Historic Alabama.
Myrt Jones (1976-2005)
Accession: 02-09-388
Size of Collection: .25 linear foot
Myrt Jones was President of Mobile Bay Audubon Society from 1976 to 2001. Her papers contain articles about Jones and her participation in MBAS, an article by Jones entitled "Planning Paradise," and a manuscript by her entitled, "A Gadfly's Memoirs."
Information about Jones can also be found in the collection related to the Jones/TKE dispute.
May Jordan (diary, 1912-1914)
Accession: 87-10-153
Size of Collection: 1 linear foot
May Jordan lived with her seven siblings and parents on a farm in Washington County, Alabama. Her father was a fur trader, and May accompanied him on his fur trips during two hunting seasons. Her diary records details of their travels and about life on the frontier in Alabama. The collection contains photographs, negatives, and Jordan's original diary.
See also, Where the Wild Animals is Plentiful, listed in the book section.
Virginia Lott (1955-1986)
Accession: 04-09-417
Size of Collection: .5 linear foot
Contains news clippings, articles, documents and photographs collected by Lott during her tenure with the Mobile County Commission. The materials relate to both the third and fourth Mobile County courthouses, as well as to local forts and historic buildings. Documents related to the courthouses include a history prepared by Elizabeth Gould, deeds and acts pertaining to the accession of land for the building of the original courthouse, renovation plans, and photographs. Also included are photographs of county commissioner Coy Smith and of various county commission functions from the 1970's.
Jeanette K. Maygarden Oral History Interviews (1994)
Accession: 00-20-362
Size of collection: .5 linear foot
Maygarden was the Woman's Editor at the Mobile Press Register for seven years and at the paper's General Editorial desk for two years. The interviewees include two women: Emily Staples Hearin and Paulette Horton. Emily Staples Hearin, a writer, volunteer, speaker, and columnist, was honored by the City of Mobile and the state of Alabama for her many civic contributions. She has written several books about Mardi Gras. (Interview: March 3, 1994) Paulette Horton is the author of The Avenue and several other local history books.
Martha Mercer Oral History interviews (1992-1993)
Accession: 93-16-268
Size of Collection: .25 linear foot
Martha Mercer interviewed eight women as part of her Master's thesis research. The collection includes photos and transcripts of the interviews which are on three audio tapes.
Edna Evelyn Olson (1922-1923)
Accession: 08-09-483
Size of Collection: .25 linear foot
Dating to 1923, this scrapbook contains memorabilia Ms. Olson collected the year she graduated from Barton Academy. Included are classmate autographs, graduation programs, calling cards, photographs, ticket stubs, and brief compiled lists of meetings for the "Better Speech" club.
Frances Eugenie Bowers Toulmin (ca. 1850)
Accession: 92-09-248
Size of Collection: .25 linear foot
A collection of poems written by Frances Toulmin, wife of Edmund Pendelton Toulmin, about her children and the death of loved ones.
Hattie Trousdale (1934-61)
Accession: 01-09-377
Size of Collection: .25 linear foot
This scrapbook belonged to Mrs. Hattie Trousdale, a member of St. Francis Street United Methodist Church. The scrapbook contains news clippings, postcards, correspondence. Most of the materials relate to Christianity, church activities, and the Women's Society of Christian Service.
Alice A. Williams (1902-1903, 1924-1951 correspondence)
Accession 82-09-56
Size of Collection: 3 linear feet
Correspondence (1924-51), legal papers, and memorabilia pertaining to Alice A. Williams, a member of the Toulmin family. The collection includes a notebook with fictional writing, mail order catalogs, women's beauty and health magazines (1902-1903), and newspaper clippings.
---
Business, Legal, and Government Records
ADDSCO, Fore & Aft (1941-1945)
Accession: 88-08-170
Size of collection: 4 linear feet (microfilmed)
This weekly publication for employees of the Alabama Dry Dock and Shipbuilding Company contains many articles about women workers there during WWII.
Mobile County Circuit Court Records (ca. 1814-ca. 1917)
Accession: 85-09-125
Size of collection: 348 linear feet
These records include divorces, petitions, and other cases involving women. The divorce cases have been microfilmed.
---
Other Resources
Photograph Collections
Researchers will find numerous photos of women filed under the following subject categories: Recreation, Mardi Gras, Workers, Identified Adults, Families, and Education.
Theses, Dissertations, Articles, and Books
Teresa Barham Bowers, "From the Pews to the Polls: Protestants and Prohibition in Mobile, Alabama, 1880-1910" (M.A. Thesis, University of South Alabama, 1995).
William J. Breen, "The State and Workplace Reform in the South: War Manpower Commission Initiatives and Employer Resistance on the Gulf Coast in World War II," Gulf South Historical Review 18 (2): 6-37.
Lois Virginia Meacham Gould, "In Full Enjoyment of their Liberty: The Free Women of Color of the Gulf Ports of New Orleans, Mobile, and Pensacola, 1769-1860," (Ph.D. Dissertation, Emory University, 1991).
Floy Ethel Grimmett, "Mary McNeill Fenollosa: A Sketch of Her Life and Work" (M.S. Thesis, Alabama Polytechnic Institute, 1939).
Patricia G. Harrison, "Riveters, Volunteers and WACS: Women in Mobile during World War II," Gulf Coast Historical Review 1(2): 33-54.
May Jordan, Where the Wild Animals is Plentiful: Diary of an Alabama Fur Trader's Daughter, 1912-1914, ed. Elisa Baldwin (Tuscaloosa: University of Alabama Press, 1999).
Rebecca Keeler, "Alva Belmont: Exacting Benefactor for Women's Rights" (M.A. Thesis, University of South Alabama, 1987).
Dorothy M. MacInerny, "Elizabeth Whitfield Croom Bellamy: The Life and Works of a Southern Belle" (Ph.D. diss., University of Texas at Austin, 1996).
Martha Jones Mercer, "British Brides, American Wives: The Immigration and Acculturation of War Brides in Mobile, Alabama, 1945-1993" (M.A. Thesis, University of South Alabama, 1993).
Laura Elizabeth Smith, "A Woman and Her Idea: Marietta Johnson and the School of Organic Education" (B.A. honors thesis, Harvard University, 1991).
Mary Martha Thomas, Riveting and Rationing in Dixie: Alabama Women and the Second World War (Tuscaloosa: University of Alabama Press, 1987).
Mary Martha Thomas, "The Mobile Homefront during the Second World War," Gulf Coast Historical Review 1(2): 55-74.