Bellingrath Gardens Photograph Sources at The McCall Library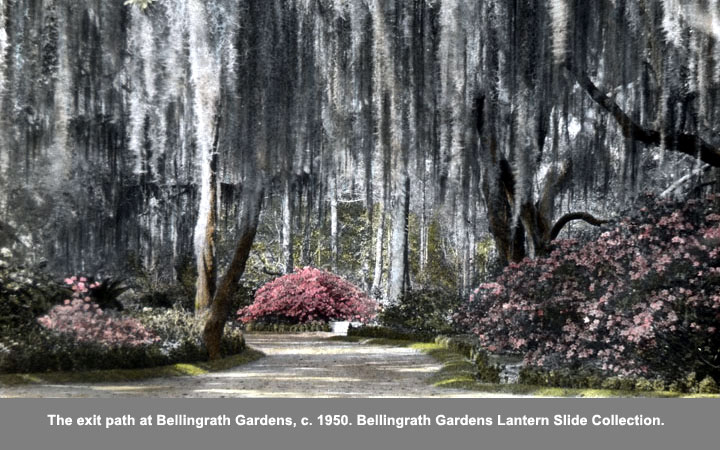 The exit path at Bellingrath Gardens, c. 1950. Bellingrath Gardens Lantern Slide Collection.
---
The McCall Library's photographic collections are listed alphabetically in this guide. The name of the collection may be that of a person, business, organization, institution, location, subject, or donor.
For more information about these collections please email us at mccalllib@southalabama.edu.
---
Important Disclaimer: Warning concerning copyright restrictions. The copyright law of the United States (Title 17, United States Code) governs the making of photocopies or other reproductions of copyrighted material. Under certain conditions specified in the law, archives are authorized to furnish a photocopy or other reproduction. One of these specified conditions is that the photocopy or reproduction is not to be "used for any purpose other than private study, scholarship or research." If a user makes a request for, or later uses, a photocopy or reproduction for purposes in excess of "fair use," that user may be liable for copyright infringement. It is up to the user to comply with all copyright laws of the United States.
---
BELLINGRATH, WALTER (90-02-212)
This collection contains 267 nitrate negatives (3 1/2 x 5 1/2) taken around 1920 of the Bellingrath family and home. A few prints have been made, but there is no index or documentation for these negatives.
BELLINGRATH GARDENS (01-02-373)
Subjects in this small collection include various groups and the following garden locations: the spring house, the totem pole, the entrance, Bellcamp Lodge, the carriage house, the rope swing, the pier, and construction of the home. The images also show transportation of azaleas and azalea scenes at the Bellingrath home on Ann Street. Taken in the 1920s and 1930s, there are 47 nitrate negatives (4 x 5) in this collection.
BELLINGRATH GARDENS (11-04-535)
Consists of 558 glass lantern slides, 155 two-by-two black and white negatives, and three 35mm negatives. Images include shots of the grounds and buildings at Bellingrath, as well as of the Deep Sea Fishing Rodeo and Fort Gaines. The lantern slides date from the mid-1930s to the late 1940s; the Fishing Rodeo negatives were made in 1957 and the shots of Fort Gaines in 1956.