Disaster Photograph Sources at The McCall Library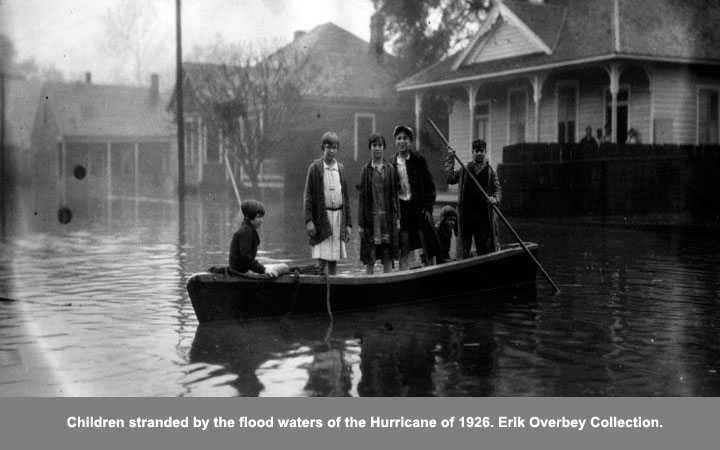 Children stranded by the flood waters of the Hurricane in 1926. Erik Overbey Collection.
---
The McCall Library's photographic collections are listed alphabetically in this guide. The name of the collection may be that of a person, business, organization, institution, location, subject, or donor.
For more information about these collections please email us at mccalllib@southalabama.edu.
---
Important Disclaimer: Warning concerning copyright restrictions. The copyright law of the United States (Title 17, United States Code) governs the making of photocopies or other reproductions of copyrighted material. Under certain conditions specified in the law, archives are authorized to furnish a photocopy or other reproduction. One of these specified conditions is that the photocopy or reproduction is not to be "used for any purpose other than private study, scholarship or research." If a user makes a request for, or later uses, a photocopy or reproduction for purposes in excess of "fair use," that user may be liable for copyright infringement. It is up to the user to comply with all copyright laws of the United States.
---
ALCOA (98-03-339)
In 1998, the Aluminum Company of America donated approximately 500 photographs, 200 slides, and 550 negatives that relate to the company's construction of its Mobile plant in 1937, to its expansion in 1952, and to its modernization in 1975. The collection also includes photos of damage from Hurricane Frederic in 1979 and slide presentations such as "The Mobile Plant," "The Story of Alcoa," "Bauxite to Ingot, "Mining and Refining," and "Beyond Ingot."
ASHDOWN, SPAN (99-07-345)
This collection is made up of 30 black and white photographs (8 x 10), 2 copy negatives (4 x 5), and 13 postcards of bay boats, hurricane damage, and Selma, Alabama, defenses during the Civil War.
AUSTIN, PHILIP G. (87-10-154)
This collection contains copy negatives (4 x 5) of 61 prints of various scenes in and around Mobile. Most of the images appear to have been taken by Boyles Studio and date to the early 20th century. They include a Confederate veterans' reunion, harness racing, hurricane damage, two riverboats, and the Vincent House.
BELL, RON (85-07-92)
While a student at the University of South Alabama, Ron Bell took these 10 photographs (8 x 10) of downtown Mobile in the aftermath of Hurricane Frederic. There are no negatives but Bell did include handwritten captions.
CORLEY, KATHERINE M. (87-10-150)
Consists of 21 postcards of various scenes in and around Mobile. Includes 6 of Fort Morgan around 1911 and 15 of the aftermath of the 1916 storm.
GASTON, GARY R. (99-12-355)
Contains 70 color slides of landmarks, people, and activities at Dauphin Island, Bayou La Batre, Grand Bay, Fairhope, and other locations in Baldwin and Mobile counties, taken by Dr. Gaston in the 1970s, both before and after Hurricane Frederic. Some of the structures photographed were destroyed by that storm. These slides may not be used commercially but an inventory is available.
HURRICANE OF 1916 (85-07-100)
Contains 8 black and white photographs (3 1/4 x 5 1/4) taken shortly after the July 5, 1916, hurricane. One of the images shows destruction at the Alabama, Tennessee, and Northern Railroad docks; another shows the riverboat Twining sunken at the foot of Dauphin Street. The donor of the images was the daughter of William A. Reed, a local photographer, and there are several photos of the damage around their home. There are no negatives.
INGE ALBUM (04-03-416)
Consists of 1 photo album, 8 loose prints, 10 postcards, and 2 nitrate negatives. The photos in the album are dated circa 1913 to circa 1920. They mostly show groups of young people, sailing ships, and sports, and appear to have been taken on the Eastern Shore. Most of the people in them are unidentified but are most likely the friends and family of H. C. Slaton. There are copy negatives (35mm) for most of the images. The loose prints show the Slaton boat being moved from downtown Mobile to its launching site on the Mobile River. The Danner-Frazier home is visible in one of them. The postcards show various scenes, including the Dauphin Island Bridge after Hurricane Frederic. There are no negatives for the loose prints or postcards.
NICHOLS, JOHN E. (90-02-204)
Consists of 4 nitrate negatives (3 x 4) showing damage from the hurricane of 1916 to Bienville Square and to the riverboat Twining.
STAUTER, HELEN (86-08-134)
Consists of 3 black and white postcards showing damage from the 1906 hurricane.
U.S. ARMY CORPS OF ENGINEERS 85-14-90, 85-07-91, 93-19-259, and 95-07-292)
Four separate donations make up this larger collection. The first two, made in 1985, consist of 1 color film (16mm) and a selection of 131 prints from a much larger group, both of which were made by the U.S. Army Corps of Engineers immediately following Hurricane Frederic on September 12-13, 1979. They show property damage in Mobile, on Dauphin Island, and at Gulf Shores. Also included is a report compiled by the COE on Hurricane Frederic called "Hurricane Frederic Post Disaster Report," which is dated 1981. The third donation, given in 1993, consists of a number of maps, 24 of which are related to Hurricane Camille. The last donation, made in 1995, consists of 1 roll of microfilm (35mm positive) of maps of the Mobile District sent by the COE to the National Archives and 7 photo albums dating from around 1908 to around 1938, which show images of Blakeley Island and locks on the Tombigbee and Warrior rivers.