Family Photograph Sources at The McCall Library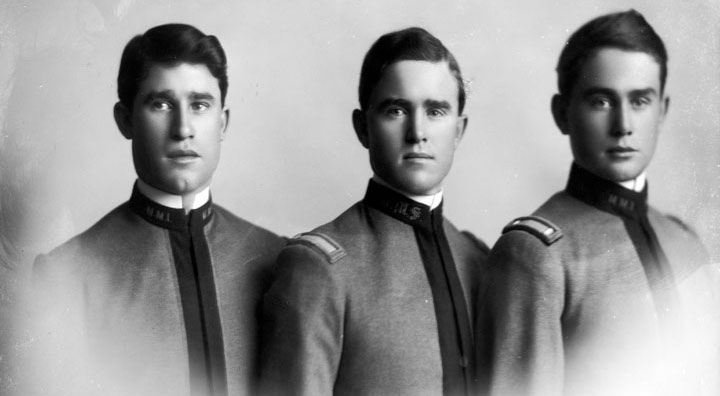 The Chamblin brothers, c. 1905. Erik Overbey Collection.
---
The McCall Library's photographic collections are listed alphabetically in this guide. The name of the collection may be that of a person, business, organization, institution, location, subject, or donor.
For more information about these collections please email us at mccalllib@southalabama.edu.
---
Important Disclaimer: Warning concerning copyright restrictions. The copyright law of the United States (Title 17, United States Code) governs the making of photocopies or other reproductions of copyrighted material. Under certain conditions specified in the law, archives are authorized to furnish a photocopy or other reproduction. One of these specified conditions is that the photocopy or reproduction is not to be "used for any purpose other than private study, scholarship or research." If a user makes a request for, or later uses, a photocopy or reproduction for purposes in excess of "fair use," that user may be liable for copyright infringement. It is up to the user to comply with all copyright laws of the United States.
---

CROSBY, SAMUEL N. (85-03-71, 85-03-117)
This collection is comprised of 515 negatives (35mm), 366 of which are of the Crosby family, taken during the tracing of the family's genealogy. The remaining 149 negatives in this collection were used to illustrate a book by Samuel N. Crosby, The Baldwin County Bench and Bar, Courtroom Tales and History. The book is also available.
CROWELL, ALLEN C. AND NANCY (81-02-55)
There are 1,890 small nitrate and safety negatives (3 x 4) in this collection. They are primarily images of the Crowell and Delchamps families taken by Mr. Crowell in the 1930s and 1940s.
DRAGO/CUMMINS/ROUSE FAMILY PHOTOGRAPHS (09-07-498)
This collection is made up of 34 family portraits of various Drago, Cummins, and Rouse family members. Includes 10 cabinet cards, 17 cartes de visite, and 7 other portraits. Most are identified. There are no negatives.
KAEMMER, MARY CLIFTON (92-07-253)
There are 72 images of various sizes in this collection of family photographs. Most are cabinet cards although there are a few cartes de visite. Most date from the 1870s or 1880s. Shown in the images are members of the Douglas, Horst, Jones, Poetz, and Vass families. The images are fine examples of the work of a number of local studios. Of particular interest in the collection are the images of Mary Clifton Vass, who was the sponsor of the Lomax Rifles, and of Katherine Campbell, who was a deaconess of Wilmer Hall.
LANGAN FAMILY PHOTOGRAPHS (84-03-64)
Approximately 25 copy negatives (4 x 5) of members of the David Langan family. None of the negatives have been printed.
ROSS III, JACK F. (04-07-460)
Contains one scrapbook (appx. 6 x 10) consisting of the personal memorabilia of a member of one of Mobile's prominent families. The scrapbook contains photographs (many of which are not dated and unidentified), as well as invitations and other such miscellaneous items. A number of the images, which were taken between the 1920s and 1940s, depict rustic life among Baldwin County's pine trees, and were taken long before the area became a fashionable place to live. Although he did not live a life of wealth, the scrapbook does reflect the social life of someone of Ross's standing between the 1920s and the 1940s. There are no negatives for the photos.
SMITH, HARRY H. (90-01-220)
This collection consists of 200 glass plate negatives (5 x 7) taken by Harry H. Smith between 1910 and 1912. Subjects include scenes of college life at the University of Michigan, activities with family and friends, and general Mobile scenes. The negatives are well documented; Mr. Smith often recorded exposure settings, film type, dates, and subjects. All the negatives have been printed.
THOMPSON, HAYS (97-04-335)
Contains 109 black and white and hand-colored photographs (8 x 10 and 11 x 14), some of which are dry mounted. There are also 36 negatives (2 x 3 and 5 x 7). The prints show the William Wallace Reed family, a 1906 Barton Academy graduating class, and interiors and exteriors of the Mobile Municipal Airport. The negatives show the construction of St. Mary's Church in 1928 and the original Allen Memorial Home.
VEREEN, V. PRATT (94-07-287)
Family photos showing members of the Seifert and Smith families. Most of the images are of Lillian Seifert and most date to around the 1880s. There are no negatives. Also includes 5 copy negatives (4 x 5) of a Barton Academy class, the Central Market, St. Andrews Hotel, and Foster's Barbershop. A few of these feature Vereen family members.
ZINGLEMANN, CELIA OVERBEY
This collection consists of 3 glass plates, 254 nitrate, and 183 safety negatives, as well as 74 original prints of the Overbey family made by Erik Overbey.