Native American Photograph Sources at The McCall Library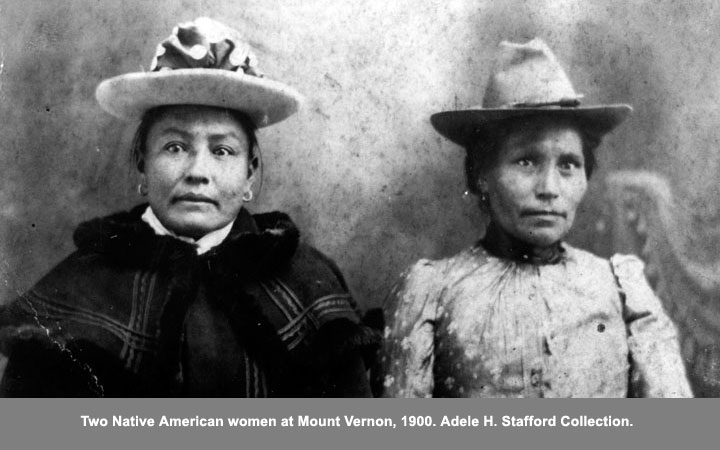 Two Native American women at Mount Vernon, 1900. Adele H. Stafford Collection.
---
The McCall Library's photographic collections are listed alphabetically in this guide. The name of the collection may be that of a person, business, organization, institution, location, subject, or donor.
For more information about these collections please email us at mccalllib@southalabama.edu.
---
Important Disclaimer: Warning concerning copyright restrictions. The copyright law of the United States (Title 17, United States Code) governs the making of photocopies or other reproductions of copyrighted material. Under certain conditions specified in the law, archives are authorized to furnish a photocopy or other reproduction. One of these specified conditions is that the photocopy or reproduction is not to be "used for any purpose other than private study, scholarship or research." If a user makes a request for, or later uses, a photocopy or reproduction for purposes in excess of "fair use," that user may be liable for copyright infringement. It is up to the user to comply with all copyright laws of the United States.
---
MOWA BAND OF CHOCTAW INDIANS (07-09-470)
Photographs, correspondence, manuscripts, newspaper clippings, journals, books, court documents, and other research material gathered by historian Jacqueline Anderson Matte, and connected with the MOWA band of Choctaw Indians, a group of people who reside along the border separating Mobile and Washington counties. Matte used the information in writing her book They Say The Wind is Red and in her appearance in front of the U.S. Senate's committee on Indian affairs, before which the MOWAs were seeking federal recognition as an Indian tribe. Also included are research materials Matte used to compose The History of Washington County, Alabama. Prior notice of interest in this collection is required. 25.5 cubic feet.
STAFFORD, ADELE H. (99-08-352)
Made up of 24 various-sized photographs of Apache Indians at the U.S. Arsenal at Mount Vernon, Alabama, and at Fort Sill in Oklahoma. The images appear to have been taken around 1900. Included are shots of Geronimo. Some copy negatives (4 x 5) have been made.