Railroad Photograph Sources at The McCall Library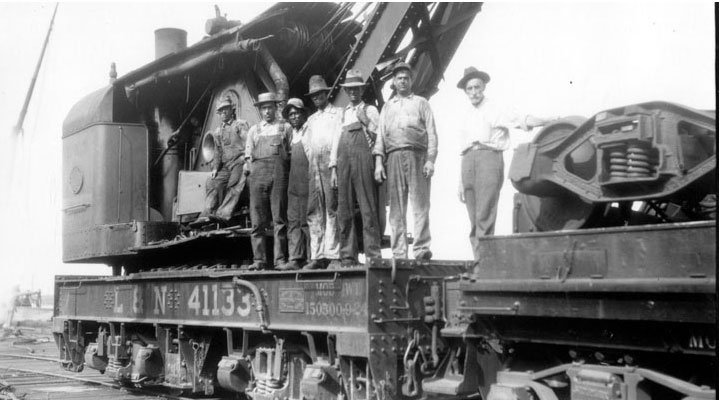 Working on the railroad, c. 1930. Erik Overbey Collection.
---
The McCall Library's photographic collections are listed alphabetically in this guide. The name of the collection may be that of a person, business, organization, institution, location, subject, or donor.
For more information about these collections please email us at mccalllib@southalabama.edu.
---
Important Disclaimer: Warning concerning copyright restrictions. The copyright law of the United States (Title 17, United States Code) governs the making of photocopies or other reproductions of copyrighted material. Under certain conditions specified in the law, archives are authorized to furnish a photocopy or other reproduction. One of these specified conditions is that the photocopy or reproduction is not to be "used for any purpose other than private study, scholarship or research." If a user makes a request for, or later uses, a photocopy or reproduction for purposes in excess of "fair use," that user may be liable for copyright infringement. It is up to the user to comply with all copyright laws of the United States.
---

ARMITSTEAD, T. E. (78-01-21, 86-01-139)
This collection of 325 glass plate negatives (8 1/2 x 6 1/2) offers a view of economic life in the Mobile area circa 1896. T. E. Armitstead, the photographer, worked for the land company of the Mobile and Ohio Railroad and concentrated on the port and agricultural activity along that railroad line. The negatives are grouped by subject areas, in particular, rural scenes, waterfront, and transportation. In addition, the images show lumber and railroad scenes in north Mobile County, Alabama, as well as public buildings and residences in Mobile. All of the negatives have been printed and cataloged. Along with the above, the G. B. Michael Collection includes several original Armitstead prints showing the Michael family home and farm in Citronelle and the family along with a group of others posing on the front porch of the Hygeia Hotel in Citronelle.
SCLATER SR. and JR., ARTHUR L. (556-2012)
More than 2,250 primarily black and white negatives and 600 black and white prints, primarily of Louisville and Nashville Railroad scenes, Murphy High School students and scenes, Alabama State Docks, Bankhead Tunnel, and downtown Mobile. None of the negatives have been printed but an index to the collection is available onsite.