Recreation Photograph Sources at The McCall Library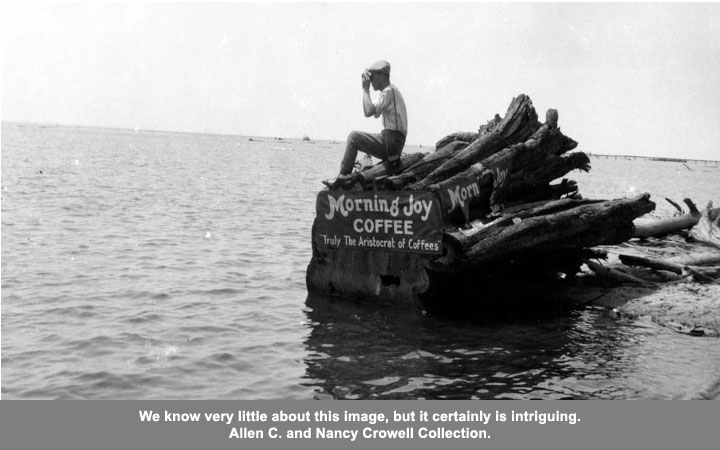 We know very little about this image but it certainly is intriguing. Allen C. and Nancy Crowell Collection.
---
The McCall Library's photographic collections are listed alphabetically in this guide. The name of the collection may be that of a person, business, organization, institution, location, subject, or donor.
For more information about these collections please email us at mccalllib@southalabama.edu.
---
Important Disclaimer: Warning concerning copyright restrictions. The copyright law of the United States (Title 17, United States Code) governs the making of photocopies or other reproductions of copyrighted material. Under certain conditions specified in the law, archives are authorized to furnish a photocopy or other reproduction. One of these specified conditions is that the photocopy or reproduction is not to be "used for any purpose other than private study, scholarship or research." If a user makes a request for, or later uses, a photocopy or reproduction for purposes in excess of "fair use," that user may be liable for copyright infringement. It is up to the user to comply with all copyright laws of the United States.
---
BAY CITY COIN / WERNETH (93-07-264)
Made up of 1 photo album (7 x 11) filled with snapshots (2 1/2 x 4) taken in the early 1940s in Mobile and on the Eastern Shore. Many of them are identified. Of particular interest are the photographs of the 1941 Knights of Revelry, Comic Cowboys, and Floral Mardi Gras parades, and of the centennial celebration of the Cathedral of the Immaculate Conception. There are no negatives.
COFFIN, S. MARION (92-01-250)
Mr. Coffin, a master mechanic for the Mobile Light and Railroad Company from 1894 to 1926, photographed many of the company's activities. Pictured are views of various types of streetcars, their construction and repair at the Monroe Park shops, and the laying of track. Also included are numerous views of buildings and amusements at Monroe Park. Most of the 264 negatives have been printed.
EICHOLD, SAMUEL (84-06-69, 86-10-127)
Contains 131 color slides and 99 black and white copy negatives (35mm) of Dr. Eichold's postcard collection. The postcards date from the early 1900s to the 1930s and show primarily Mobile and Fairhope scenes. An inventory of the postcards and contact prints are available. The McCall Library has also copied material from scrapbooks belonging to the Comic Cowboys, a Mardi Gras organization, which was used to illustrate Dr. Eichold's book, Without Malice (1984). There are 109 color slides and 22 black and white negatives (4 x 5) in this group. In addition, we recently acquired some of Dr. Eichold's papers, in which were contained a number of photographs of locally significant doctors, including Josiah Nott, Henry Levert, Eugene Bondurant, and Tucker Frazer. Dr. Eichold apparently gathered these images together as part of his research for his contribution to the 1984 publication Dictionary of American Medical Biography. Not all of the files on the doctors contain a photograph, however, and many of the images were laminated, contributing to deteriorated photos. Interested parties should first contact The McCall Library to see if an image exists or if the image(s) can be reproduced. A list of the doctors can be found in the finding aid to the collection.
GIDDENS, KENNETH R. (06-09-457)
Consists of 17 color slides of the ribbon cutting for a 1950s Azalea Trail and 3 black and white photographs of former archbishop Thomas J. Toolen.
HASTIE, JAMES H. (98-12-342)
Includes 147 color slides (35mm) made between 1959 and 1967 of the Mobile area, including the arrival of USS Alabama (BB-60), the construction of the First Alabama Bank Building in 1965, a 1964 Azalea Trail parade, and a 1965 Dauphin Island Deep Sea Rodeo.
HINES, JOHN GUS (02-09-392)
Artist John Gus Hines worked in Mobile, ca. 1867-1921, as a set designer for various theaters. He also designed and built floats for Mardi Gras parades and other occasions in Mobile and other cities. The collection contains 36 diaries with brief notations of daily activities including remarks about construction of floats, theatrical sets, and other projects. It also contains 126 pen and pencil drawings of Mardi Gras floats for various organizations. 1 linear foot.
PETITHORY FAMILY SCRAPBOOK (08-09-484)
One scrapbook (10 x 7) consisting of black and white photographs (most 3 x 4) taken at the George Petithory Clover Leaf Golf Course. The images were made around 1930 and show golfers at the course. Many of the people in the images are Petithory family members. There are also a few news clippings about the tournaments held at the golf course, as well as a score card from the Fairy Links Miniature Golf Course at Bayview Park in Pensacola, and a managerial courtesy ticket to the Lyric Theatre. The golf course was located on land now at the corner of DIP and Duval Street and Halls Mill Road.
SCHROETER, GEORGE (88-03-163)
Consists of 22 black and white negatives (2 x 3) of three separate 1948 night-time Mardi Gras parades, those of the Infant Mystics, the Crewe of Columbus, and the Stripers.
SOUTH ALABAMA BRITISH CAR CLUB (06-07-458)
Organized in 1990, this club held its first meeting on September 7 of the same year, and its first rally the following January. The group continues to be active. This collection contains nearly 1,800 color prints (3 1/2 x 5 and 4 x 5), 48 black and white prints (3 1/2 x 5, 4 x 5, 5 x 7, and 8 x 10), and 19 color negatives of the meetings and rallies of this organized group of British car owners. Many of the people in the images are unidentified and there are very few negatives. Also within the collection is a nearly complete run (1994-2006) of the organization's newsletter.