Religious Photograph Sources at The McCall Library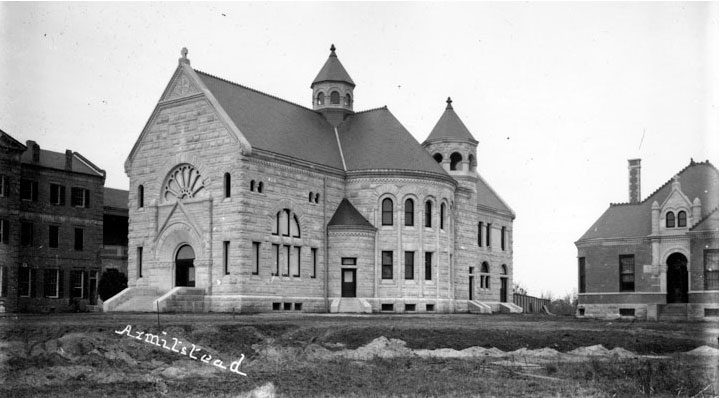 The exterior of the chapel at the Visitation Convent, 1895. T.E. Armistead Collection.
---
The McCall Library's photographic collections are listed alphabetically in this guide. The name of the collection may be that of a person, business, organization, institution, location, subject, or donor.
For more information about these collections please email us at mccalllib@southalabama.edu.
---
Important Disclaimer: Warning concerning copyright restrictions. The copyright law of the United States (Title 17, United States Code) governs the making of photocopies or other reproductions of copyrighted material. Under certain conditions specified in the law, archives are authorized to furnish a photocopy or other reproduction. One of these specified conditions is that the photocopy or reproduction is not to be "used for any purpose other than private study, scholarship or research." If a user makes a request for, or later uses, a photocopy or reproduction for purposes in excess of "fair use," that user may be liable for copyright infringement. It is up to the user to comply with all copyright laws of the United States.
---
GIDDENS, KENNETH R. (06-09-457)
Consists of 17 color slides of the ribbon cutting for a 1950s Azalea Trail and 3 black and white photographs of former archbishop Thomas J. Toolen.
GRUBE, P. (85-07-86)
Contains 1 black and white photograph (3 x 4) of the entrance to the Visitation Convent. There is no negative.
PALMER STUDIO (80-03-46, 85-07-105)
Contains approximately 145,000 black and white and color safety negatives (4 x 5 and 5 x 7) dating from 1958 to 1990 (with some years missing). Subjects include portraits, weddings, Mardi Gras, and buildings. Some of the pictures were used to illustrate articles in Catholic Week.
SPRINGHILL AVENUE TEMPLE (85-07-104)
There are 61 original Overbey Studio portraits of members of the Springhill Avenue Temple in this collection. Most portraits are identified.