Ships & Shipping Photograph Sources at The McCall Library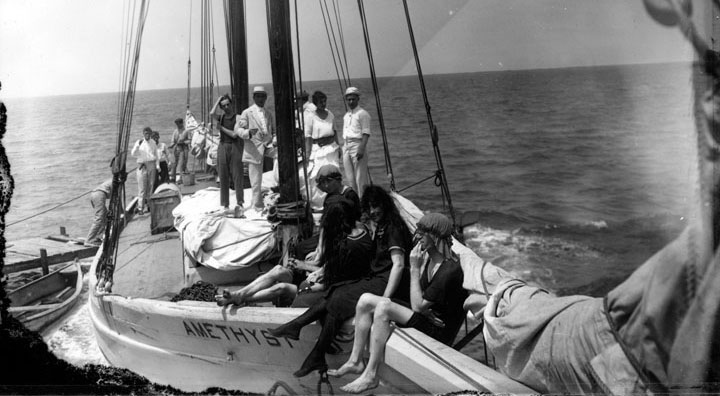 A group at play abroad the Amethyst just off the Coden, Alabama, coast, 1916. Erik Overbey Collection.
---
The McCall Library's photographic collections are listed alphabetically in this guide. The name of the collection may be that of a person, business, organization, institution, location, subject, or donor.
For more information about these collections please email us at mccalllib@southalabama.edu.
---
Important Disclaimer: Warning concerning copyright restrictions. The copyright law of the United States (Title 17, United States Code) governs the making of photocopies or other reproductions of copyrighted material. Under certain conditions specified in the law, archives are authorized to furnish a photocopy or other reproduction. One of these specified conditions is that the photocopy or reproduction is not to be "used for any purpose other than private study, scholarship or research." If a user makes a request for, or later uses, a photocopy or reproduction for purposes in excess of "fair use," that user may be liable for copyright infringement. It is up to the user to comply with all copyright laws of the United States.
---
ALABAMA DRY DOCK AND SHIPBUILDING COMPANY (81-03-60)
Contains approximately 30,000 safety sheet film negatives (4 x 5) taken by various company photographers from the 1930s to the 1950s. Subjects include employees at work, ship construction and repair. ADDSCO activities such as bond drives and rallies, and ship launchings during World War II are also documented. The negatives are well identified and indexed. A small number have been printed, especially those dealing with WWII-era activities. Many of the images appeared in the company's publication Fore and Aft which is also available at The McCall Library.
ASHDOWN, SPAN (99-07-345)
This collection is made up of 30 black and white photographs (8 x 10), 2 copy negatives (4 x 5), and 13 postcards of bay boats, hurricane damage, and Selma, Alabama, defenses during the Civil War.
AUSTIN, PHILIP G. (87-10-154)
This collection contains copy negatives (4 x 5) of 61 prints of various scenes in and around Mobile. Most of the images appear to have been taken by Boyles Studio and date to the early 20th century. They include a Confederate veterans' reunion, harness racing, hurricane damage, two riverboats, and the Vincent House.
CATE SR., RUFUS H. (00-04-364)
This collection consists of 82 World War II-era black and white photographs (4 x 5 and 8 x 10) showing ship launchings at the Alabama Dry Dock and Shipbuilding Company, as well as ship construction and a few unidentified office workers. Many of the ships are identified and launching or construction date is noted.
CROOM, STEPHENS G. (93-07-262)
Includes 7 black and white photographs of Battleship Park and 211 color slides relating to USS Alabama (BB-60) and Battleship Park.
NESTER, R. DOUGLAS (85-02-94)
This group of 18 nitrate negatives was taken by Johann Martin Nester, a photographer for the topographic office of the U.S. Army Corps of Engineers, Mobile District. They date to the World War I era and include images of tugs and riverboats in locks on the Tombigbee River, scenes at Fort Morgan, and views of the Mobile waterfront. All the negatives have been printed.
SUNDBERG, LOIS SLOSSON (88-10-168)
Made up of copy negatives (4 x 5) of 44 postcards and 4 prints. The postcards show scenes on the Eastern Shore, particularly Fairhope. A few of the postcards show bay boats, and a number were made by Frank Stewart. The prints show the laying of trolley tracks on Dauphin Street and a group in Mardi Gras costumes.
WATERMAN STEAMSHIP CORPORATION (91-07-232)
Three albums containing photographs of Waterman Steamship Corporation offices in various cities (1936-1937) and Waterman ship launchings at Gulf Shipbuilding in Chickasaw, Alabama (1942-1945). News clippings with the photos provide information about the ships and their sponsors. A list of ships pictured is available.
WORSTELL, JOE (87-06-155)
Contains several hundred color negatives and prints (3 x 5) made by Mr. Worstell in the late 1970s and 1980s of shipbuilding in Bayou La Batre. The negatives are documented as to date, place, and name of ship.