Bankhead Tunnel Photograph Sources at The McCall Library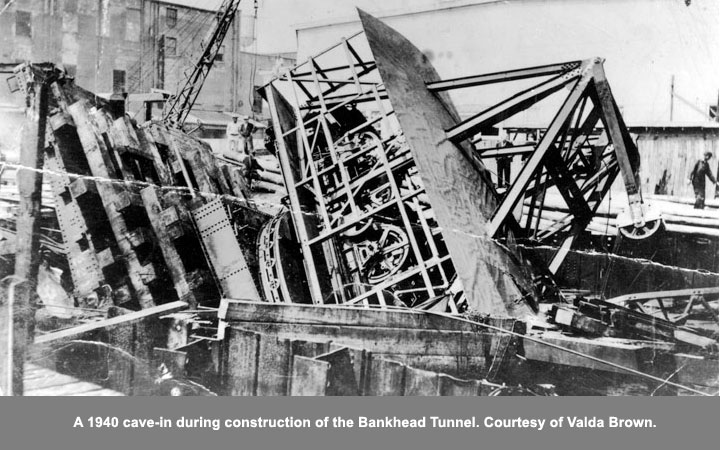 A 1940 cave-in during construction of the Bankhead Tunnel. Courtesy of Valda Brown.
---
The McCall Library's photographic collections are listed alphabetically in this guide. The name of the collection may be that of a person, business, organization, institution, location, subject, or donor.
For more information about these collections please email us at mccalllib@southalabama.edu.
---
Important Disclaimer: Warning concerning copyright restrictions. The copyright law of the United States (Title 17, United States Code) governs the making of photocopies or other reproductions of copyrighted material. Under certain conditions specified in the law, archives are authorized to furnish a photocopy or other reproduction. One of these specified conditions is that the photocopy or reproduction is not to be "used for any purpose other than private study, scholarship or research." If a user makes a request for, or later uses, a photocopy or reproduction for purposes in excess of "fair use," that user may be liable for copyright infringement. It is up to the user to comply with all copyright laws of the United States.
---
ALABAMA DEPARTMENT OF TRANSPORTATION TUNNEL PHOTOGRAPHS (631-2012)
Includes status reports on the Bankhead and Wallace Tunnels (1942-2003), progress photographs of the construction of the Wallace Tunnel (1969-1972). Also includes Wallace Tunnel pre-construction conference notes (1969), snapshots (1969-1972), weekly progress reports (1971-1972), and some tunnel employee training exams (n.d.). A series of inspection photographs (1969-1970) documents such non-tunnel sites as the Fort Conde-Charlotte House, City Hall, County Court House, Greyhound Bus Terminal, Christ Episcopal Church, and L&N Railroad Terminal Building. In all, there are approximately 2,000 images in this collection.
BABCOCK, HARRY T. (92-07-242)
This collection is made up of 9 photo album pages with 4 photographs of the Summerville Court Apartments in 1939, 54 images of the construction of the Bankhead Tunnel in 1940, and 6 photographs of Gulf Shipbuilding taken in April 1941. The images range from 3 x 4 to 8 x 10. There are no negatives.
BANKHEAD TUNNEL (96-12-318)
Construction of the Bankhead Tunnel in the late 1930s is documented in 137 black and white slides.