USA Photograph Sources at The McCall Library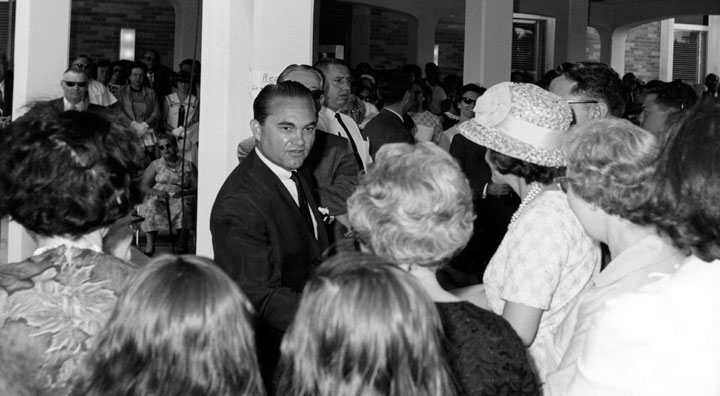 Former Governor George Wallace at the dedication of the University of South Alabama, 1964. USA Public Relations Collection.
---
The McCall Library's photographic collections are listed alphabetically in this guide. The name of the collection may be that of a person, business, organization, institution, location, subject, or donor.
For more information about these collections please email us at mccalllib@southalabama.edu.
---
Important Disclaimer: Warning concerning copyright restrictions. The copyright law of the United States (Title 17, United States Code) governs the making of photocopies or other reproductions of copyrighted material. Under certain conditions specified in the law, archives are authorized to furnish a photocopy or other reproduction. One of these specified conditions is that the photocopy or reproduction is not to be "used for any purpose other than private study, scholarship or research." If a user makes a request for, or later uses, a photocopy or reproduction for purposes in excess of "fair use," that user may be liable for copyright infringement. It is up to the user to comply with all copyright laws of the United States.
---
HUGGINS, CLYDE G. (95-08-299)
Includes 138 slides (mostly color), 160 prints (mostly black and white), and 93 negatives (mostly black and white) of various University of South Alabama people, events, and venues. Some of the other people photographed in the slides, prints, and negatives include Sonny Callahan and George and Cornelia Wallace.
MOBILE AREA CHAMBER OF COMMERCE (89-08-178)
Consists of approximately 200 photographs (black and white and color) of various sizes. Subjects include the Blessing of the Fleet, the University of South Alabama, the Mobile Air Terminal, the first ship to use the Tennessee-Tombigbee Waterway, Richard Nixon's 1971 visit to Mobile, Azalea Trail Maids, bridges, area forts, dormitories at the University of Mobile, and a "treasure" house near Theodore.
MOBILE PRESS-REGISTER
Contains more than 60,000 black and white negatives (120mm and 35mm film) taken by various photographers for the newspaper between 1971 and 1976, many of which depict USA people, activities, and events.
USA COLLEGE OF MEDICINE (84-07-70, 89-03-181, 94-20-280)
Three separate donations made up of approximately 2,500 variously-sized negatives and prints, as well as 250 slides. All were taken by various photographers for the University of South Alabama Medical Center Public Relations Department. Most of the slides remain undated and unidentified except for the ones from 1972 showing Governor George Wallace participating in the ground-breaking ceremony for the construction of the College of Medicine building. The negatives and prints are comprised of a wide variety of identified and unidentified interiors, exteriors, individuals, groups, and events. Not all of those are dated but most appear to have been taken between 1970 and 1994.
USA PUBLIC RELATIONS COLLECTIONS
Thousands of black and white and color prints and negatives of university students, staff, faculty, administrators, and events taken over the years of the university's existence by various university photographers. Many of them are unidentified.