World War II Photograph Sources at The McCall Library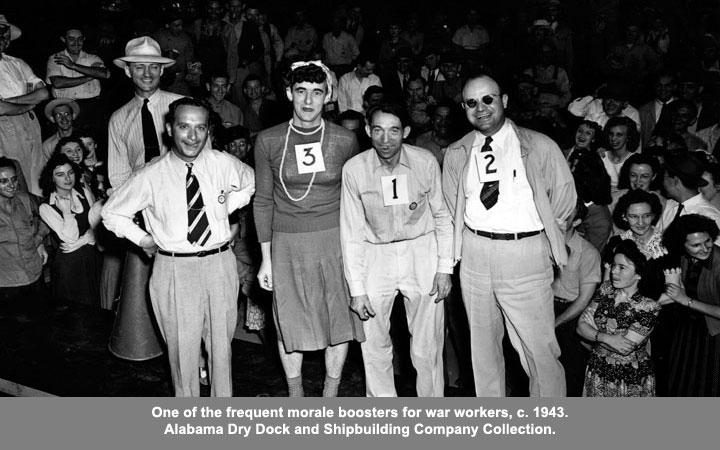 One of the frequent morale boosters for war workers, c. 1943. Alabama Dry Dock and Shipbuilding Company Collection.
---
The McCall Library's photographic collections are listed alphabetically in this guide. The name of the collection may be that of a person, business, organization, institution, location, subject, or donor.
For more information about these collections please email us at mccalllib@southalabama.edu.
---
Important Disclaimer: Warning concerning copyright restrictions. The copyright law of the United States (Title 17, United States Code) governs the making of photocopies or other reproductions of copyrighted material. Under certain conditions specified in the law, archives are authorized to furnish a photocopy or other reproduction. One of these specified conditions is that the photocopy or reproduction is not to be "used for any purpose other than private study, scholarship or research." If a user makes a request for, or later uses, a photocopy or reproduction for purposes in excess of "fair use," that user may be liable for copyright infringement. It is up to the user to comply with all copyright laws of the United States.
---
ALABAMA DRY DOCK AND SHIPBUILDING COMPANY (81-03-60)
Contains approximately 30,000 safety sheet film negatives (4 x 5) taken by various company photographers from the 1930s to the 1950s. Subjects include employees at work, ship construction and repair. ADDSCO activities such as bond drives and rallies, and ship launchings during World War II are also documented. The negatives are well identified and indexed. A small number have been printed, especially those dealing with WWII-era activities. Many of the images appeared in the company's publication Fore and Aft which is also available at The McCall Library.
BROOKLEY AIR FORCE BASE (89-08-189, 93-08-189, 02-03-394)
This collection is made up several smaller donations of images related to Brookley Air Force Base. Within them are more than 280 photographs (3 1/2 x 3 1/2, 4 x 5, and 8 x 10) that show aerial views of the base, the hospital, fire station, service clubs, warehouses, gymnasium, commissary, theater, housing, officers' club, pool, offices, and machine shop. The images were taken in the late 1950s to mid-1960s. Some were used to document overcrowding at the facility; others appear to have been shot as a sort of inventory of the facility prior to its closing. A third set show military personnel and civilians employees working at the facility during World War II.