Historic Markers in the City of Mobile
---
The Warren Street area includes thirteen historic markers. The area is bounded by Ann Street, Selma / Savannah streets, Warren Street, and Springhill Avenue / St. Anthony Street.
---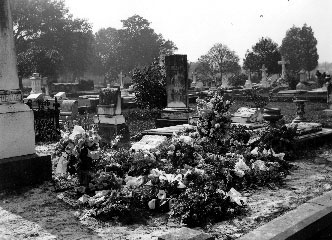 Marker Number 39: Old Church Street Cemetery, 1819.

Location: End of Scott Street (behind Mobile Public Library).

Text: Established in 1819 by the city of Mobile for yellow fever victims. Buried in raised tombs are Spanish and French citizens of early Mobile, and many pioneer Americans.
Historic Mobile Preservation Society 1969
---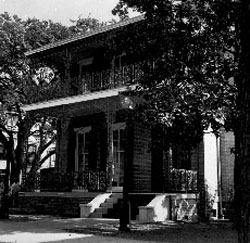 Marker Number 40: The Quigley House.

Location: Southeast corner of Government, at Scott.

Text: Built in 1860 by George Gilmore, owned in 1866 by Dr. Edmund Pendleton Gaines, and in 1901 by Mrs. Susan Quigley; this historic house was bought in 1963 by the city of Mobile and restored by the Junior Chamber of Commerce.
Historic Mobile Preservation Society 1966
---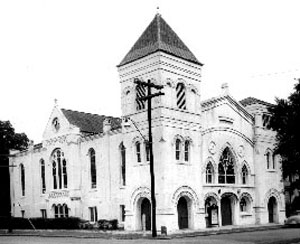 Marker Number 41: Big Zion A.M.E. Zion Church.

Location: Northwest corner of Church, at Bayou.

Text: This congregation originated in 1842 with a group of slaves who worshipped in their masters' church, a Methodist congregation. They were required to move to a small house provided for them. Their perseverance and faith held them together through adversities and three other temporary places of worship. This site was purchased in 1860 about which time they voted to transfer from the Methodist charge to the A.M.E. Zion connection. A wooden shed and parsonage was first constructed. In this shed was held the first ordination in Alabama of a Negro minister by a Negro bishop. The present structure was begun in 1867 by Rev. E. D. Taylor. It was remodeled in 1896.
Historic Mobile Preservation Society 1972
---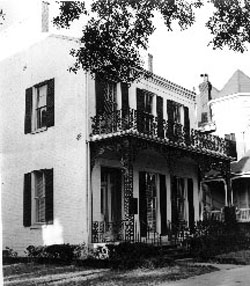 Marker Number 42: Home of Raphael Semmes.

Location: Next door to 806 Government Street, near Jefferson.

Text: Rear Admiral, Confederate States Navy, Brigadier General, Confederate States Army, Commander of the CSS Alabama, the greatest sea raider of all times. In this house, a gift of the people of Mobile, Admiral Semmes spent his late years.
Historic Mobile Preservation Society 1940 (replaced 1955)
---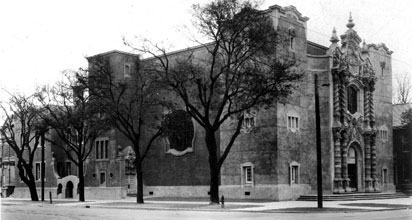 Marker Number 43: The Bee Hive.

Location: 901 Government Street (corner of Government and Broad).

Text: The congregation of Government Street United Methodist Church, Methodism's Mother Church in Mobile, began in 1826 on Franklin Street. Called "The Bee Hive" because of its activity, it sent "swarms" throughout the city to form new congregations. A brick structure replaced the original wooden church in 1849. The move to this corner was accomplished with the dedication of a Gothic structure in 1890. The remodeling to Spanish Colonial architecture was begun in 1906 and completed in 1917. Architect was Mobilian George B. Rogers, and Harry E. Goodhue of Boston created the stained glass windows.
United Methodist Church 1984
---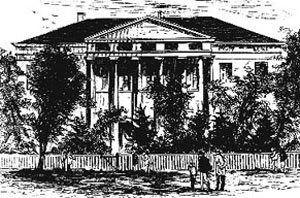 Marker Number 44: Emerson Institute.

Location: 266 Scott Street, near Palmetto.

Text: On this site stood Emerson Institute, Mobile's first school for the formal education of African Americans, and one of the few 19th century normal schools for African Americans in Alabama. Founded in 1865 by the Freedmen's Bureau, the school was run by the American Missionary Association from 1866 to 1927, when it became a Mobile County public school. First located in the "Blue College" on Government Street, the school moved in 1877 here to 266 Scott Street after a disastrous fire. Many of its students had careers of local and national distinction. Emerson closed in 1970 and its buildings were demolished as part of the city's plan for urban renewal.
Sponsored by the Emerson Alumni Association and the Mobile Housing Board
Alabama Historical Commission 1997
---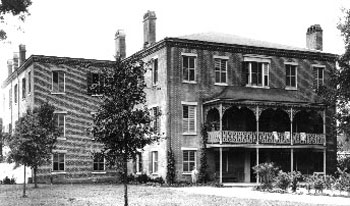 Marker Number 45: Protestant Children's Home.

Location: 911 Dauphin Street (between Broad Street and LeBaron).

Text: This building was erected in 1845 by the Protestant Orphans Asylum Society to care for children left homeless after disastrous fires and yellow fever epidemics of the 1830s. It has operated continuously since that time.
Historic Mobile Preservation Society 1965
---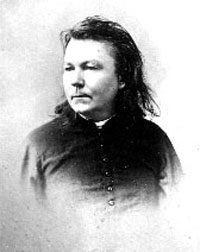 Marker Number 46: Father Ryan Monument.

Location: Bounded by Springhill Avenue, Bayou Street, St. Michael Street, and Scott Street.

Text: This monument to Rev. Father Abram J. Ryan, poet-priest of the South, was erected and dedicated as a tribute from the people of Mobile and of the South on July 12, 1913. Hon. Pat J. Lyons, Mayor of Mobile; Rt. Rev. Edward P. Allen, DD., Bishop of Mobile; Paul E. Rapier.
City of Mobile and the South July 1913
---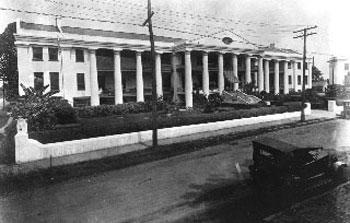 Marker Number 47: Mobile City Hospital.

Location: Northeast corner of Broad Street, at St. Anthony.

Text: Built in 1830 by Thomas S. James, Mobile's third hospital has been preserved in its original design except for additions at each end, serving without interruption through disastrous fires, yellow fever epidemics, and war. For 83 years, between 1861 and 1959, it was administered for the city by the Sisters of Charity.
Historic Mobile Preservation Society 1964
---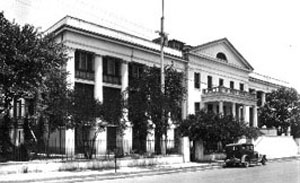 Marker Number 48: U.S. Marine Hospital.

Location: Northwest corner of St. Anthony, at Jefferson.

Text: Built 1838-1841. In operation 1842-1952. Served Confederate and Union Troops, 1861-1865.
The National Society of the Colonial Dames of America
in the State of Alabama 1956
---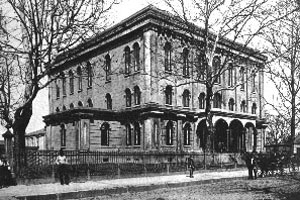 Marker Number 49: First Medical School in Alabama.

Location: Northwest corner of St. Anthony, at Warren.

Text: The first medical school in Alabama, and the thirty-fourth in the United States, was established on this site in November 1859. Dr. Josiah Nott, founder and first chief of surgery. It closed in 1861 at the outbreak of the War Between the States and did not reopen until 1868. The medical school continued until 1920 when it was moved to Tuscaloosa, Alabama. Dunbar public school currently utilizes the building.
The Medical Society of Mobile County, Inc.,
November 1991, to commemorate the 150th
Anniversary of the founding of the Society.
---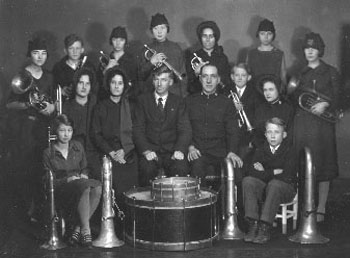 Marker Number 50: The Salvation Army in Mobile.

Location: Southeast corner of St. Francis Street, at Conception.

Text: At the corner of Conception and St. Francis streets, Captain Edward Justus Parker, Staff-Captain Charles Miles, and a Salvation Army lieutenant conducted an open air meeting on the night of their arrival in March 1887. In contrast to other Salvation Army openings in other cities, the Mobile audience was polite. Men removed their hats as prayer was offered and those in attendance respectfully participated in the singing and dropped coins into the collection plate. Mobile became an official Salvation Army Corps on October 13, 1899, with Captain and Mrs. James T. Cumbie in command. The Army's first Corps Community Center in Mobile was located at 213 Conti Street where it remained from the late 1930s until the late 1960s. The Salvation Army's fight against human suffering, started in 1865 in London by General William Booth, is still helping people to help themselves, though its methods have changed with the times. Dedicated June 14, 1987 by Commissioner James Osborne, Commander of the Army's Southern Territory. [Also see marker number 24 located on the corner of Conception and St. Francis streets]
Salvation Army 1987
---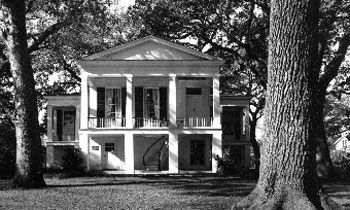 Marker Number 51: Oakleigh Mansion.

Location: Oakleigh Street, near Savannah.

Text: Started in 1833 by James Roper on a Spanish land grant, "Oakleigh" was named for the magnificent oaks around it. The "T" shaped dwelling with elegant parlors and curved outside stairway from the brick terrace to front gallery was well suited for a semi-tropical climate. Many famous visitors, including President James Garfield were entertained here. It was included in the Historic American Buildings Survey and the National Register of Historic Places. Acquired by the city of Mobile in 1955. Now operated as a museum by the Historic Mobile Preservation Society, it reflects antebellum life in this city.
Alabama Historical Commission
Historic Mobile Preservation Society 1985