Communication Studies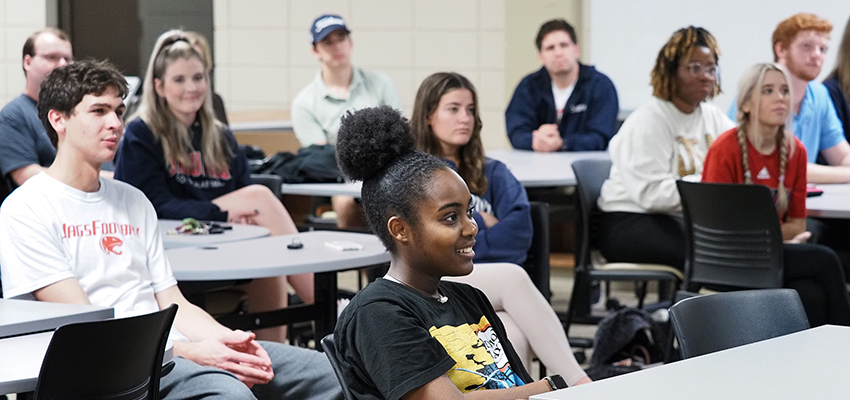 USA Department of Communication
According to the U.S. Bureau of Labor Statistics, communication and media occupations are projected to grow 14 percent by 2030 resulting in 151,000 new jobs. Effective communication is necessary in all industries to build and maintain relationships and to convey information to diverse audiences. The student experience focuses on personal interests and professional goals through an integrated curriculum and hands-on involvement, exceptional internships and concentration-specific student organizations. Students are trained, independent, critical thinkers who uphold the highest ethical and professional standards as communication leaders in a global society.
Bachelor of Arts in Communication Studies
Communication studies encompasses critical thinking with a keen understanding of interpersonal, intercultural, organizational and public communication. Learn the best ways to be heard, read and seen in any communication setting. Students can choose to study human and organizational communication or rhetoric and culture. Whether talking to thousands of people or having a one-on-one conversation, courses in communication studies will give you the tools to excel as a professional communicator.
Careers in Communication Studies
A degree in communication studies allows graduates to pursue careers as human resources managers, recruiters, sales directors, healthcare counselors, nonprofit directors and ministry.
Student Involvement
Students can get involved through student media, clubs and organizations across campus or specifically in their major. Students build leadership skills, plan events, create and produce content, design campaigns and network professionally by becoming involved in department groups such as the American Advertising Federation, Public Relations Student Society of America, Lambda Pi Eta and JagMedia.
Internship Opportunities
Communication studies majors have opportunities to complete internships, which allows students to apply classroom knowledge in professional settings, gain exposure in their chosen career field, build professional connections and gain hands-on experience. Our program has relationships with organizations in various settings such as nonprofits, educational institutions, agencies, private businesses and government entities.
Alabama Power
Ingalls Shipbuilding
The Container Yard
Calvary Assembly of God
Clear Channel Media and Entertainment
SunHerald
Mobile Bay Magazine
▼ Major Requirements
CA 100: Introduction to Communication
CA 200: Survey of Communication Theory
CA 210: Argumentation
CA 222: Rhetoric, Culture, and Society
CA 260: Digital Writing and Production
CA 275: Decision Making in Small Groups
CA 300: Foundations of Communication Research
CA 310: Persuasion
CA 445: Ethics and Social Responsibility in Communication
Choose five
CA 211: Interpersonal Theory
CA 230: Communication in Organizations
CA 315: Gender and Communication
CA 330 (W): Intercultural Communication
CA 360: Communication and the Internet
CA 410: Advanced Persuasion
CA 411: Relational Communication
CA 422: Rhetorical Theory
CA 424 (W): Rhetorical Criticism
CA 430: Advanced Organizational Communication
CA 453: Political Communication-Processes and Effects
CA 456: Social Media and Politics
CA 475: Communication in Group Processes
CA 496: Professional Studies Internship
▼ Minor Requirements
Students majoring in communication studies are required to have a minor. South requires a minimum of nine hours of coursework completed at the University and a minimum of nine hours of coursework at the 300 level and above. A full list of minors can be found at Majors and Minors.