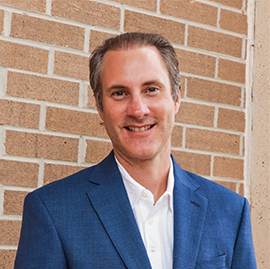 George Bovenizer
Assistant Professor Department of Communication

---
Education
Regent University: Virginia Beach, Virginia
Doctor of Philosophy, Communication, May 2022
Columbia University: New York, New York

Master of Science, Journalism, October 2001

Stetson University: DeLand, Florida
Bachelor of Arts, Communications, May 1994
---
Bio
George Bovenizer is an Instructor in the Department of Communication at the University of South Alabama. Before joining the faculty in 2021, he had an award-winning 27-year career in broadcast journalism. His career in television and radio took him around the globe and he worked in major TV markets, including New York City, Tokyo, and Los Angeles. He worked at NBCUniversal in Los Angeles for the last 14 years of his professional career. Dr. Bovenizer is an active voting member of The National Academy of Television Arts and Sciences and is a 6-time Emmy nominee for his producing work at E! News. In 2015 he was awarded the NBCUniversal G.E.M. Award, and in 2016 he worked with NBC News at the Olympics in Rio de Janeiro. Dr. Bovenizer received his B.A. in Communication Studies from Stetson University, his M.S. in Journalism from Columbia University, and his Ph.D. in Communication from Regent University. His research interests include sports, history, entertainment, and popular culture.
---
Courses
CA 250 Radio and TV Performance
CA 270 Sports Journalism
CA 350 Broadcast News
CA 353 Broadcast News Editing
CA 454 TV Newscast Practicum
---
Honors and Awards
6-time Emmy Nominee: Breaking News & Outstanding Entertainment News Show categories.
Academy of Television Arts & Sciences: Voting Member for Primetime Emmy Awards.
Winner: NBC G.E.M. (Going the Extra Mile) Award.