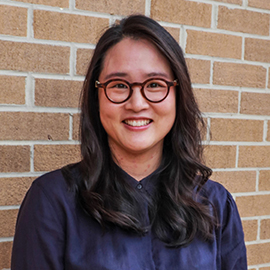 Dr. Jung Hwa Choi
Assistant Professor Department of Communication

---
Research Interests
Advertising/Consumer Psychology
Consumer Brand Relationship
Digital Marketing & Communication
---
Bio
Jung Hwa Choi is an assistant professor of Strategic Communication at the University of South Alabama (USA). She teaches digital communication and various courses in strategic communication. She holds a PhD from The University of Texas at Austin in Advertising and a BA and MA from the Michigan State University.
Dr. Choi's research interests focus on the areas of digital and social media for marketing communication, psychology of advertising, branding, and the effect of such persuasive communication on individual's cognitive, affective, and behavioral responses. She is particularly interested in examining the role of digital media in marketing communication and how consumers' motivations influence outcomes related to relationship building with brands.
---
Publications
Choi, Jung Hwa (forthcoming). Would you listen to Brad Pitt? The Impact of Construal Level and Celebrity Endorsement in Donation Advertising. Journal of Advertising & Promotion Research.

Choi, Tae Rang, Jung Hwa Choi & Yongjun Sung (2016). I hope to protect myself from the threat: The impact of self-threat on prevention-versus promotion-focused hope. Journal of Business Research, under revision.

Chen, Kuan-Ju, Jhih-Syuan Lin, Jung Hwa Choi & Jung Min Hahm (2015) Would you be my friend? An examination of global marketers' brand personification strategies in social media. Journal of Interactive Advertising. 15 (2), 97-110.

Choi, Jung Hwa, Eunji Lee &Tae Rang Choi (2017). #Hashtag: Attention seeking and self-expression in social media. Proceedings of the 2017 American Academy of Advertising (AAA) Annual Conference, Boston, MA.

Choi, Jung Hwa (2016). Who do you listen to? The effect of construal level of message and type of endorser on donation advertising campaigns. Proceedings of the 2016 Future Generation Global Scholars Colloquium hold by Korea Advertising Society (KAS), Seoul, Korea.
---
Graduate Studies Faculty
Dr. Jung Hwa Choi: Assistant Professor, B.A. and M.A. Michigan State University; Ph.D., The University of Texas at Austin. Research interests: Advertising/Consumer Psychology, Consumer Brand Relationship, Digital Marketing & Communication.
---
Courses
CA 321 Media Planning
CA 384 Account Management
CA 470 Digital Media and Analytics
CA 485 Cases in Strategic Communication
CA 486 Strategic Campaigns
CA 560 Digital Communication*