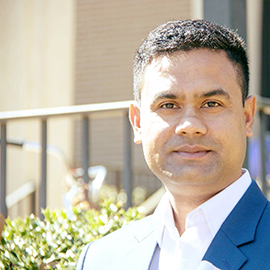 Dr. Delaware Arif
Associate Professor and Graduate Coordinator

---
Research Interests
Social Media
New Media
Diaspora
International Communication
See More
---
Bio
Delaware Arif is a digital journalism associate professor in the Department of Communication at University of South Alabama. He teaches Digital Writing & Production, Multimedia Storytelling, Social Media, and Ethics and Social Responsibility. Delaware also taught mass communication courses at University of Wisconsin-Whitewater, for one year. Delaware was an assistant professor in the Department of Communication and Journalism at University of Chittagong in Bangladesh. He also served as chairman of the department until coming to the U.S. to pursue his Ph.D. Before joining to teaching in 2002, Delaware worked for Reuters, Bangladesh National News Agency (BSS) and an international NGO, the Hunger Project.
Delaware earned his Ph.D. in Mass Communication and Media Arts at Southern Illinois University Carbondale (SIUC) focusing on the patterns of usage of social media among the South Asian diaspora group in the U.S. He also received his M.A. in media theory & research from SIUC. Delaware completed Training for Trainers course at the International Institute for Journalism (IIJ) in Germany. He received his B.A. and M.A. in mass communication and journalism from the University of Dhaka in Bangladesh. His teaching and research areas revolve around social media, new media, political communication, international communication, journalism studies, race and media, and mass media ethics.
---
Publications
Hossain, M.D., & Estis, J. (2021). Looking at future and seeking alternatives: An exploratory case study on the uses of Team-Based Learning (TBL) in media ethics pedagogy Journalism Education, 10(1):6-19.
Hossain, M.D., Onyebadi, U., & Hosen, M.D. (2019). Music, political messaging and the Swadhin Bangla Betar Kendro Radio Station: Revisiting Bangladesh's War of Independence. International Journal of Communication Research, 54 (2):17-31.
Hossain, M.D., & Aucoin, J. (2018). Ethics of care and a universal framework for global media ethics. Journal of Media Ethics, 33(4): 198-211.
Hossain, M.D., & Hosen, M.D. (2018). Together we grow: Communication and social capital in micro-credit for women's empowerment in Bangladesh. International Journal of Business and Applied Sciences, 7(2): 58-67.
Hossain, M.D., & Veenstra, A. (2017). The uses and gratifications of language in social media among the Indian subcontinental diaspora. Journal of Intercultural Communication Research, 46(5): 478-496. DOI: 10.1080/17475759.2017.1377101
For more publications by Dr. Arif, please see his CV.
---
Courses
CA 101 Introduction to Media
CA 260 Digital Writing and Production
CA 300 Fundamentals of Communication Research
CA 387 Magazine and Feature Writing
CA 445 Ethics and Social Responsibility
CA 482 Multi Media Story Telling
CA 502 Communication Theory
CA 560 Social Media Management
See More