Jag Media Honored for Excellence
---
Posted on April 15, 2021 by Lance Crawford
Lance Crawford
---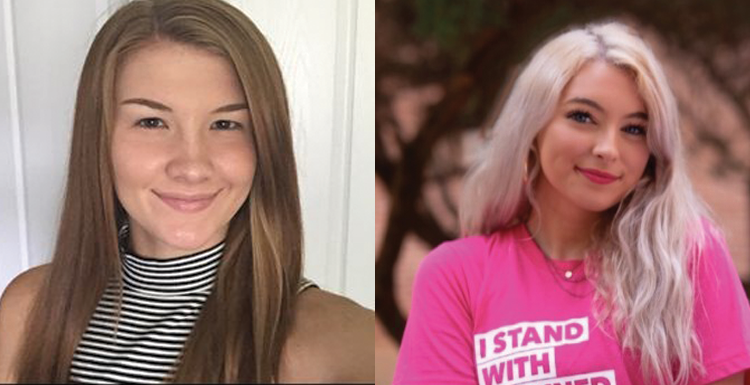 Sara Boone, left, won first place for Best Magazine Page Layout Designer while Breahna Crosslin took 5th place for Best Press Photographer at the "Best of the South 2020" contest. The University's student magazine, Due South won 2nd place for Best College Magazine.
---
The University of South Alabama's Jag Media, composed of USA's student publications and media channels directed by the Department of Communication, recently won three awards in the "Best of the South 2020" contest, an awards ceremony sponsored by the Southeast Journalism Conference, which promotes student journalism at 37 member colleges and universities.
Due South, the University's student magazine, won second place for Best College Magazine. The award-winning entry was the diversity-themed issue from Fall 2019, which garnered attention when a printing vendor objected to the content and refused to handle the printing. When that printer balked, the University's internal publications operation jumped into action and printed the magazine on schedule.
"I was proud of the students, and also proud of the university's role in supporting free speech when it was being challenged," said Lorraine Ahearn, assistant professor, department of communications, and advisor for Due South and The Vanguard student newspaper. "We teach free speech and the marketplace of ideas in our communication ethics and law classes. This time, students got to see the PowerPoints put into practice."
Sara Boone, now a USA graduate, was responsible for the page layout design for an article in that issue titled "Three Strikes: Gay, Black, and Southern," and she won the top award in that category.
"I was incredibly surprised when I learned about winning! I didn't know they submitted me for the award, so I was very excited," said Boone, who earned a bachelor's degree in strategic communication last May.
Breahna Crosslin, a senior at South majoring in communications, was named in a 5th place tie for Best Press Photographer.
"I was honored to receive any award for my work, and it feels great knowing that others appreciate my photography," she said.
The awards were chosen from 30 colleges and universities and a total of 369 entries, averaging 33 entries per category. The winning announcements were streamed from Lipscomb University in Nashville March 30, 2021.
Jag Media includes Due South, the Vanguard, JagTV and The Prowl radio station, offering hands-on media experience preparing students for a career in the industry.
"They learn to ask questions and take creative risks. How to manage a staff, collaborate, maintain a production cycle, stay accountable to their audience," Ahearn said. "Over a difficult, sometimes disconnected year, the staff showed grit, and helped keep us connected."
---
---